Well, it's raining here, anyway. And muggy! Breathing the air is like huffing steamed cotton balls. I'm staying inside as much as possible, like any sensible person would in such a climate.
Here's a picture of an osprey saying, "Skreeeee! Skreeeeee, I tell you!"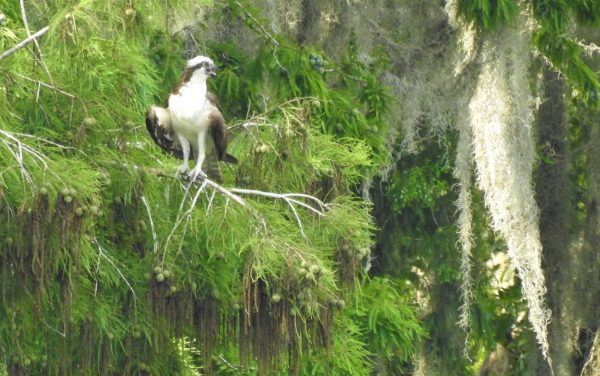 Isn't it gorgeous? It was perched in a bald cypress tree across the river, where it often hangs out and fishes. But that day (a few days ago), it was focused on communication rather than food.
For those who saw my panicky comment yesterday morning about a cake I'd ordered for a family birthday party, I'm pleased to report that it was delivered as promised and was fabulous! Whew! For a while there, I thought I'd have to bake a giant cake for 40 people.
Hope you're having a peaceful Sunday, rainy or otherwise. Open thread!