This is a follow up to Anne Laurie's post below, and continuing proof that the front pagers are not all different accounts from the same troll factory in Grovers Mill, New Jersey.
Disclaimer, or reclaimer, or full disclosure or something.  Bernie isn't my first choice, or second, or third. I think he's a disingenuous ego-driven politician who did a lot of damage in 2016, has a record of actual progressive accomplishment that is, to be charitable, thin, who does not walk the walk in crucial ways, and who, IMHO, would be the leading candidate most likely to lose to Donald Trump in 2020 of all the leading potential Democratic Party nominees.  Of the top five, my personal ranking right now is Warren, Harris as a close second, Buttigieg as a more distant third, another gap to get to Biden, and then a yet bigger gap to Sanders.
All that said, the arguments about his spending plans and their purported reliance on the monetary theory to which his lead economic advisor subscribes seem to me to have some bad numbers behind them, and to overstate the case against the heterodox ideas of Modern Monetary Theory.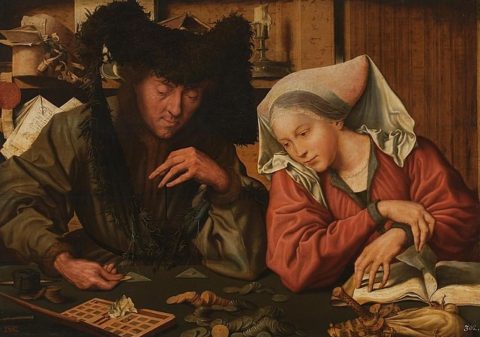 This all caught my eye in part because my current project (Money for Nothing, Random House, due out in June 2020) spends some time with John Law, the Scottish duelist, gambler, adventurer, architect of one of the first great financial and stock market bubbles, and early monetary theorist.  Law was a genuinely astonishing character: born to a Scottish banker, he inherited young, headed to London and lived a basically worthless, wastrel's life — drinking, womanizing, gambling (ineptly, at this stage). (Here's a contemporary memoir that has the fun details.)  In 1694, when he was in his early 20s and running out of his father's money, he got into a duel — for reasons that are still somewhat obscure, but may well have been scandalous.  He killed his man, was charged with murder, and escaped to the Continent, where he began to develop into the man we now remember.
When Law was finally able to put his ideas into action in France between 1716 and 1720, some of them worked and have evolved into ordinary financial tools, and others, quite spectacularly, did not — and it's that story that informs some of my thinking about MMT (for all that I know the past is a different country, and radically alien context in which Law worked limits the direct lessons one may draw from his day into ours).
All that digression is both a sop to my current obsession and a long-winded way of saying I'm not an economist; I'm not remotely an expert on MMT or any macro-economic theory; I'm just a guy with a habit of reading odd stuff. I did have the advantage this a.m. of having a tame heterodox economist in the house (my sister in law), and we did talk about this post, but everything that follows is my folly.  Discount accordingly.
All the windup leads to two simple objections to the Bernie disdain in some of the tweets Anne Laurie quoted, and some of the comments that flowed from it.
The first, simpler point is that thinking in this tweet is just wrong: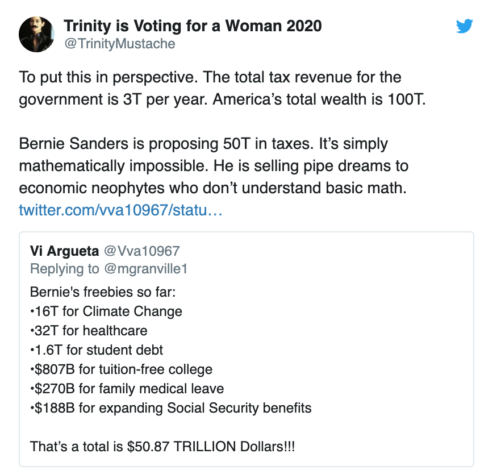 Here are the problems, in order from top to bottom.  The US and most countries don't tax wealth, they tax income, which can be approximated as GDP.  So the US takes in close to $2.5 trillion in income and payroll taxes per year on about, estimated for 2019, about or a little above $21 trillion in GDP (see table 7).
There are two things to take away from those numbers for the kind of broad brush examination of Sanders' plans (or anyone else's).  The first is the tax rate.  While there are a bunch of ways to calculate that, the crude revenue/GDP ratio gives you a first approximation: the US taxes its citizens at about 15%.* Looking at international comparisons, which look at more sources of tax than the simple income tax figure above, total US taxes add up to 26% of GDP. Why is this important? Because it shows that there's plenty of room to add more revenue by taxing the rich and well to do at higher rates.  Using that 26% number, we rank 30th among OECD countries in tax rates; the average for all the members is about 33%.
All of which to say is that paying for more services costs money; the many nations that offer more services raise that money through taxation, and we could too, if we choose.  There's nothing unreasonable about Sanders — or any other Democrats' plans — on that score.
The next objection to that tweet above is that it is, bluntly, bullshit; a deliberate (it seems likely to me) act of obfuscation to make Sanders' ideas look like unicorns and rainbows when they really aren't.  The tax revenue figure is for a single year's takings.  The "$50T" price tag for Sanders' program covers a bunch of years — ten, I think for the health care package, I think; fifteen on the climate change proposal and so on.
So if you do the elementary mental leap of adding a numerator to the $50 trillion denominator, you get a spending program of something like $5 trillion a year.  Still a lot of money — but a sum that a program of tax increases to levels that are commonplace in most developed countries would go a long way to finding.  To put that into dollar figures: 26% of GDP = ~$5.25 trillion. 33% would get that number up to $~7 trillion, which would advance as GDP grows over the ten year period we're thinking about.  Given that Sanders' plan would scoop up some existing spending — that extra eighteen trillion or so over the next decade gets it some distance towards a plausible funding model.
That leads to the last thought just on the financing side of Sanders (and, again, other D plans).  Government spending isn't static.  For one thing, and in some cases — as in health care payments, some of the issue is that Sanders (and others) are not actually shifting resources, or that much, from one form of consumption to another:  if individuals don't have to shell out post-tax income for medical services, and the aggregate amount of taxation to pay for those services isn't more than that formerly individual/employer bill, then, as Sanders has vociferously argued, one should focus on what other (hopefully good) things come from such a restructuring of the health care system.
More generally, government spending on certain things can produce growth effects that increase the total output of the economy, increasing GDP over baseline, and thus, by conventional definitions, making us as a country more wealthy.  Health care that really covers everyone and reduces days and productivity lost to un- or under-treated medical stuff is one way you get there.  Spending on education, getting rid of educational debt that inhibits entrepreneurship and such, climate change investment (which a lot of studies have shown produces significant economic activity) and so on — all these are not simply deadweight costs.  They are investments that yield returns over time — returns, which it happens, we can tax.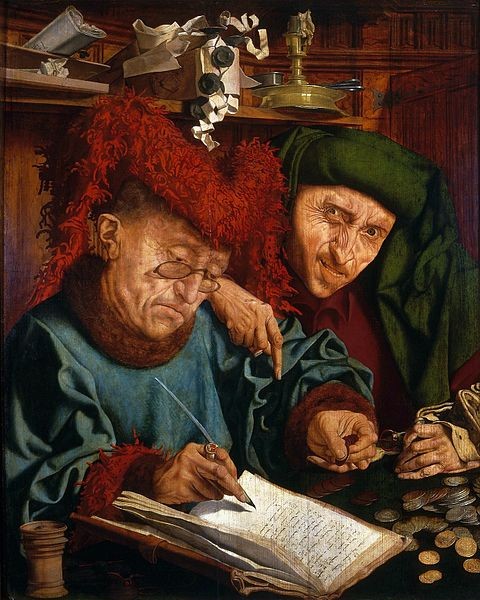 Ultimately, while it's a mugs game to claim that everything progressives might want to buy will pay for itself, the notion that government spending is merely red on the balance sheet is simply wrong. We have a long, long record showing the reverse — and demonstrating that it does matter what you spend on.  Buying a cruise missile is less economically stimulative than building a stretch of a modern electrical grid; handing a tax cut (which is a form of spending) to extremely wealthy people does less for the country as a whole than paying for a graduate student (or a pre-school), etc.  Sanders' priorities, and those of the entire D field are stimulative in this way — all of which makes the framing in that tweet above that much worse.
This has gone on longer than it should, so just briefly, a pivot to the Modern Monetary Theory argument.  MMT is not simply a radical new strand of thinking that substitutes left wing unicorns for the right wing's supply side stuff.  As noted in the John Law blathering above, it has a long pre-history, and up to a point, an interesting and potentially useful present. In part, that's because it's not a wholly radical break with conventional theory, but rather, an extension of it, even if it extends perhaps further than the bough can hold.
That is: no one doubts that government money-creation and spending of that money can stimulate the economy and aid employment.  MMT and conventional Keynesian both predict that quantitative easing, the program of issuing money to allow the Federal Reserve to buy financial assets that helped the recovery from the GOP-Bush led Great Recession, would actually work, though they posit different mechanisms for how such a move makes a difference.
There are profound disagreements, of course, and my heterodox confidant, a micro-economist and not an MMT partisan, argued to me that she worries about two things: making sure new money is spent on useful things (health care and climate response tick those boxes for me), and that we look at claims that monetary expansion won't cause inflation with enormous skepticism.  There is a fair amount of both theory and empirical experience that suggests that it can and does — as John Law himself found (with the different-context caveat applied again). That makes an all-in bet on MMT a very poor proposition, in my humble opinion.
(But also remember that the economics profession is one that skews conservative not just in its politics but in its habits of mind, and that MMT thinkers are very likely much more practical and empirically based than the easiest reactions to them would have you believe. A suggestion that MMT thinkers are plotting a path straight to German hyperinflation c. 1922 is not likely to be an accurate or an unmotivated claim.)
But even if I don't exactly leap at the thought of handing the lead economic role at the White House to Stephanie Kelton, I note that, first, the former chief economist of the Senate Budget Committee would be a huge step up on Larry Kudlow (not exactly a high bar).
More important: Sanders spending plans are hugely ambitious. So are Warren's, though I think the price tag there might be a little less, and so, to some degree or another are those of every serious Democratic contender.  Meeting those costs will require specific choices about the tools with which to do so: raising revenue, cutting other expenditures, perhaps, and borrowing — the last of which is one way that the US government can inject more money into the economy, before one gets to the MMT mechanism of creating new currency without issuing debt.
There are both important academic arguments and real world issues about MMT.  Given the history of inflation and hyperinflations, I'd be very surprised if the theory's formal construction fully survives contact with the real world, in which property it is different from exactly no other macro-economic frameworks.  It could be just wrong, but given that it is to many observers (though not to either its most devoted proponents or antagonists) as much an evolutionary variant of Keynesian ideas as it is a repudiation of them, I'm guessing it has a lot more overlap with experience than its loudest Austrian opponents would have you believe.
But for American politics in 2019, MMT is a sideshow, a distraction.  The underlying question now is: can the US afford major social programs and significant investment in physical and social capital that will take years to mature?
That question has an answer.
Yes.
So, while I remain no Bernie Sanders fan, and I will not vote for him the primary, the cost of his proposals ain't the reason why.**
*Yes, I'm ignoring state and local taxes; yes local property taxes are taxes on assets, not income. There's a lot of cranking that needs to be done to make this a complete account; for now, this is a response to the level of criticism folks level not just at Sanders, but all Democratic plans for social spending.
**There's another question: do I think Sanders' plans make sense, or are the best way of achieving their various goals.  That's another post; for now I'll just note that there are plenty of physics, materials science and engineering constraints that weigh more on his climate change plan than its raw cost.  Some of that over-reach is OK too — I'm fine with setting goals that we know are hard to achieve.  Some is not. Proposing the impossible is no way to gain the credibility to push what is do-able through.  But again, that's for another post, and probably one I won't find the time to write.
Images: both by Marinus van Reymerswaele, Money Changers and Two Tax Collectors, each from before 1550.