On the Road is a weekday feature spotlighting reader photo submissions.
From the exotic to the familiar, whether you're traveling or in your own backyard, we would love to see the world through your eyes.
I am captivated by the photo of the staircase below, covered with the pink petals of spring, an invitation to climb the stairs and see the pale pink flowering tree at the top.  To capture that view, you must have sitting down on the ground, with your camera aimed up?   However you managed that, Robert, the perspective is so engaging.  ~WaterGirl
Robert Sneddon
Onomichi in Japan is one of those places few foreign visitors know about — the big tourist attractions of Tokyo and Hiroshima and Kyoto overshadow a small city sometimes referred to as "Japan's Home Town".
I first learned about Onomichi in a very strange manner, from a Japanese anime series called "Kamichu!" released back in 2005. The town the anime series was based in was Onomichi and when I went to Japan for the first time in 2007 I made a point of stopping by to see the location of one of my favourite animes for myself. And I fell in love. Since then I've returned to Onomichi a dozen times, often celebrating my birthday there (alas not this year, for reasons).
So, Onomichi? It's a town on Honshu in the Kansai region of Japan, situated between Hiroshima in the west and Osaka in the east, lying on the Seto Inland Sea. Just offshore there's a cluster of islands which connect via bridges and roads to the Home Island of Shikkoku to the south. This has been a big thing for Onomichi's tourism and regeneration recently as it's the natural starting point for cyclists planning to travel the scenic Shimanami Kaido route.
Back in the day when Kyoto to the east was still Japan's capital, Onomichi became a place for rich folks to build holiday homes, easily accessible via boat. Religion followed the money and a number of Buddhist temples and Shinto shrines were built in Onomichi, not as big and flashy as the ones in Kyoto or Nara but quite a few of them are still around. Art followed the temples and Onomichi became a haven for poets and artists of all sorts. There's a Path of Literature running up to the top of Senkouji hill which has poems and quotations from writers who visited Onomichi inscribed on stones on the way. In the 20th century Onomichi was the birthplace of film directors like Ōbayashi Nobuhiko and the town itself featured in a number of influential movies such as "Tokyo Story".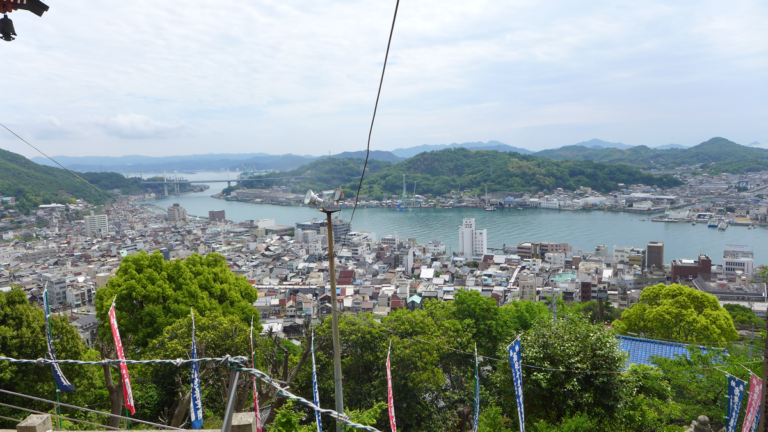 Senkouji hill, Onomichi
May 7, 2015
This is a view of the lower town shoreline of Onomichi from part-way up Senkouji hill. The island across the strait is Mukaishima which hosts a couple of ship repair yards, including the infamous Hitachi-Zosen shipyard that used prisoner-of-war slave labour during WWII. The two bridges at the far end of the strait carry road traffic from Honshu towards Shikoku, however shuttle ferries still ply back and forth across the strait carrying pedestrians, schoolkids on bikes and scooterists as well as cars. If you ever wanted to cross the Pacific for a hundred yen an Onomichi ferry can fulfill your dream!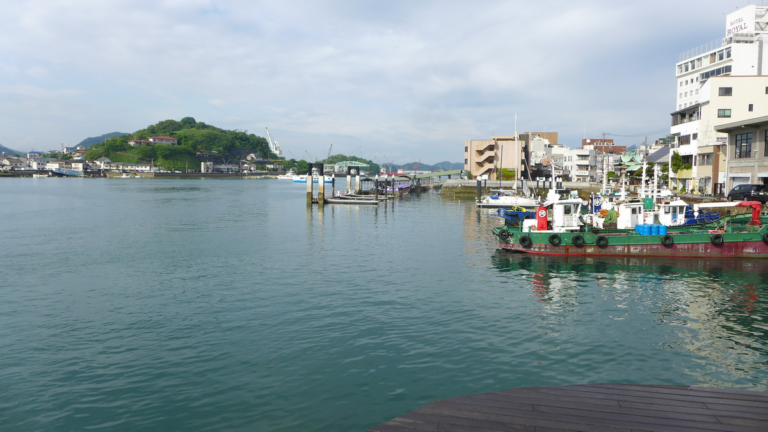 Waterfront, Onomichi
May 7, 2015
Fishing is still an important deal in Onomichi — if you, like me, enjoy wandering around strange places at God o'clock in the morning then you'll find last night's catch on sale at little street stalls tended by an obaasan, fresh as anything and ready to be taken back home to grill for breakfast. For the more cultured foodie-type aesthetes Onomichi is home to several highly-rated restaurants where fish is always on the menu. For everyone else there's greasy-chopsticks Onomichi ramen.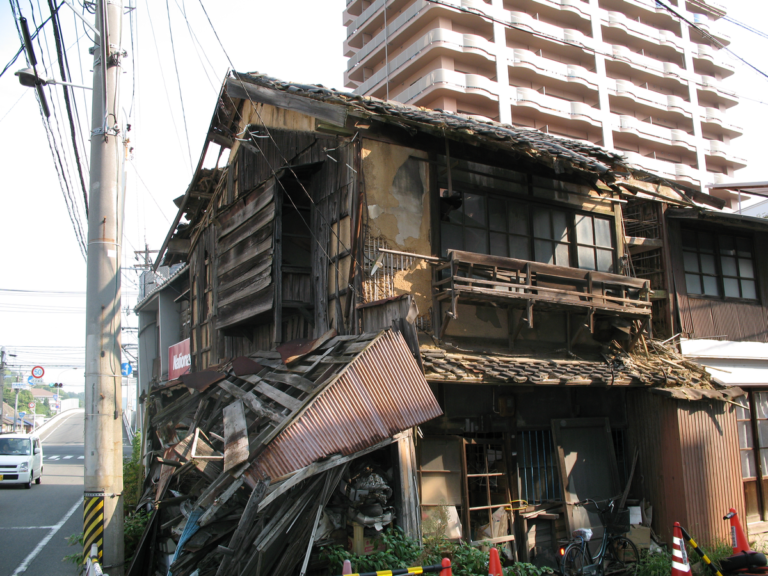 Onomichi town centre
August 20, 2007
For a long time after the war and especially during the economic boom times small towns like Onomichi were places people left to go to the big cities (this is depicted in the movie I mentioned earlier, Tokyo Story). The result was many homes and properties were abandoned and left to decay as the older stay-at-homes died, often with no known heirs. Onomichi town council took a lot of these properties into public ownership and offered them free to anyone who would renovate and maintain them and bring them back into use, thus the growth of artist's salons, coffee shops and small museums around the town — a hostel I often stay in when visiting Onomichi is a repurposed abandoned shop in the town's hondoori (a covered market street). The picture above is one I took on my first visit to Onomichi in 2007 but that house is no longer there having been demolished and replaced by something more modern.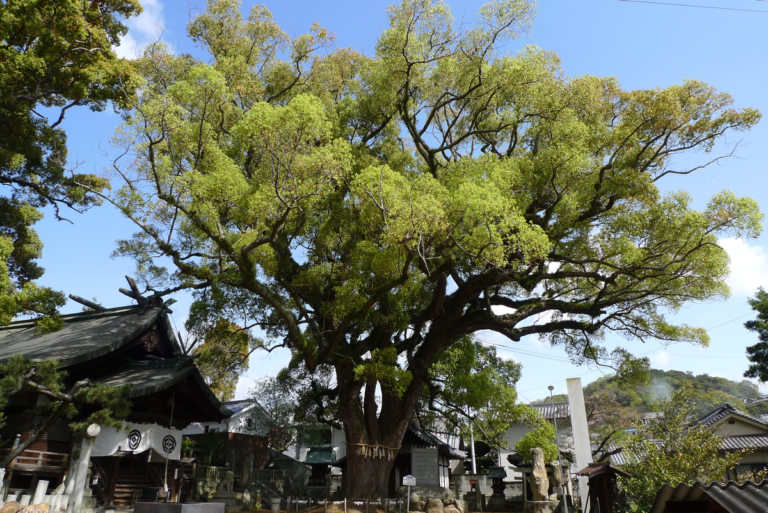 Ushitora Shrine, Onomichi
April 14, 2010
Ah, the Tree. This magnificent tree is in the courtyard of the Ushitora Shrine near the bottom of the cablecar ("ropeway") that goes up to the top of Senkoji hill. I try and visit this tree every time I go to Onomichi, just to say hello but I've only ever hugged it once, honest.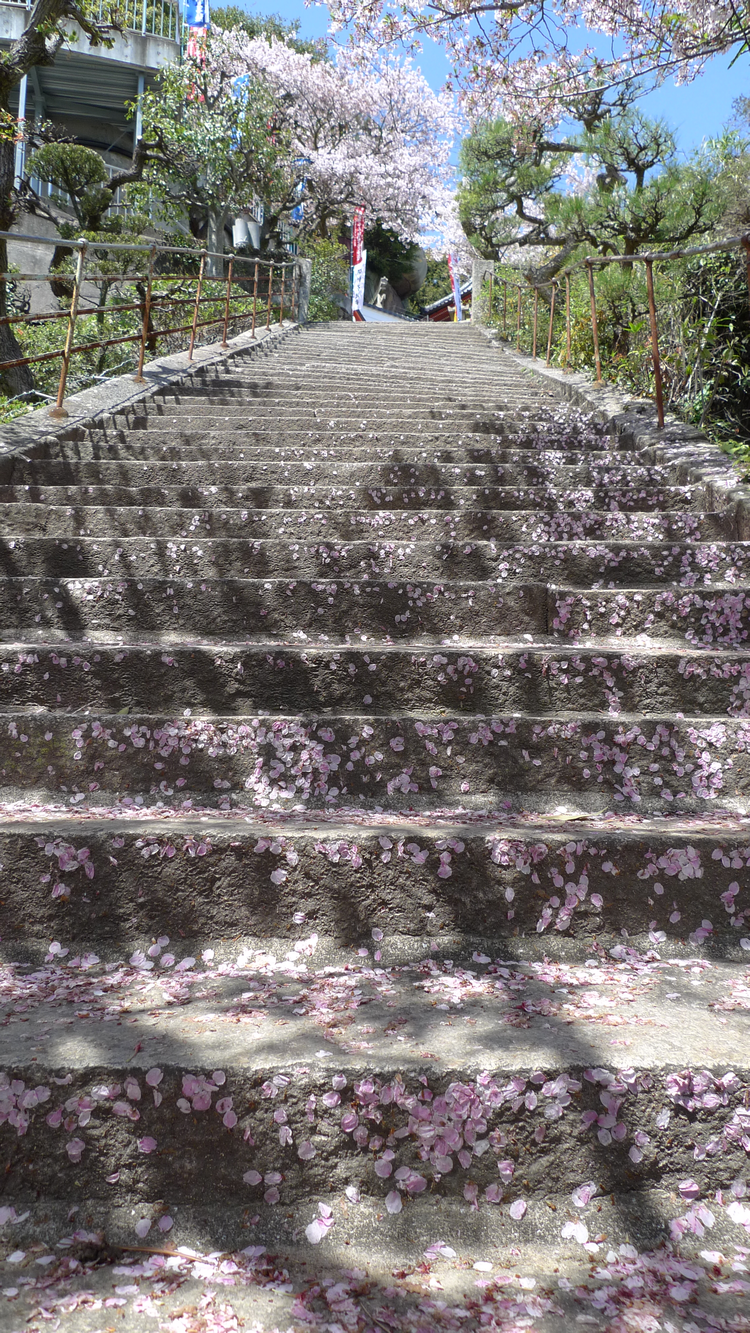 Senkouji, Onomichi
April 14, 2010
Staircases are a major feature of Onomichi. I make a point of climbing up to the top of Senkouji hill on foot at least once every time I visit Onomichi. My self-reward is a vanilla and mikan (tangerine) ice cream from the shop beside the observation tower at the top of the hill. I usually use the cable car for the trip down afterwards though.
A lot of artworks, old and new depicting Onomichi involve stairs as the town climbs up into the hills backing the shoreline, too steep in many places for roads and wheeled traffic.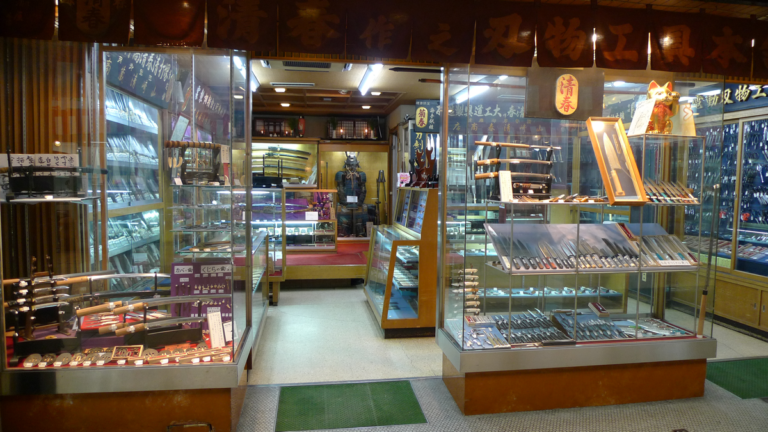 Covered shopping street, Onomichi
April 20, 2010
I always stop by and window-shop at this store in the covered shopping street that runs east from Onomichi railway station. Basically it sells everything sharp, from toenail clippers to genuine Japanese swords, pocket knives to tuna filleting blades. And they're all eye-wateringly expensive, which is why I window-shop. The store has been owned by the Yamasaki family for a hundred years.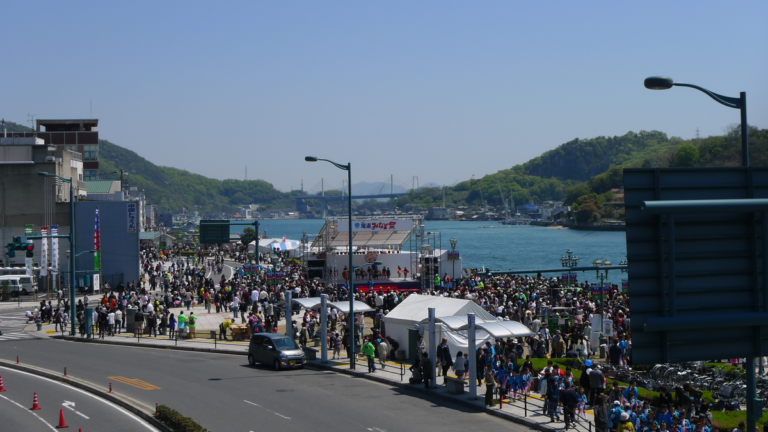 Waterfront, Onomichi
April 25, 2010
Each April the town celebrates the founding of Onomichi Port with the Minato Matsuri (Port Festival) although sadly it was cancelled this year. With music, dancing, stage displays, food stalls, parades and a Sansa competition along the waterfront street, this event attracts tens of thousands of people over the weekend.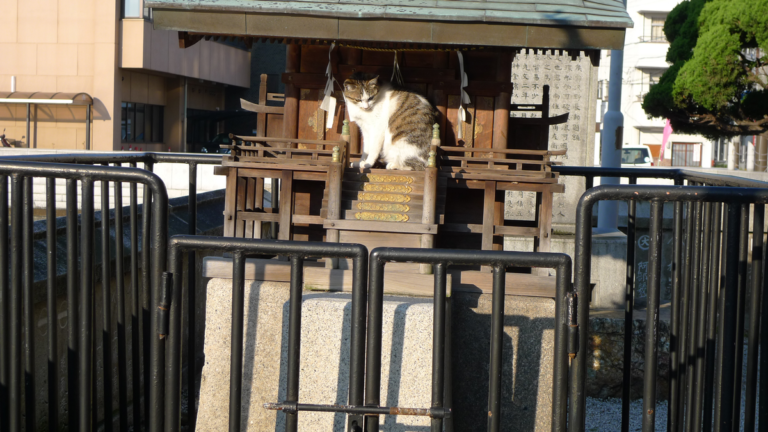 Waterfront shrine, Onomichi
April 25, 2010
If there's one thing Onomichi has more of than temples, it's cats. The grounds of the temples and shrines are Cat Heaven.