On the Road is a weekday feature spotlighting reader photo submissions.
From the exotic to the familiar, whether you're traveling or in your own backyard, we would love to see the world through your eyes.
I have always pictured Alaska as all frozen, all the time.  The movie Insomnia (2002) made a big impact on me, and that has been my view of Alaska ever since.  Albatrossity apparently intends to disabuse me of that notion over the next few weeks.  Whatever the details, it's sure to be beautiful.  ~WaterGirl
Albatrossity
Travel restrictions and health considerations make it tough to go anywhere these days, but I have found that looking anew at photos from trips in the past is a pretty good way for me to spend my time. So here are some pics from a trip to Alaska that we made in 2012; that was the last state on my life-list and I was happy to finally get there! I'd definitely go back.
Elizabeth had a gig as one of the contributing faculty at the 2012 Kachemak Bay Writers' Conference in Homer, Alaska, and I was happy to tag along. I've been to a lot of literary conferences, but none have been quite this scenic. We spent a few days in Homer; she was busy at the conference and I was wandering around looking at birds and scenery. Then we spent a couple of days at a lodge just across Kachemak Bay, where again she was busy with some intensive teaching for the conference, and I wandered around with my camera. Meals and hikes with the writers and other faculty members were all quite memorable.
We did spend more time in the state of Alaska, taking a train to Denali and then back down to Seward for a birdwatching/whale-watching/glacier-watching boat trip. Those pics will appear in subsequent installments of On The Road.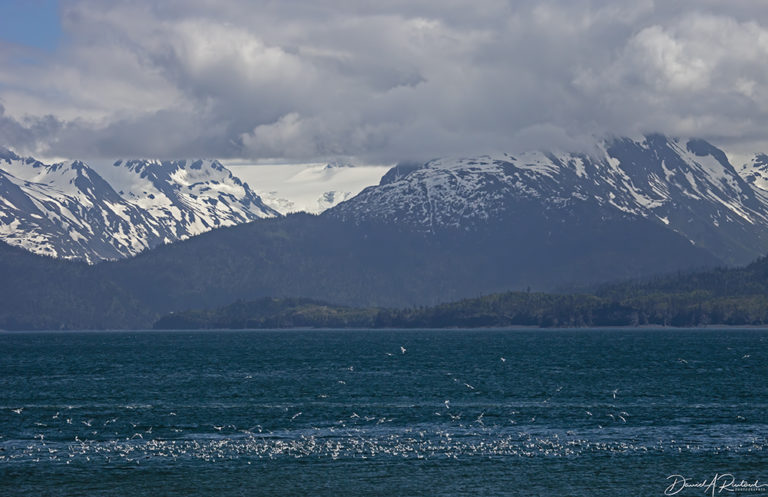 Homer, Alaska
June 11, 2012
Alaska is a place where sea and sky meet mountains, and it is impossible not to be awed by the natural beauty that is all around you. This is a view from the end of the Homer Spit, where we stayed, looking across Kachemak Bay at the Kenai Peninsula. Lots of seabirds in the distant flock on the water, most of which were gulls and kittiwakes. It was often cloudy, but when you got a glimpse of the blue sky over those glaciated mountains, the rain somehow didn't seem nearly as vexing.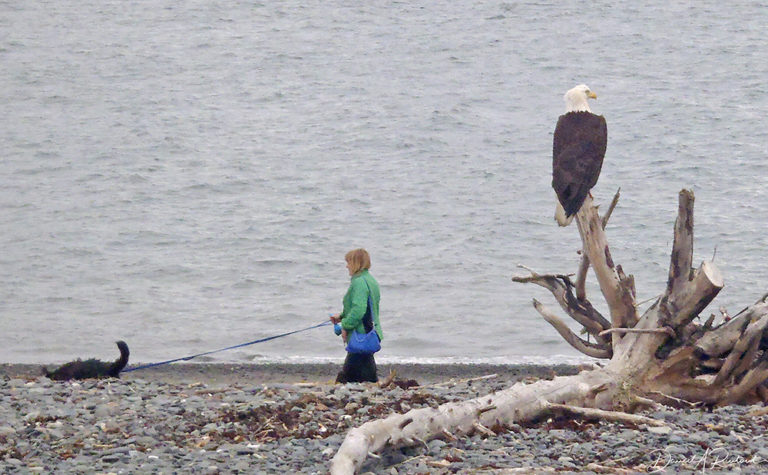 Homer Alaska
June 12, 2012
Alaska is also a place where Bald Eagles are everywhere. This woman was walking her dog on the beach at the end of the spit, and both she and the eagle seem equally unconcerned.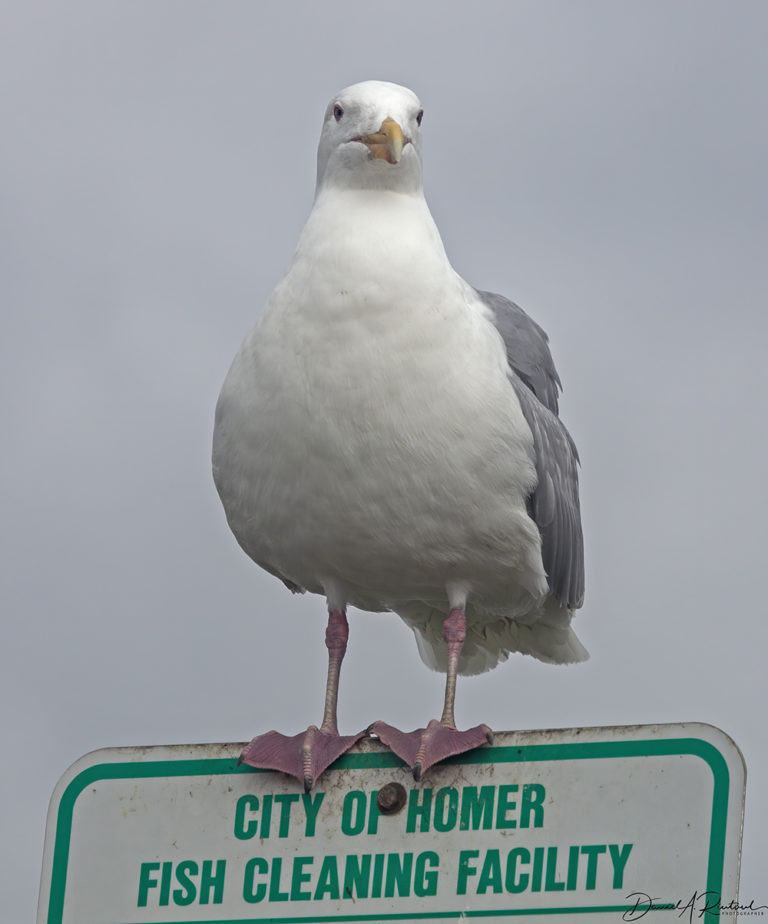 Homer, Alaska
June 11, 2012
The big salmon runs were just starting when we were there, and lots of anglers lined the beaches on both sides of the spit. This Glaucous-winged Gull was waiting patiently for his share, and he was rewarded when a lucky fisherman landed a monstrous King Salmon and hauled it up to the fish-cleaning station.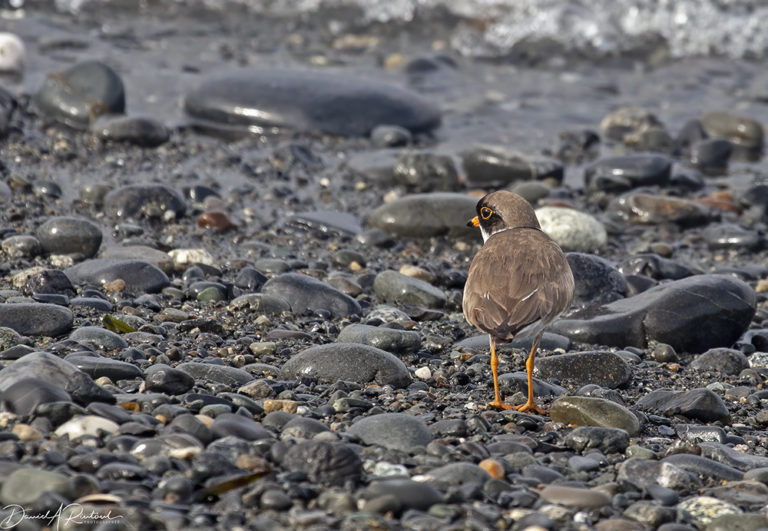 Homer, Alaska
June 11, 2012
Another beachcomber on the Homer Spit was this Semi-palmated Plover. This is a common migrant in my part of the world each spring, but I have rarely seen one in this very bright breeding plumage!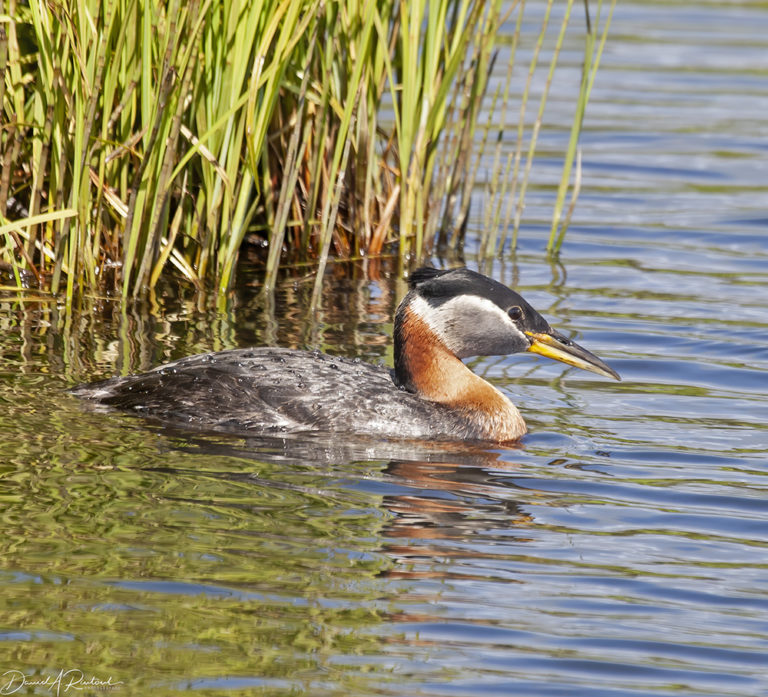 June 11, 2012
The city of Homer has a couple of wildlife-rich parks that were worth a visit. There were nesting Sandhill Cranes, lots of gulls and crows, and this lovely Red-necked Grebe, which is a bird I see very rarely in my normal habitat in the interior of the continent.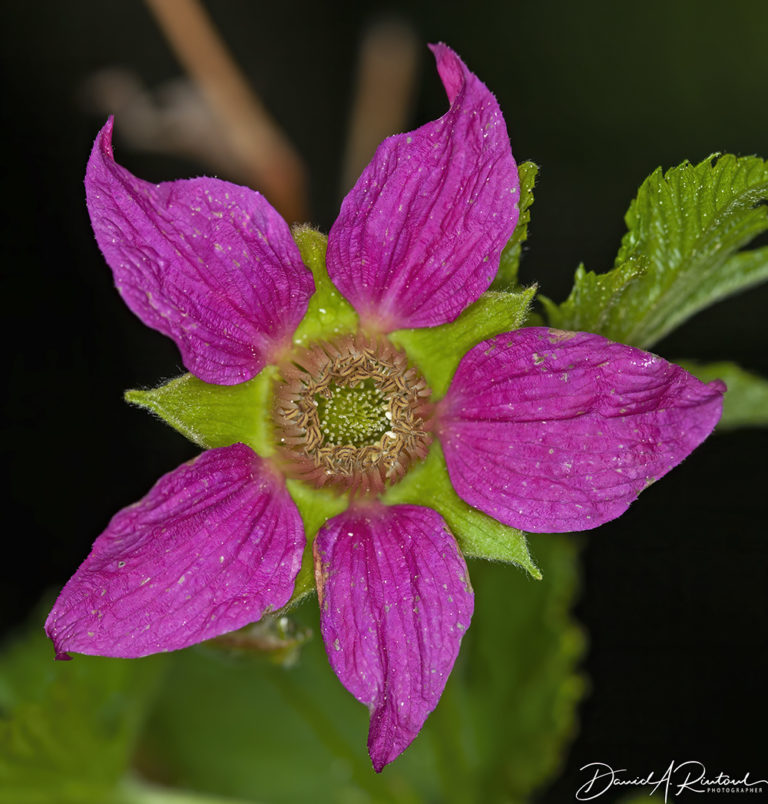 Homer, Alaska
June 11, 2012
Even though we were there in mid-June, it was just barely springtime as far as the plants were concerned. This is the blossom of the Salmonberry (Rubus spectabilis), which will mature into a delicious yellow or red berry about the size of a large blackberry. We were too early to have these as fresh fruit, but the lodge had some great Salmonberry jam at the breakfast table each morning.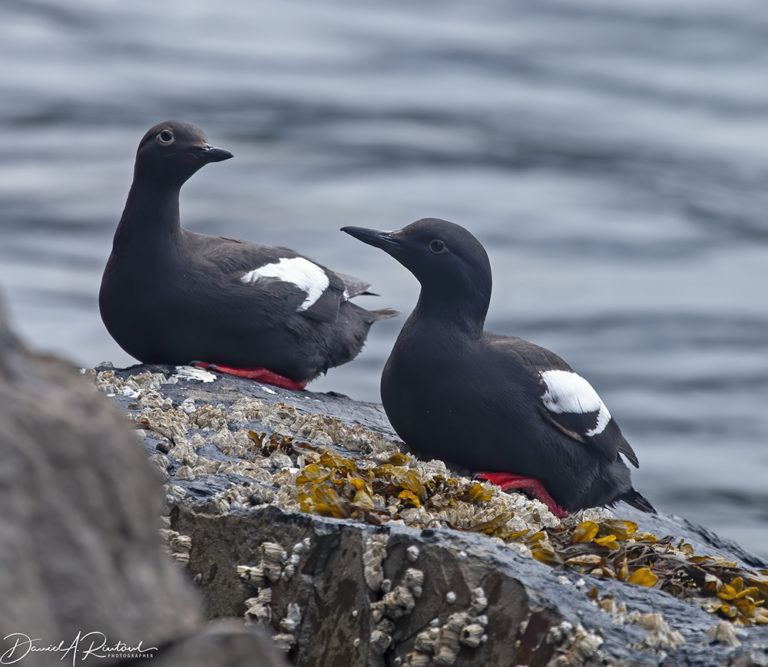 Kachemak Bay, Alaska
June 14, 2012
These two are Pigeon Guillemots, members of the auk (Alcidae) family, loafing on a rock near the Kachemak Bay lodge. These seabirds are found on the Pacific coast of North America from Alaska all the way down to California, and on the western coast of Siberia. Those bright red feet are matched by an equally brilliant bright red mouth lining, which is visible when the birds are calling or feeding. Unfortunately these birds were silent, so I'll have to go back and see if I can get a photo of that next time.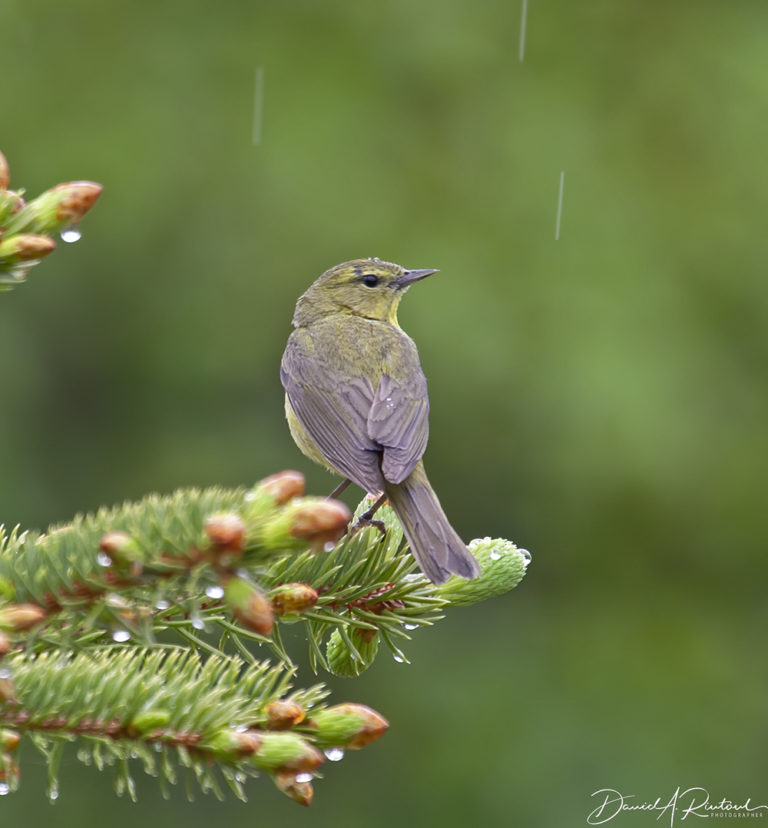 Kachemak Bay, Alaska
June 13, 2012
Finally, here is an Orange-crowned Warbler in the drizzle. All of the local birds were unperturbed by rain, and this one was singing his territorial song incessantly while getting dripped on. I learned to follow his example and just live with the rain, because it was gonna be there no matter what I desired.