On the Road is a weekday feature spotlighting reader photo submissions.
From the exotic to the familiar, whether you're traveling or in your own backyard, we would love to see the world through your eyes.
On the Road: Week of July 27 (5 am)

Albatrossity – Denali, Alaska
Auntie Anne – Chateau de Blois
?BillinGlendaleCA – NEOWISE
dmbeaster – Little Lakes Valley, Sierra Nevada and other spots
feloniousferb – Zurich, Switzerland

On the Road After Dark: Week of July 27 (10pm)

This week we have the final 4 posts from frosty's coronavirus adventures on the road.

And now, on to pandemic pics, Phase 4 with ema.  I don't know the city, but it still looks much quieter than I would normally expect NYC to look.  It's not like when you build a deck, and you can take before and after pictures.  With the pandemic, we blissfully unaware that we were in a "before" time, and that "after" would soon be very different.  ~WaterGirl
ema
According to Fortitude and friends, the city is doing OK when it comes to wearing masks. People are close to 100% compliance when out and about. However, at any given time, there will be one or two people who are either wearing it incorrectly (I so wish I never saw that certain [NSFW] cartoon!) or on a food/drink/smoke mask break. The overall activity, both human and traffic, is still depressed but it does look like the city is slowly returning to life. Let's look at our markers, shall we?
First the Avenues, Park, Madison, and 5th (N/S, looking S), then the cross streets, 79th and Central Park S (E/W, looking E for 79th St., and E and W for CPS).

Fortitude to the N side of the NY Public Library on 5th Ave./42nd St.| USS Maine National Monument at Central Park's SW Merchants' Gate | M12 MTA bus at Columbus Circle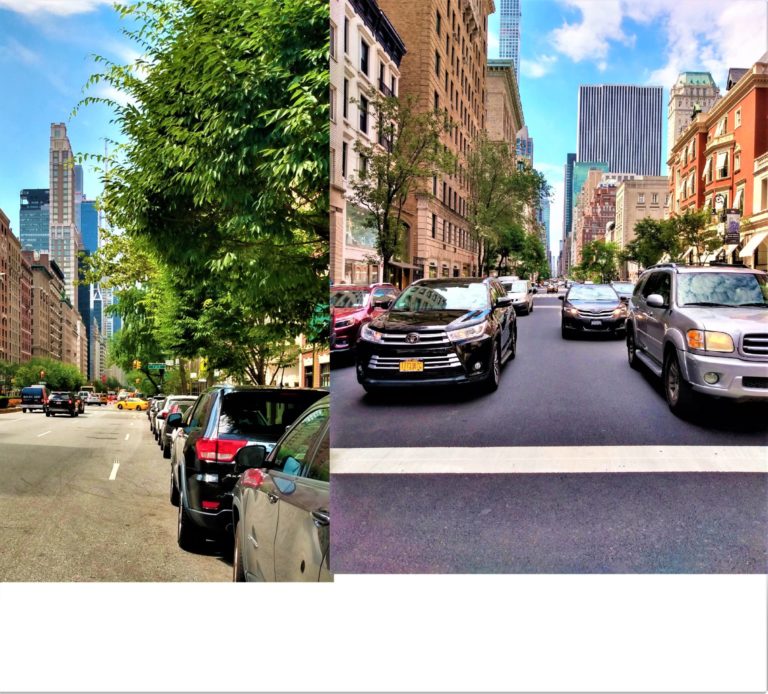 Park Ave. and Madison Ave.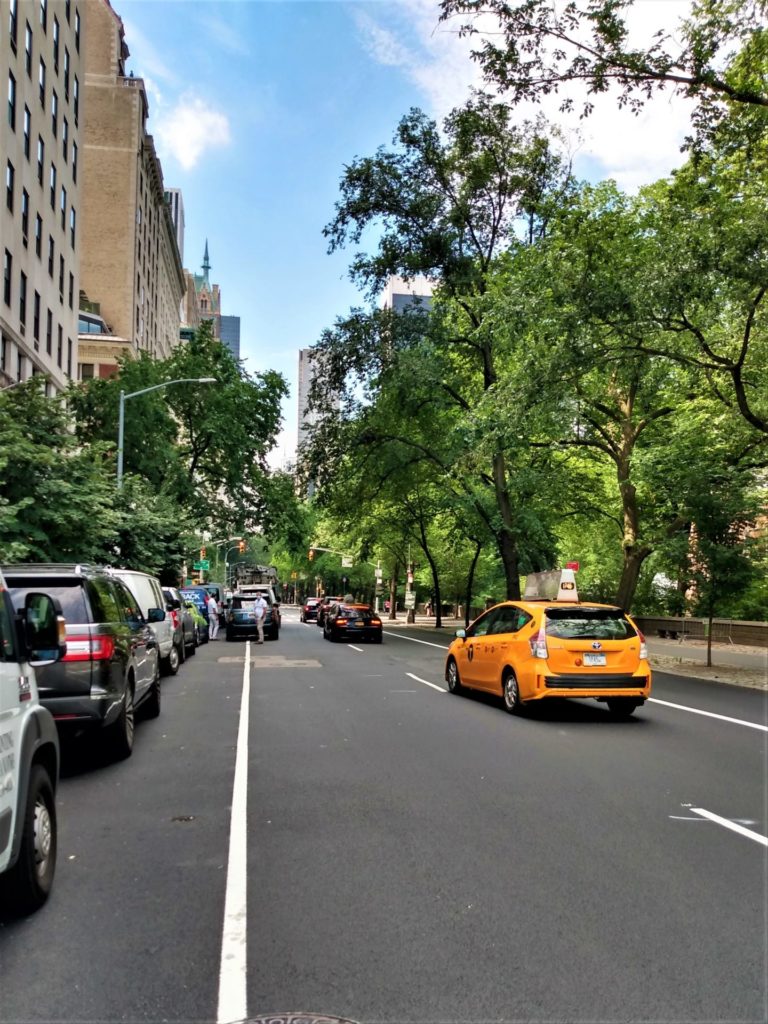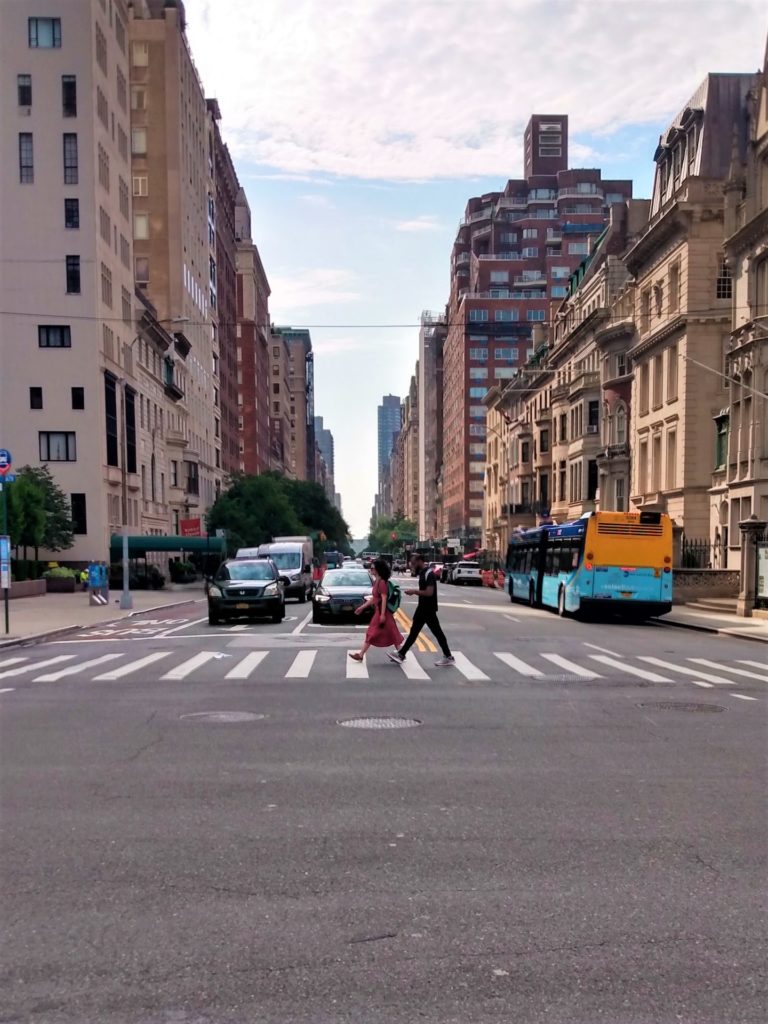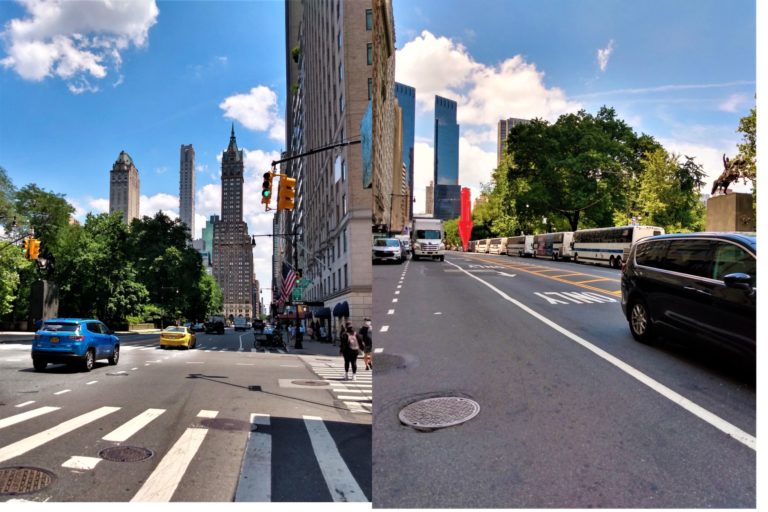 CPS looking E and W, at 6th Ave. The previous CPS shots were at 7th Ave. (see red arrow) but it was just so hot today and I didn't think the change of location would skew the results too much.
Moving on to Central Park, unfortunately the lawn was closed, probably because of the heat advisory. I took all three pictures in succession with the same cell phone, slightly varying the perspective. Not sure why the colors came out so different.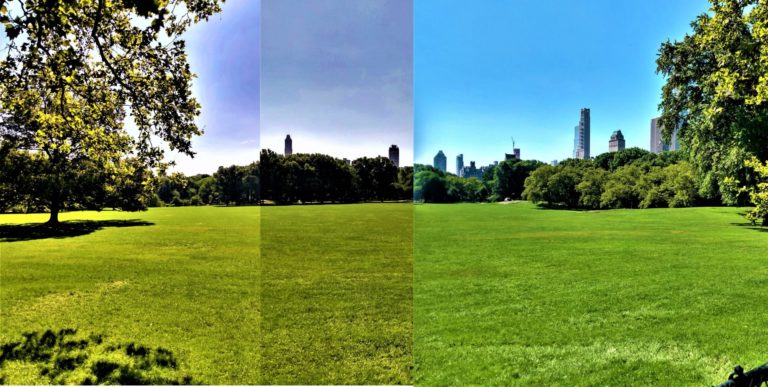 CP's Sheep Meadow, looking E
Last, but not least, here is the pretty boy duck from the June set patiently waiting for his girlfriend to finish her day at the rock office and join him, which she, finally, does and they glide away all lovey-dovey.

All pictures, except the duck ones, taken over two days, 7/18 and 7/20/20, a Monday and the first day of phase 4-ish reopening in the city (again, the last region in the state to go to phase 4). It's not a full reopening, with most indoor activities – dining, museums, malls – still banned. Duck pictures are stills from a video shot on 4/6/2020 with a Sony a5100.