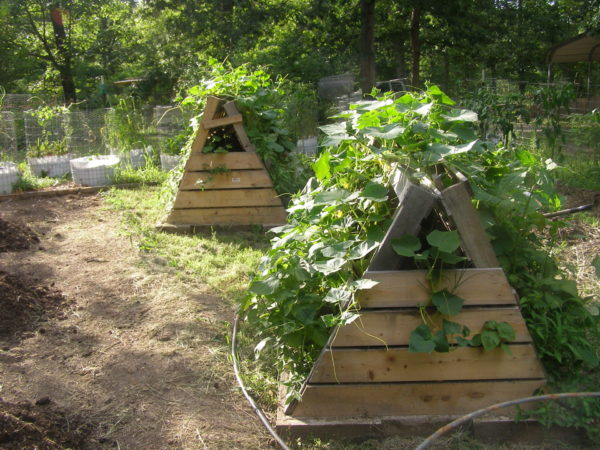 From the ever-reliable, ever-determined Ozark Hillbilly:
Last year Satby submitted a post on Hugelkulture and after looking it up I thought, "Cool, I think I'll do that!" After much blood, sweat, a few tears, (and a number of choice curse words thrown in the general direction of N. Indiana) I finally got them done.

Step 1) After tilling the garden I dug out a couple of flat level spots for the frame, which was built out of salvaged cedar 2x6s.

2) After laying down the frames, I started filling them. First with a base layer of dead wood 3-4″ in diameter (mostly oak but some maple too), then a layer of compost, making sure I filled all the voids between the wood as best I could.
3) Another layer of wood and another of compost, (this compost layer was mostly composted chicken litter from my chicken coop, lots of nitrogen in all that chicken shit).

4) Then I built the frame out of pallets I got for free from my lumber yard.

5) A layer of straw and another layer of compost.

6) then I finished the frames and filled them with the final layer of soil/compost.

7) I planted pickling cukes in one and melons in the other, and then I had to wait [Top picture].

8) Success! In one bed I planted 2 types of pickling cucumbers, Dar, and Miniature Whites. Guess which one this is. In the other I planted 3 types of melons: Sweet Passion (who could resist?), Golden Jenny, and Sakata's Sweet Melon. As of now I only have one small melon but my fingers are crossed.

As I expected, there has been a fair bit of settling of the soil and I will have to add more next year but after that I shouldn't need anything but a bit of compost for top dressing in the spring. It was a lot of work and I'm glad I did it, but I don't think I see a 3rd one in my future.
***********
While we're praising Satby with faint damns… Her favorable mention led me to order a whole bunch of sale irises from Schreiners Gardens. My order arrived Friday, a beautifully packed straw bale of fat prosperous green fans with stout roots, and of course due to a miserable rainy June and heinously hot/humid July the bed I planned has not yet been dug out, so I spent a big chunk of Saturday sorting rhizomes into hastily-filled rootpouches. And I'll spend more time today filling the rest of the pouches, and nagging the Spousal Unit into planting 'his' preferred dwarf irises into the planters he's got waiting in the garage before the poor little things get forgotten. But if they survive (after re-reading the planting info, I may have overdone the composted manure), next spring: IRISES!
Also this week, I finally got my first ripe full-sized tomatoes: Cherokee Purples, Ramapos, and Chocolate Amazons! Of course, now that there's more green fruits fattening up, all the vines have been stricken with yellow blight, wilt blight, or both… but while I frantically curse & prune & spray, at least I've got delicious homegrown tomatoes to console me.

What's going on in your garden(s), this week?