I just thought this was a great tweet after Michelle's speech. The Lincoln Project game is strong.
They go low, we vote Joe?

— Erin (@Nvrgvup0Erin) August 18, 2020
So my brain is oatmeal. I want to talk more about Covid-19 and medical emergencies, more about prepping your voting strategy…and tell you that I somehow made the HOTTEST Green Chili last night. But all that will have to wait until words begin to form again in my overworked brain.
Here are two sweet photos for you. Bixby and Scout spent most of the days last week with my niece. They have been awesome around my mom, but my dad was using a walker when he came home and I didn't want to risk a 160 lbs of over-enthusiastic Dane bumping him.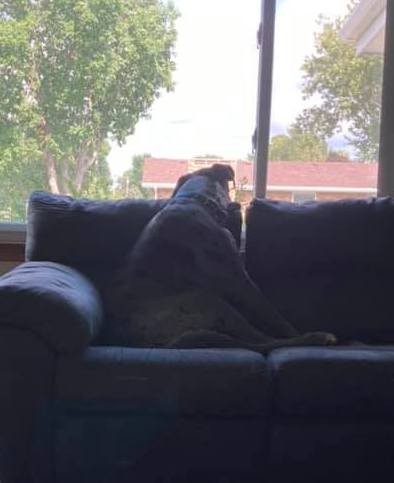 Scout patiently waiting for me to come back.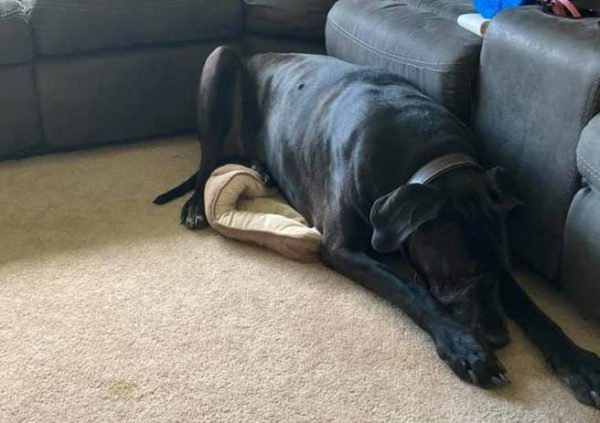 Bixby sleeping in the dog bed – the dog bed for the 6 lb dachshund-terrier mix. LOL
My dad is doing amazing. Traded the walker for the cane three days after he got home. His aphasia is rapidly improving and when I spoke with him on the phone yesterday he was clear as a bell. I can't even tell you how lucky we got with all of this. Our biggest job right now is keeping him from overdoing it and my biggest worry these days for both parents is Covid. Which, believe it or not, is actually a relief.
Last nights' DNC really brightened my mood. I felt hopeful for the first time in…well…4 years… It was well done, engaging, and was the best of us. Hope that continues for the remainder. My soul could use the respite. I'm going to do my best to ignore the disease-in-chief for the week and focus on real leaders.
How's everyone else doing?
Open thread
ETA: This. Heart. Tears.