Think about where we were the day after 2016, and what has happened since.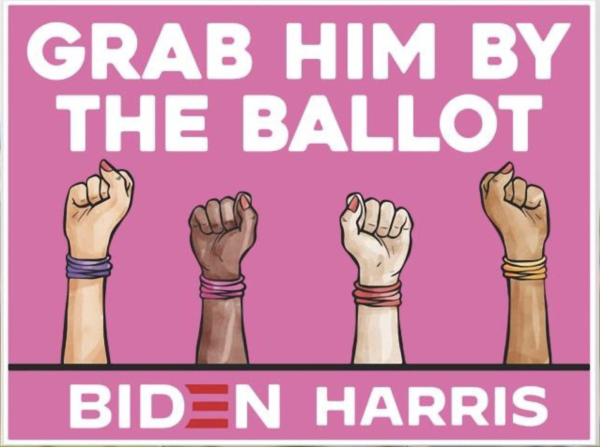 I listened to Pod Save America last night, and it was inspiring.
Are they worried?  Sure.  But they are also hopeful, and they are experiencing the same hope one minute, anxiety and worry the next minute swings that we are.
They talked about what has them hopeful, and I want to share what they said, because I think it's important.
Tommy
There could be a big surge of voters for Trump on election day, but a vote banked is a vote banked.  Florida is at 72 or 75% of their total votes for 2016.  Of those votes, a quarter of them are people who didn't vote in Florida in 2016.  Data nerds have been able to figure out that Biden has a 9 point advantage among those people, so Dems are voting early.  Among new voters there are suggestions that Dems are dong well there.  All of it could change, but it is hopeful.
Dan
We do not know what's gonna happen.  Donald Trump could still win this election.  But if you think about where we were the day after the election in 2016, and what has happened since… It didn't have to be this way.  
There was an alternative scenario where people just checked out and said fuck this, if politics is this broken that this guy can be elected with fewer votes, then I'm out.
The exact opposite thing happened.
We have had the incredible privilege to see people become engaged like never before.  It started with the women's march and the amount of activism, with so many people putting so much on the line and giving so much of themselves to try to take this country back, to try to fix what happened in 2016.  It's very inspiring and it's very hopeful in the long run.
And the fact that people kept doing it.  This is not a time when people have extra money or extra energy, and people are struggling in this pandemic, and they are still working their assess off.
Jon Lovett
I was thinking about what we were worried about in the beginning, in the early days of 2017, and we had a lot of conversation about whether our institutions would hold up, and the jury is still out on that.
And we had a lot of conversations about what Trump could do and a lot of fear that we would have a crisis, and the crisis that we feared, happened, and it cost us dearly.
At the same time we had the women's march and the protest against the muslim ban, there was this fear that this coalition would be exhausted and that the kind of powerlessness and disenfranchisement that comes in facing an improv authoritarian like Trump would exhaust people.
Worried that maybe by the time we got to 2018 or 2020 that people would have given up or run out of steam.  Or the stakes and the fear and the anxiety and just disagreement would create a rift that would drive inside of the democratic coalition.  That happens when you face an authoritarian.  That happens when you face right-wing nationalists.
We head into this election with an incredibly united coalition that runs all the way from the right of our party to AOC and Bernie and the Lincoln Project.  And everyone has behaved.  It's an extraordinary thing.  We will decide what we think of the Lincoln Project come Wednesday.  It's a messy coalition, but in the background everyone is aware that Donald Trump is the real threat.
What our party has done is extraordinary. That's an extraordinary moment in history.  That's never happened before. We never faced a threat like this before, and we never responded like this before.  So a lot of the uncertainty comes from that.  But I think we should be incredibly hopeful about what we built and what we did together.  Because it didn't have to go this way.
Listen to the podcast.  They started talking about this stuff around the 53 minute mark.