On the Road is a weekday feature spotlighting reader photo submissions.
From the exotic to the familiar, whether you're traveling or in your own backyard, we would love to see the world through your eyes.
On the Road: Week of November 9 (5 am)
Albatrossity
Jerry
?BillinGlendaleCA
Yutsano
Mary G.

In After Dark this week, we continue with a few more Election Respite posts as we detox from the stress, and toward the end of the week, we slide into Fall Colors.

On the Road  Election Respite and Fall Colors: Week of November 9 (10pm)
randy khan – Election Respite, Art to Calm the Soul Edition
way2blue – Election Respite, Late Edition
lashonharangue – Election Respite, Croatian Cascades and Waterfalls Edition
JanieM – Election Respite, The Four Seasons Edition
ema– Fall Colors

Next week, we have a full week of Fall Colors in On the Road After Dark.

?  And now, back to Election Respite
randy khan
Art is a balm in my life, and I thought I'd share some of the favorite things I've seen over the past few years (well, actually 15 years, but most of them are from the last 5). Oh, and I wanted things that would make people smile or made me feel calm or serene. With one exception, each of these photos is from a different trip, and they're from six different cities.
Central Park, New York, New York
February 19, 2005
The first photo is from The Gates, by Christo and Jean-Claude. I'd been interested in his work since I was a kid and I read about Running Fence. We had a chance to go to New York for the day to see it, and took the opportunity.
It was great. It had snowed not too long before we got there, and the contrast of the bright orange gates with the white snow was great. And it was a little windy, so the fabric was fluttering in the breeze. It's kind of hard to really convey the piece in one photo, but this one is close enough.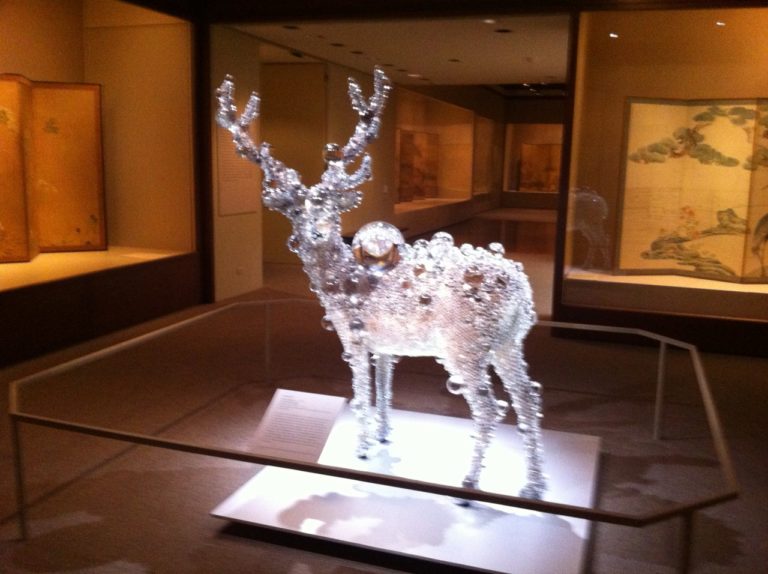 Metropolitan Museum of Art, New York, New York
September 1, 2012
My wife and I keep coming back to the Japanese galleries at the Metropolitan Museum.  The temporary shows are great, but it's also wonderful to revisit the pieces that stay out all the time, including a lot of contemporary Japanese ceramics.
This is one of the permanent collection pieces – PixCell-Deer #24, by Kohei Nawa.  He took a taxidermy deer and covered it in glass spheres of varying sizes.  From a distance, it's easy to see the deer, but close up the spheres obscure the shape and you get only glimpses of what's underneath.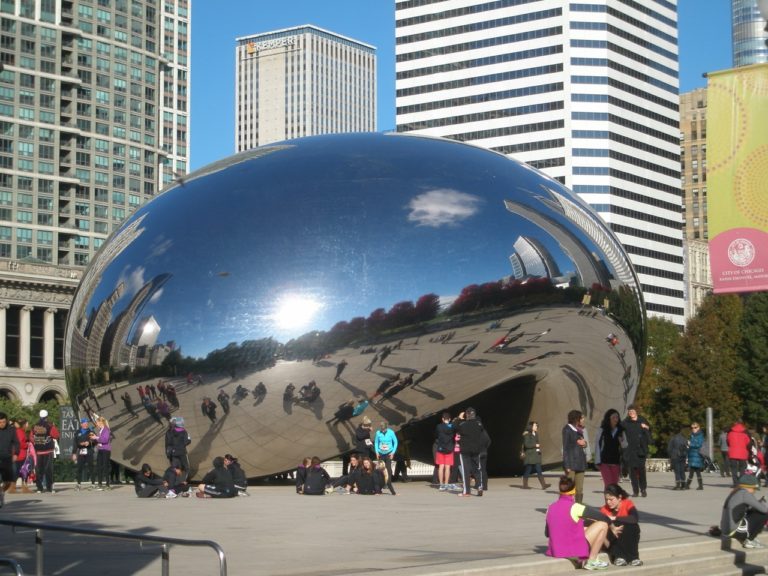 Millennium Park, Chicago, Illinois
November 3, 2013
If you've been to Chicago, you probably know this piece.  It's Cloud Gate, by Anish Kapor.  It's a huge, monumental sculpture, yet close up it's an amazingly intimate experience.  You'd think the piece would loom over you, but the reflections of the people all around – including you – make it feel personal and you forget the huge mass of steel.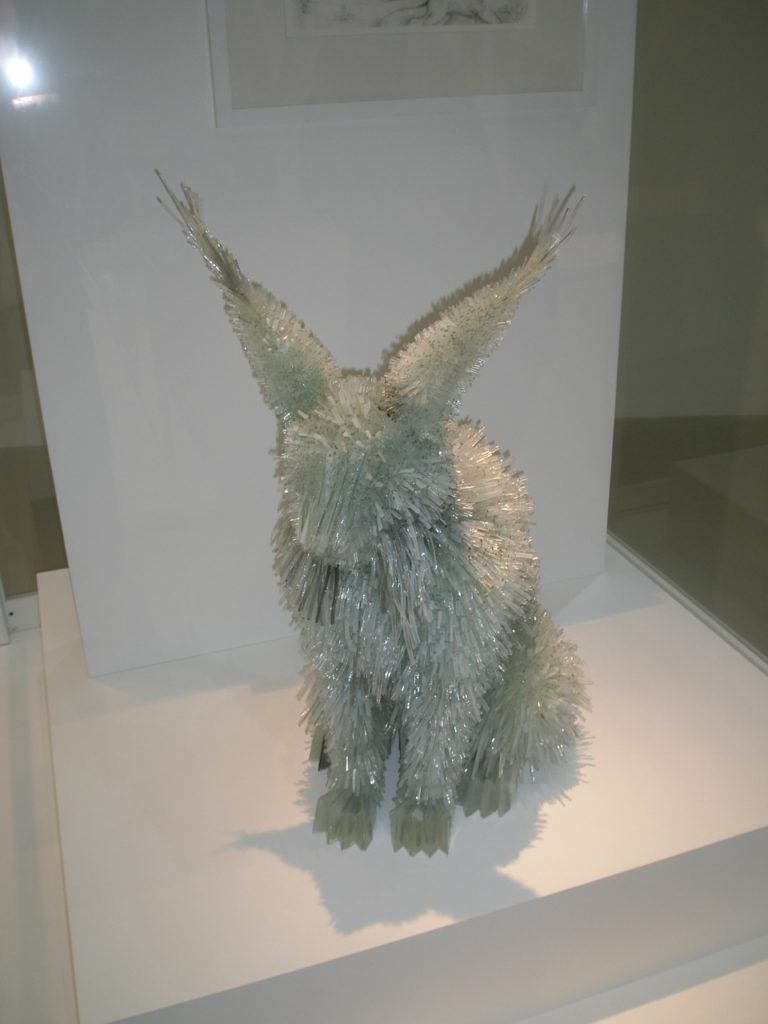 Corning Museum of Glass, Corning, New York
March 19, 2015
My wife and I collect contemporary art glass, and this probably is one of her top 5 favorite pieces in the entire world.  It's Lynx After a Sketchbook Page by Albrecht Durer, by Marta Klonowska.  She's done a whole series of pieces like this, using drawings and prints as inspiration for glass sculptures.
It's made of thousands of shards of sheet glass glued together.  In person, it looks kind of furry, but of course it's not.
By the way, the Corning Museum of Glass is really great even if you're not as crazy about glass as we are.  The contemporary galleries are particularly wonderful, but they do demos all day, and the rest of the museum is filled with amazing things from the earliest times people made glass up to today.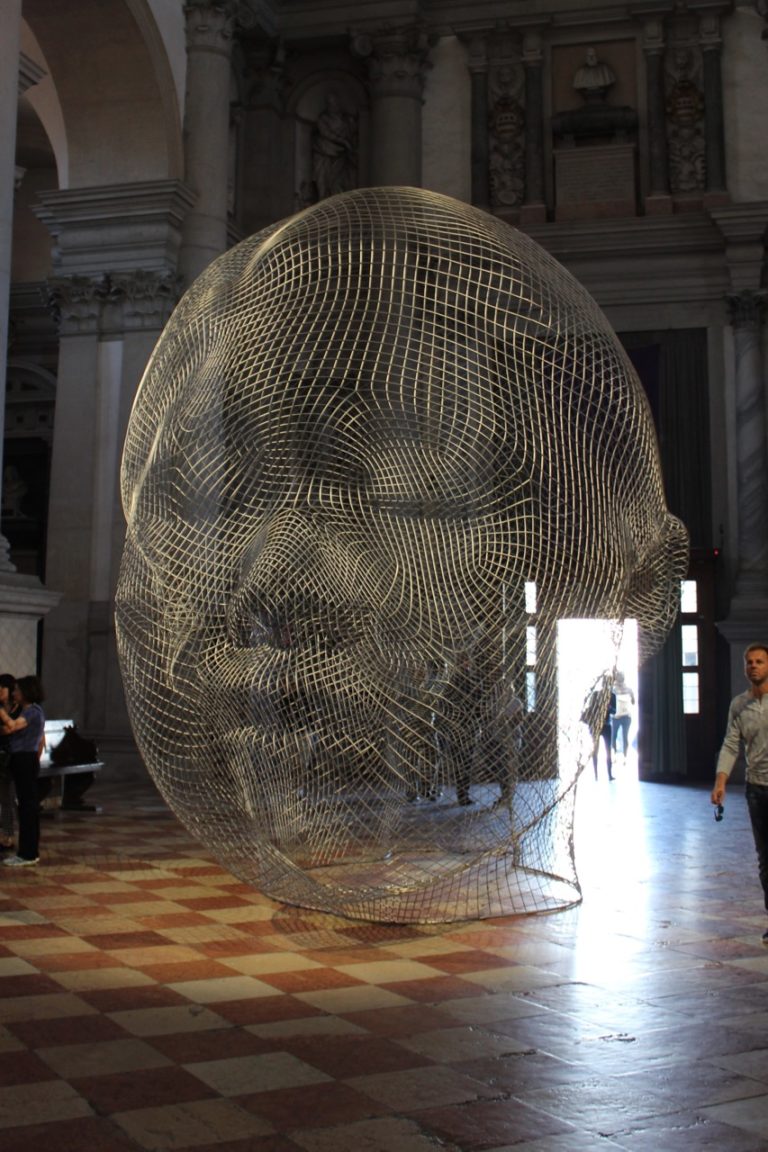 San Giorgio Maggiore, Venice, Italy
May 24, 2015
This is Together, by Jaume Plensa, which we saw during the 2015 Venice Biennale.  It's in a church on an island along the Grand Canal.  We've seen other works by Plensa, and they're usually monumental whole people, so the head and the use of the wire frame are unusual.  In the dim light of the church, it was kind of mysterious and ethereal.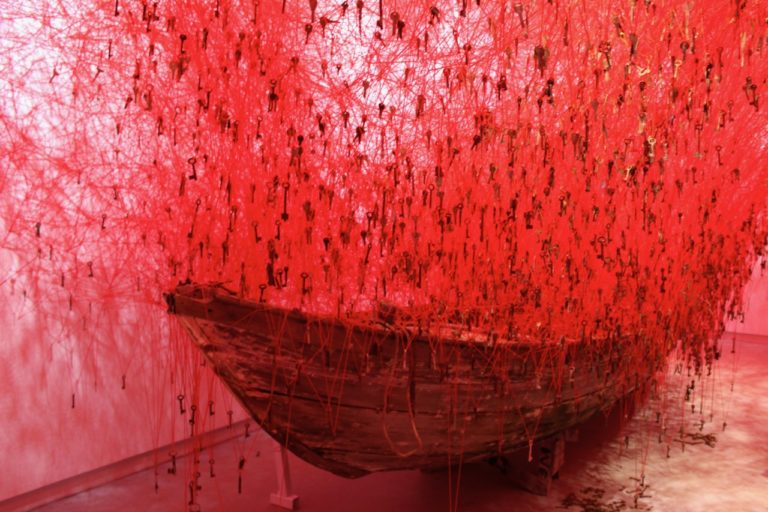 Giardini della Biennale, Venice, Italy
May 24, 2015
The Biennale really is three separate things.  First, there's the main exhibition, chosen by a curator, and held in a building that used to be used to make ships.  It's enormous and overwhelming, with works crammed everywhere.  We went through it in an hour with our group, and I think you either have to do that and hope you see the highlights or come back several times.  Second, there are subsidiary exhibitions all over town – the Plensa was one of those.  Third, there are national pavilions, where countries showcase their artists.  Most of them are in one place, although a fair number are scattered throughout the city.  I thought the best experience was going to the pavilions, as each one typically is devoted to one artist or a small number of artists, and walking between them gives you a chance to clear your head
This is from the Japanese pavilion.  It's a work by Chiharu Shiota called The Key in the Hand.  It filled a huge room – this is only part of it – and it was breathtaking.  The dark spots are keys, which she gathered from around the world to use in the piece.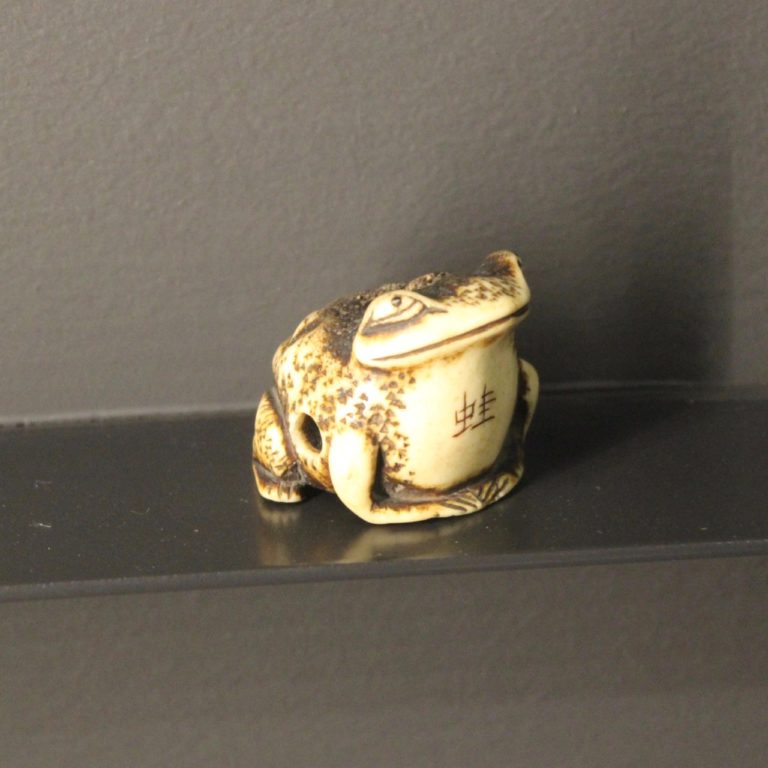 Musee des Arts Decoratif, Paris, France
January 27, 2019
More Japanese art: This is a frog netsuke from a show on Japonisme at the Musee des Arts Decoratif in Paris.  (It's technically part of the Louvre, but it really is entirely separate.)  Netsuke are really interesting.  They're functional, as they were made to be part of the rigging to carry things on a kimono sash (since kimonos don't have pockets), but the Japanese turned them into art.  There are simple netsuke, intricate netsuke, beautiful ones, scary ones, and funny ones.  Also, they're not very big – this one was about an inch across.  I really liked the expression on the frog's face.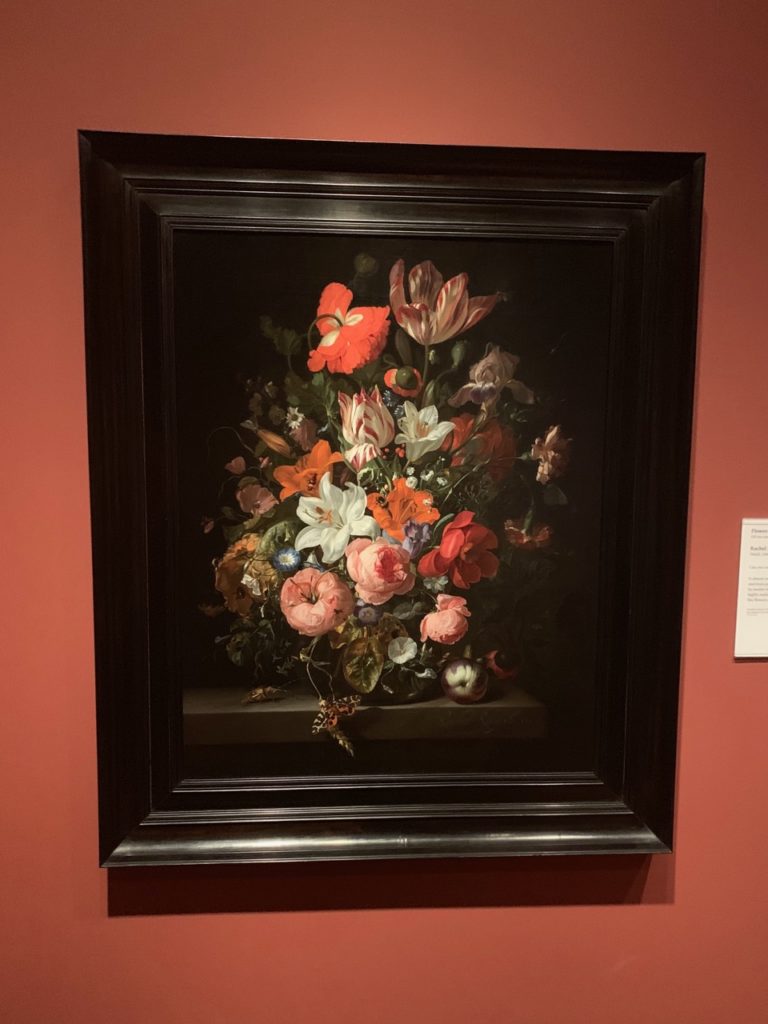 Detroit Institute of Art, Detroit, Michigan
May 17, 2019
I am a sucker for still life paintings, and if I had the money to collect serious art, I'd have a bunch of them.  A great still life painting showcases beauty, composition, and the artist's technical skills, and they also carry moral messages, typically memento mori to remind us that life is fleeting.  (You may be able to see the insects in this one.)
This painting, in typical still life fashion, is called Flowers in a Glass Vase, and it's by Rachel Ruysch.  It's pretty unusual to find a painting by a woman from the late 17th or early 18th century, and this is a beauty.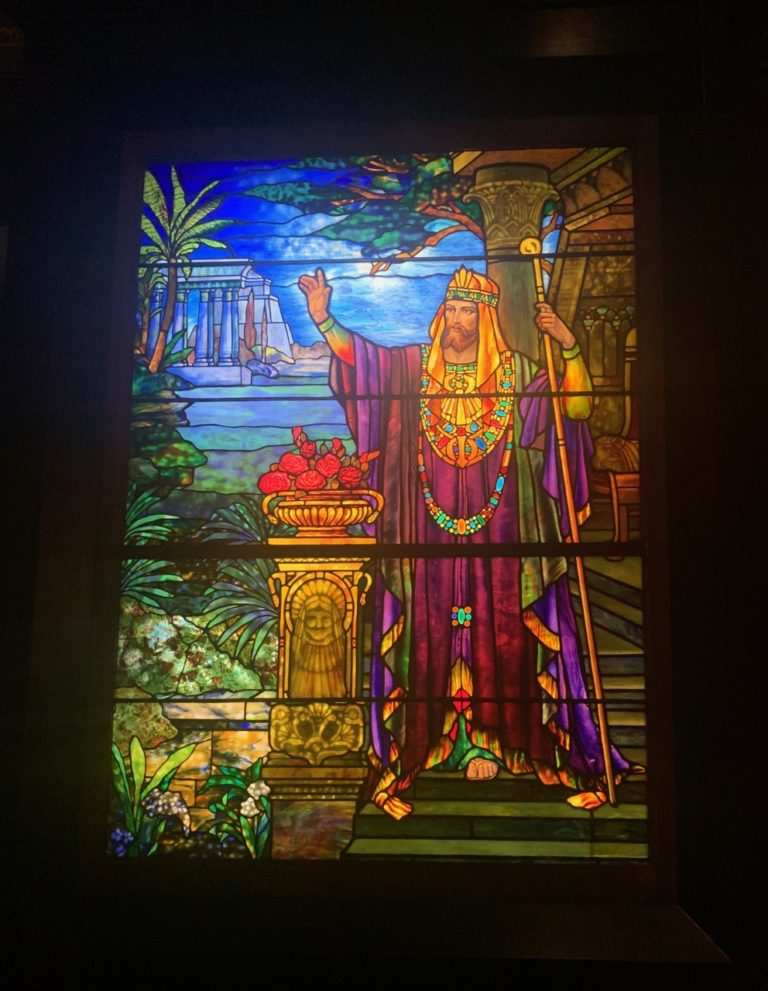 Richard H. Driehaus Museum, Chicago, Illinois
November 1, 2019
The Driehaus is kind of a funny place.  It's a house museum, but it also hosts some pretty good shows.  The house was a real Gilded Age showplace, and it was turned into a museum by a modern-day Master of the Universe, which at least is a better use of his money than donating to Republicans (although maybe he does that, too).  This show, which was about Tiffany ecclesiastical stained glass windows, was drawn from Mr. Driehaus's impressive collection of stained glass.
This piece is King Solomon, designed for Tiffany Studios by Frederick Wilson.  It's got a whole lot of the typical Tiffany signatures in it – layering, textures, variegated glass – and a pretty fun design.  I mean, check out his feet.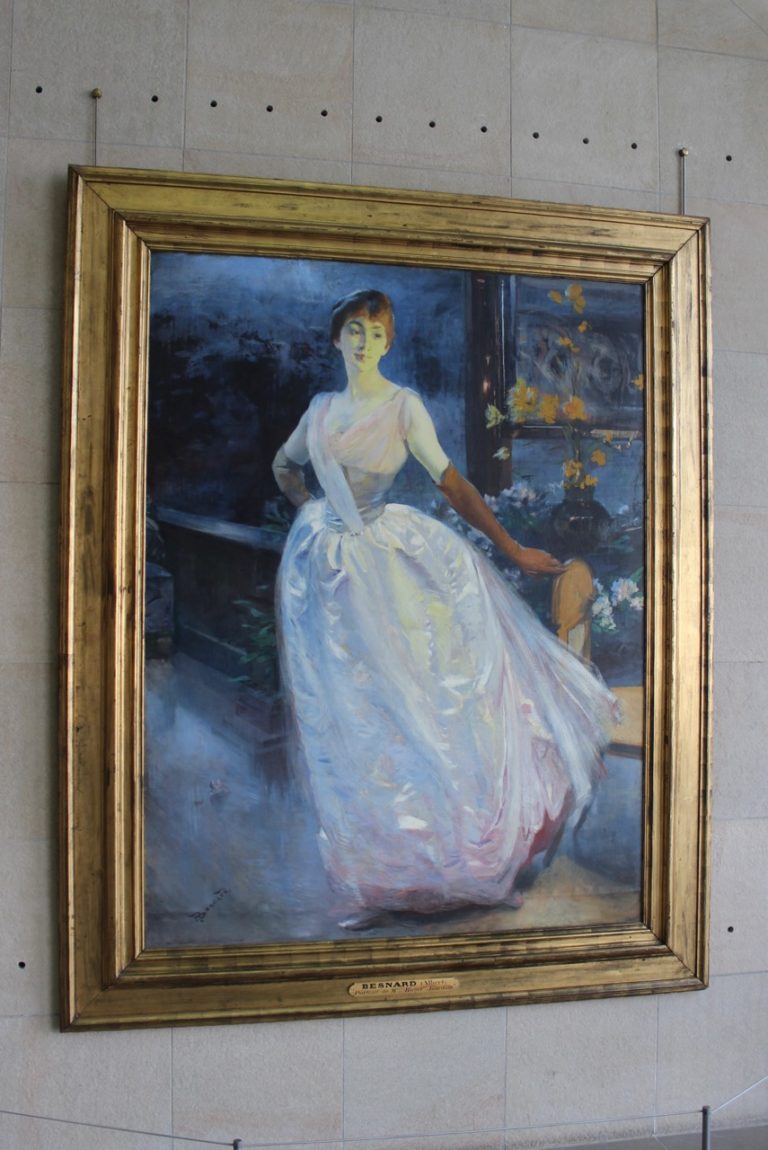 Musee D'Orsay, Paris, France
February 12, 2020
The Musee D'Orsay has the most amazing series of galleries I've ever seen – maybe 2/3 of the north side of the top floor is devoted to Impressionist and Post-Impressionist masterpieces, including so many of the most famous works that your head spins, with things like the Degas Little Dancer sculpture interspersed for kicks.
This painting is not in those galleries, although it's in the right period.  It's Madame Roger Jourdain, by Albert Besnard.  I took this photo on our last trip in the Before Times, and it really captivated me.  She is so serene and confident in her ball gown, and there's the great, exuberant flower arrangement behind her.  It seemed like a good way to conclude this post, in the hope that in the near future we can feel something like she felt.