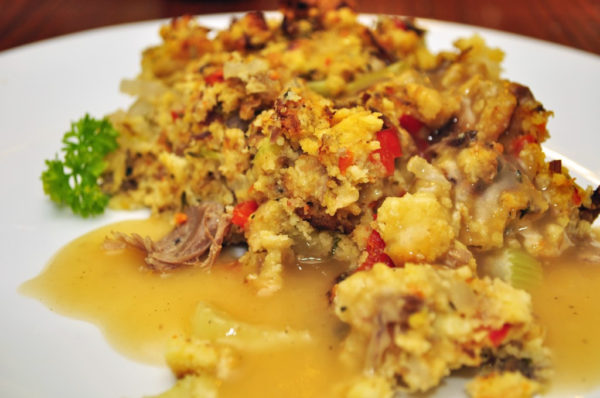 Thanksgiving is my favorite holiday, next to 4th of July. Food, family, friends…and leftovers. I compiled some favorite recipes here. Unfortunately this year, it will be a socially distant and quiet affair. No way am I traveling to see family, much as I would love to.
That doesn't mean we can't have good food. I'm pulling some more of my favorites this week and will post here as I do. Some I'll update with instant pot versions.
This is a good start:
JefferyW makes Cornbread Stuffing,  part 1 here and part 2 here.
Roasted Butternut Apple Soup makes a great starter, recipe here.
I think I'm going to volunteer for mashed potato duty this year so I can make these again, a lost recipe found, Hearty Garlic Mashed Potatoes, link here. I made them years ago and then completely forgot about the recipe.
And this recipe is the reason I think I get invited to many holiday gatherings, my Cranberry Upside Down Cake, click here.
Every year my brother deep fries a turkey. I'm going to miss that. I have a real fear of deep-frying anything, which is why all the deep-fried recipes on my blog are from JeffreyW. I will still cook a turkey though, because, leftovers.
Not sure how you want to cook your turkey this year? I've listed some ideas from people smarter than I am: turkey four different ways, here.
I'm not a fan of traditional candied sweet potatoes, so tonight's featured recipes are some non-traditional styles of recipes for sweet potatoes.
Cajun Sweet Potatoes
4 large sweet potatoes, peeled and cubed
1/4 cup water
1 tbsp olive oil
1/4 cup butter,  melted
1 tsp salt
1 tbsp brown sugar
2 tsp Cajun seasoning
¼ tsp cumin (opt)
Covered casserole dish, well-greased
Steamer and saucepan
In saucepan, add water, steamer and sweet potatoes. Steam until you can easily stick a fork in them. They don't need to be completely soft. About 10-15 minutes. Add sweet potatoes to casserole dish. Combine oil, butter and spices. Pour evenly over potatoes. Cover and bake at 375 degrees for 25-30 minutes until potatoes are soft. You can adjust cooking time if you prefer your firmer or softer potatoes.
Sweet Potatoes w/Apples
2 large sweet potatoes, peeled & cubed
¼ cup water
2 apples, cored & sliced
8 oz can sliced pineapple (including liquid)
2 tsp butter
½ cup orange juice
½ tsp cinnamon
¼ tsp salt
2 qt casserole dish, greased
Add ingredients to casserole dish. Stir gently and bake at 375 degrees for 40-50 minutes, uncovered, until apples and potatoes are very soft. Cover if it begins to brown too much
=======================
Meanwhile, consider this a much needed open thread (which will guarantee a flurry of additional posts!)
Bon Appétit!