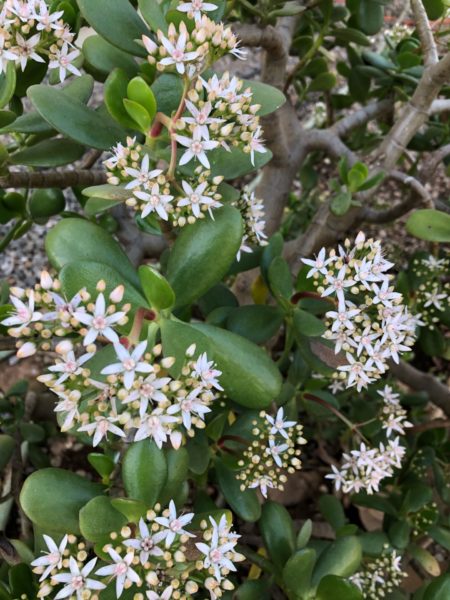 From commentor, gardener and political activist Scout211:
Jade plants are easy to grow and we have been growing them since 2006. It all started with an election campaign.

In 2006, prompted by a couple of websites with initials FDL and BJ, my husband and I decided to get active again and join a local campaign for congress. Remember Richard Pombo? He was the Republican Congressman from Tracy, California that was busy during the GW Bush presidency working on gutting the endangered species act. He was our congressman when we lived in Stockton.

An engineer from the East Bay decided to take a chance and run against Pombo. Starting in Spring of that year, we answered a call to campaign for Jerry McNerney. We worked every single weekend until the election in November knocking on doors and talking with voters in areas all over Stockton.

One female voter, who was very happy to talk with us, had a large assortment of jade plants on her front porch. I complimented her on their beauty and she immediately got her clippers out and gave me several cuttings.

We are still growing those cuttings and keep growing more jade plants off cuttings that we take from the two "mama" jade plants (from the original cuttings).

A few of the youngest cuttings:


A mid-sized plant:


One of the "mama" plants still in a large pot:

Here, and at the top, are close-ups of the second "mama" plant. Earlier this year, she fell over during a windstorm so we had to remove her from the large pot and plant her in the ground. We were not sure if she would survive our hot summers in the ground but with shade cloth and lots of extra water, she survived and is now thriving, with many blossoms this year:


We actually did not know that jade plants bloom. We were very surprised the first year we were gifted with blossoms, many years after starting the cuttings. Only the two "mama" plants blossom, so I am hoping that the younger ones will eventually.

Jerry McNerney was re-elected again this year and will be starting his 8th term in congress. We no longer live in McNerney's district, but we have always felt good about helping him win his first election and also for being given the jade plant cuttings by a very generous fellow Democrat.
***********
I have a packet of pea innoculant, but not (a reservation for) the bred-for-container-growing pea I intended to use it on. However, I've got some sweet peas on order, and I think I'll try the innoculant on them this year — see if maybe it encourages them to rebloom after the heat of summer, which last year's plants didn't. (Of course last summer was a killer for a lot of plants, so… )
What's going on in your garden (planning / indoor / propagation), this week?