Looks like we could use a new post.
I owe you a full-fledged duckling post, but it's been a busy week of cleaning up after the blizzard and taking care of increasingly more time-consuming soon-to-be feathered housemates.  So here are a couple of photos from yesterday. Tomorrow they'll be bigger still…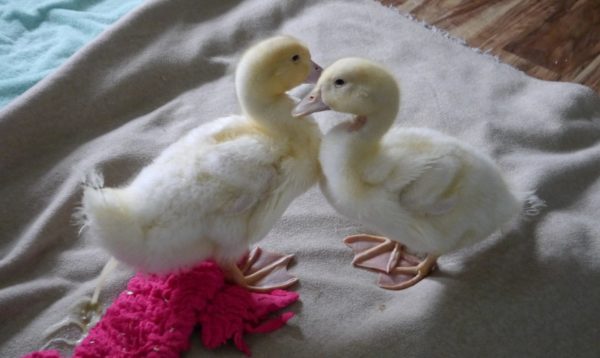 This happened yesterday:
I have lost all control. The ducklings were out and I was busy working. Suddenly all I hear are duck feet running and lots of squawking.

They had made their way to the bathroom and were making a ruckus at the bathtub.

To recap, three weeks old, they know the word bathtime, they know how to find the bathroom and they know how to get their point across. Give them another week, they'll be running their own bath.

(Oh, please, warm weather hurry up, these guys need outside time!)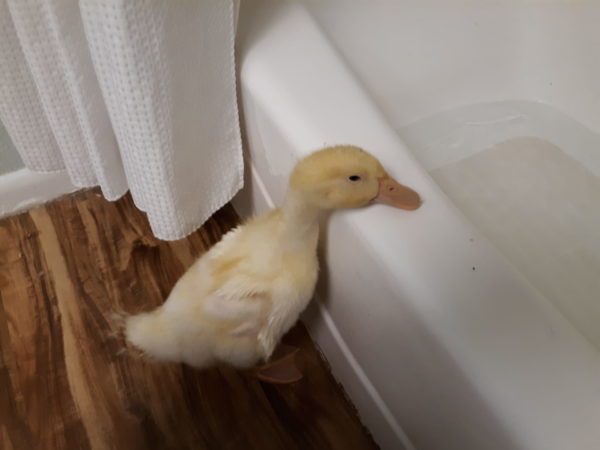 So I've kind of named them. But I'm not sharing in case it doesn't stick and you guys complain for the next 8 years that you know them as their original name from when they were 3 weeks old. ?
How about you take a swing at it? What should I name them? They have very distinct personalities. The larger one is very grumpy and protective. Not fond of being picked up and prone to nibbling on me. The smaller one is the adventurous one and loves to be held.
Remember….we don't know their sex yet, but by their voices, I'm still suspecting they are both female.
No. Food. Names. It's not funny, even though you think it is. ?
Otherwise, open thread