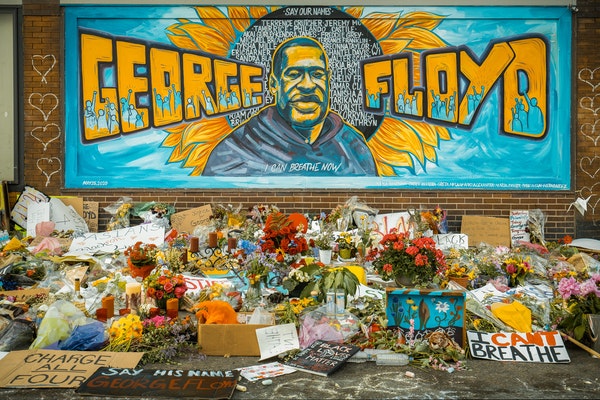 This post isn't so much about George Floyd in particular, but the next George Floyd, and the one after that.  And the person before George Floyd, and the person before that.
Here are a couple of good reads related to police actions and hopes for police accountability.  Once encouraging, one descriptive of the world that black people live in – all day, every day.
Maryland enacts landmark police overhaul, first state to repeal police bill of rights.
Maryland enacted historic police accountability measures Saturday, becoming the first state to repeal its powerful Law Enforcement Officers' Bill of Rights and setting new rules for when police may use force and how they are investigated and disciplined.

The Democratic-majority legislature dealt Republican Gov. Larry Hogan a sharp rebuke, overriding his vetoes of measures that raise the bar for officers to use force; give civilians a role in police discipline for the first time; restrict no-knock warrants; mandate body cameras; and open some allegations of police wrongdoing for public review.

Each bill had been hailed by criminal justice advocates as having the potential to make policing in the state fairer and more transparent. Democrats, who hold large majorities in the legislature, made enacting them a top priority after months of protests over the police-involved deaths of unarmed Black men and women.
Opinion: Being Black in America is exhausting, by Jonathan Capehart
"Tired" doesn't just refer to the trauma of the Derek Chauvin trial or seeing replays of the video of the former Minneapolis police officer killing George Floyd. Nor does "tired" just refer to seeing Daunte Wright being shot by a Brooklyn Center, Minn., police officer after being pulled over because of an air freshener dangling from his rearview mirror, as his mother has said. Or because of expired tags, as the police said. No, "tired" is all of that, plus whatever personal trauma we carry with us.

There is no one way to be Black in America, but there is one way we live while Black in America. No matter our gender, age or socioeconomic status, we are viewed as threats. As a result, we live under siege.
SiubhanDuinne posted this in a comment last week, in a thread I finally read a few days later.
We have to change this.  How do we do it?
The answer to the question "How do you eat an elephant?" is "one bite at a time."  So what's the first bite?  What can regular people like you and I do?