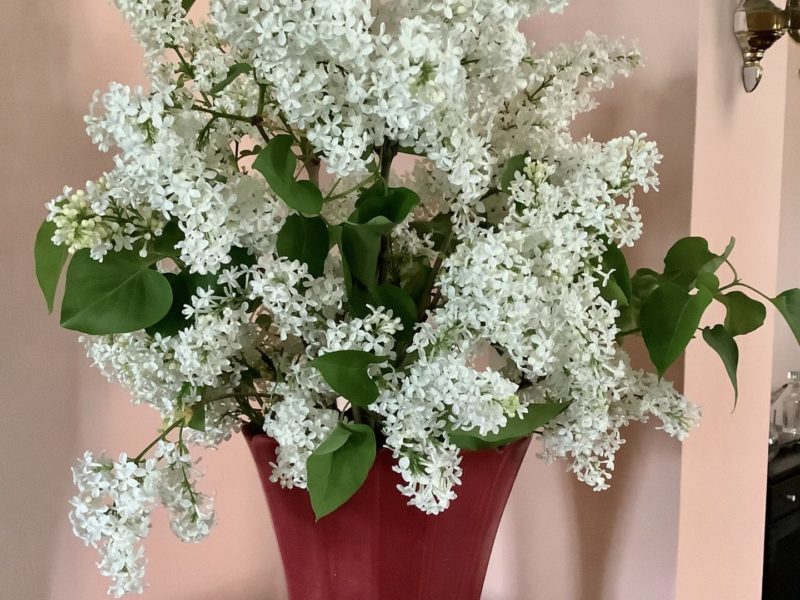 Thank you, commentor Jeffery:
The white lilac needs a major pruning this year. I cut these today and brought them in. See how long my sinuses will deal with the fragrance.

April 19, 2021

April 20, 2021 Violets in the lawn (they decided to grow here)
***********
Our white lilacs panicles are just beginning to open — they're always the last of our ten or so syringas to bloom.
Jeffery also let me know that the first Saturday in May (so, yesterday) is World Naked Gardening Day. On the one hand, it was *almost* warm enough to do that here north of Boston yesterday; on the other hand, I don't even like to expose my scalp to that much UV. Leaving aside the issue of potting mix sifting where potting mix was never meant to sift… not to mention that my garden fronts a busy street!
White Flower Farm sent my first live plants for this year (Ramapo, Madame Marmande, and Chocolate Sprinkles tomatoes, plus three of the six sweet-pea plants I ordered). I don't expect the specialist tomato nursery to ship for another two weeks at least, but at least I'm growing all these plants in pots, so I don't have to worry about the ground being too cold.
What's going on in your garden(s), this week?