A few items for everyone to chew over:
The Supreme Court is going to review a Mississippi abortion law banning abortion after 15 weeks of pregnancy. Looks like Mitch McConnell will finally achieve a long-term Republican goal of essentially outlawing abortions in red states.
In New York, Cuomo just announced that we're going to follow CDC guidelines and end masking everywhere except public transit, schools and health facilities. On the graph below, the yellow line is the positivity rate in my county (Monroe, NY), the blue is number of tests administered. We've been stuck at 3-ish percent positive for months. We're around 54% vaccinated. Should we unmask indoors? I think it's early. New Jersey hasn't ended their indoor ban, for what it's worth.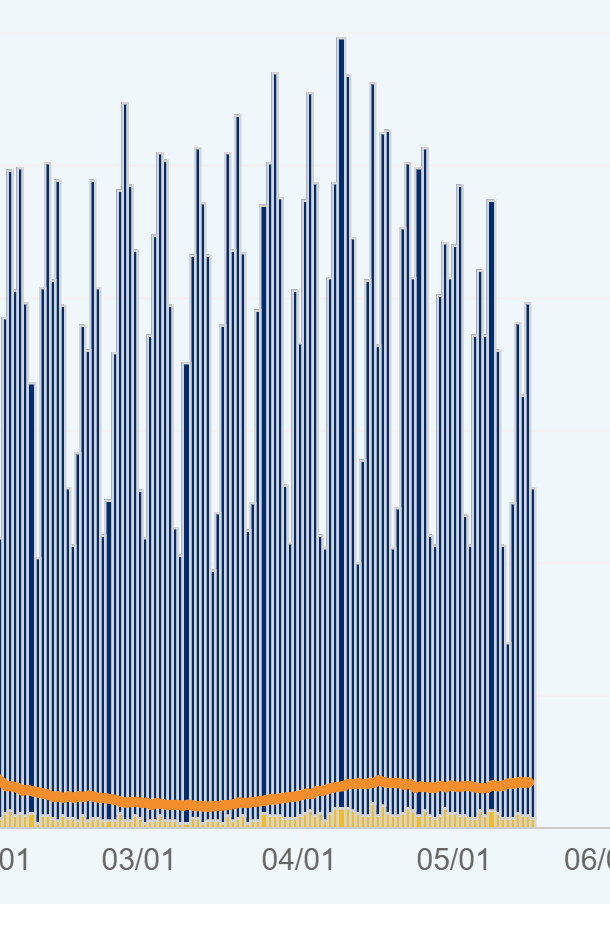 A short anecdote: As I've mentioned before, schools in my suburb have been in session without major issues for months due to commitment by teachers, staff, kids and parents. It is not uncommon to see kids riding bikes or hanging out alone with a mask on. It is just not that big a deal to them. A few days ago, a radio host tweeted out that he hoped that the poor children in our community can at least attend summer camp without masks. A few minutes after reading his tweet, I looked out the window and saw a kid ride by on his bike, with his mask on. Maybe instead of listening to whiners, he could have asked a few of the kids around here, who don't seem to have a problem wearing a mask.
Matt Gaetz' pimp pleaded guilty today and confirmed that he's agreed to cooperate with the government. Fingers crossed that Gaetz gets some sort of consequence.
The Biden Administration is going to send 20 million doses of FDA-approved vaccine abroad by the end of June. This is in addition to the 60 million doses of Astra-Zeneca we've already committed to sharing.