On the Road is a weekday feature spotlighting reader photo submissions.
From the exotic to the familiar, whether you're traveling or in your own backyard, we would love to see the world through your eyes.
lashonharangue
As soon as my spouse and I were vaccinated we started looking for where we could travel. It turned out that Costa Rica, while having various restrictions still in place, was open to tourists. Rather than insisting on test results or quarantining, Costa Rica mandates purchase of health insurance that specifically covers hospitalization for Covid and to cover hotel stays if quarantining becomes necessary. So we purchased the insurance and booked a trip there to see as much of the wildlife as we could over a two week trip in June. Going during the rainy (low) season combined with reduced tourism due to Covid meant we got to see things with much smaller crowds.
We only spent one night in San Jose on the day we arrived. The next morning our van ride took us east over the mountains and down to the Caribbean coast. Our destination was Tortuguero. However, there are no roads to get there. After driving past banana fields we arrived at a small river. There we and our guide boarded an otherwise unoccupied 12 person water taxi. We motored slowly for an hour through the jungle to get to our hotel next to Tortuguero National Park. The next morning we got up early for a guided kayak trip into the park. The kayaks were loaded onto a water taxi and we went a short distance to where we and the kayaks were dropped off.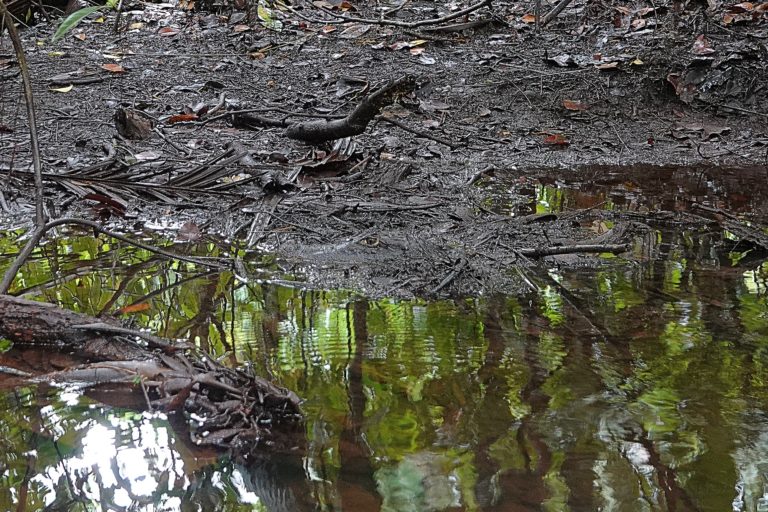 Tortuguero National Park
We saw a lot of wildlife in Costa Rica. But in most cases we needed our guides to point them out. This is my Where's Waldo the caiman shot. Look for the eye near the water's edge in the center of the picture.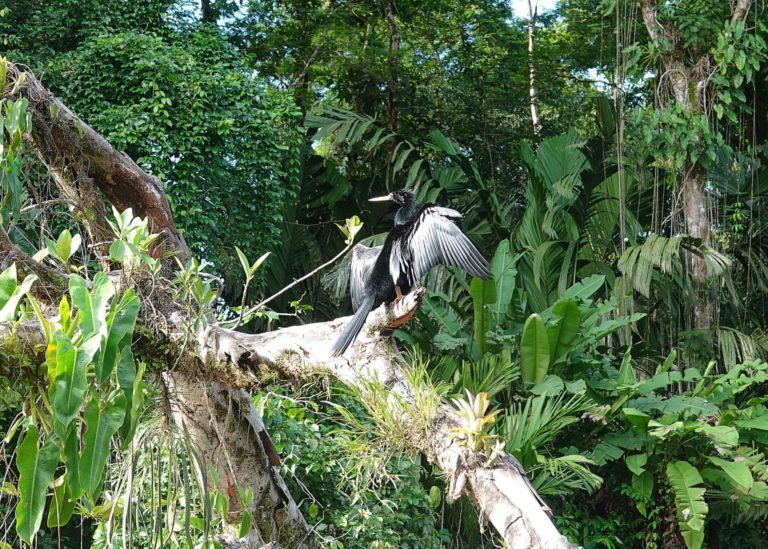 Tortuguero National Park
This bird is an anhinga. It is similar to a cormorant but doesn't have the oils in its feathers to keep them dry. So after diving for food it has to sit out and let them dry out.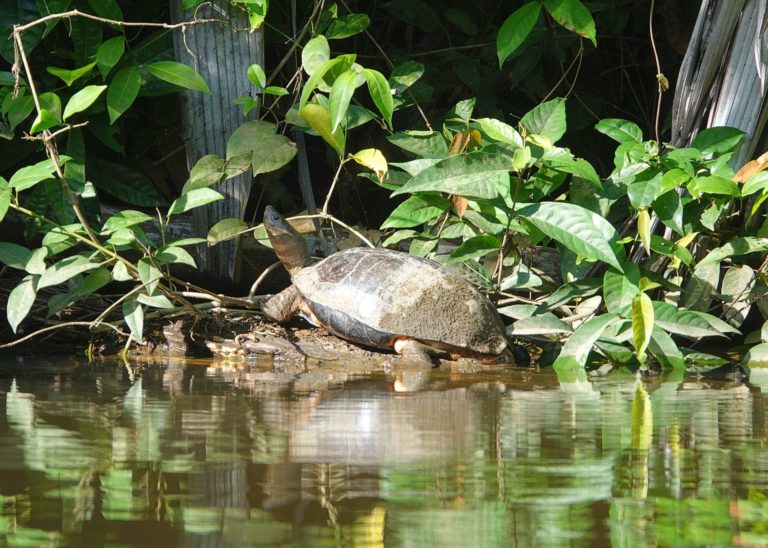 Tortuguero National Park
A turtle getting some sun.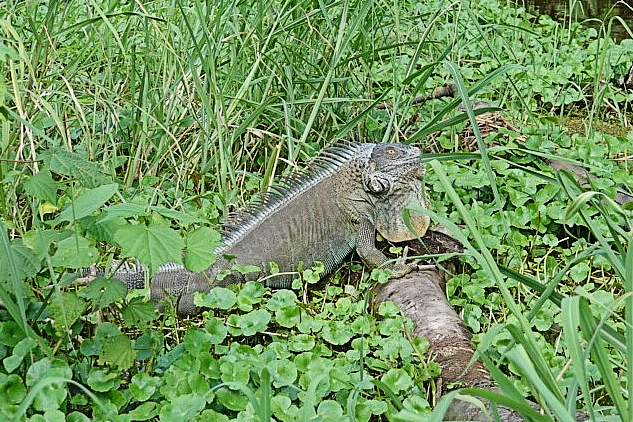 Tortuguero National Park
We saw lots of green iguanas, often getting warm in the trees. This one was down by the water's edge. Iguanas used to be hunted for food in Costa Rica but are now protected.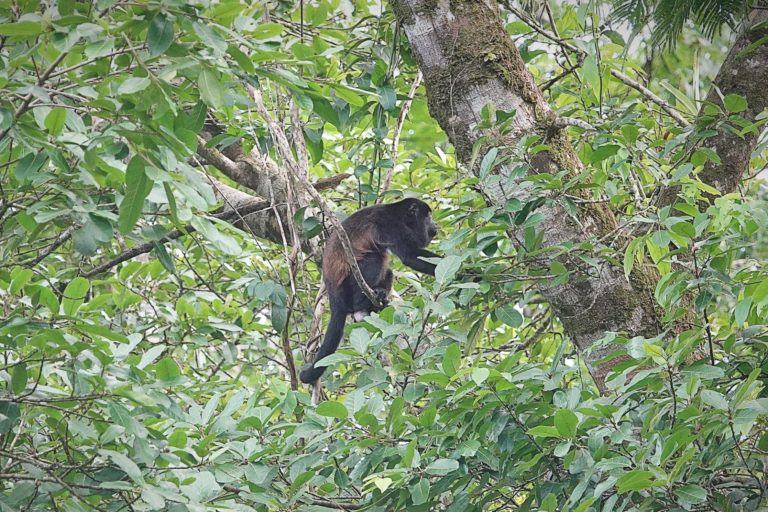 Tortuguero National Park
This is a howler monkey. I didn't get any great shots of them but boy are they loud.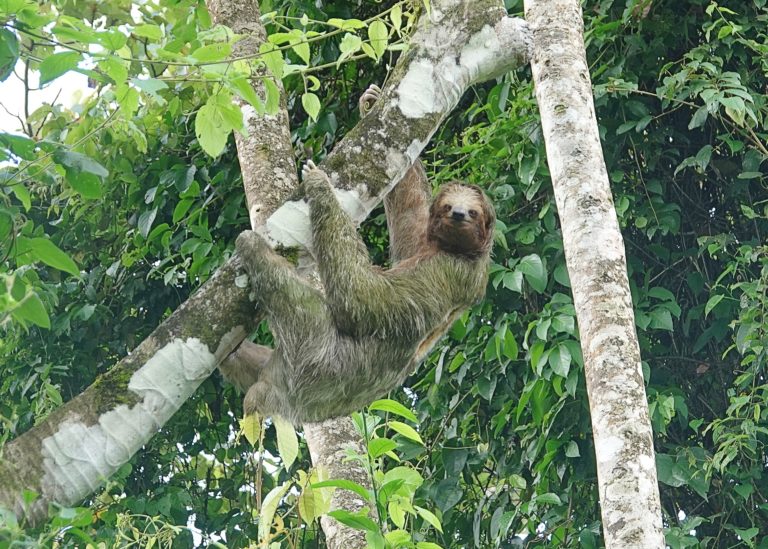 Arenal
After three days we took a water taxi trip back to where our shuttle bus was waiting, and then drove west to La Fortuna – a tourist town at the base of the Arenal volcano. We spotted this 3-toed sloth as we were driving on the driveway to check into our hotel. Though not in the heart of the town this was a relatively developed area.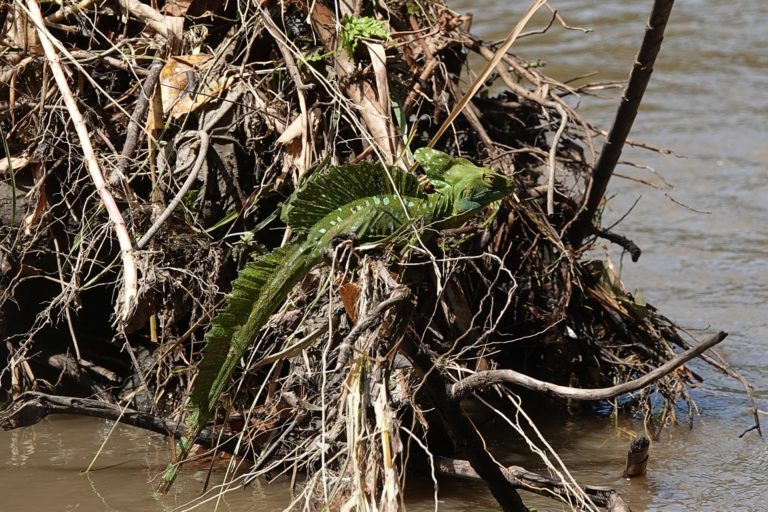 Arenal
The next day we did a float trip down a small river. This is a basilisk lizard, aka Jesus Christ lizard. While I didn't see this one run across the water, later in the trip we did observe that behavior.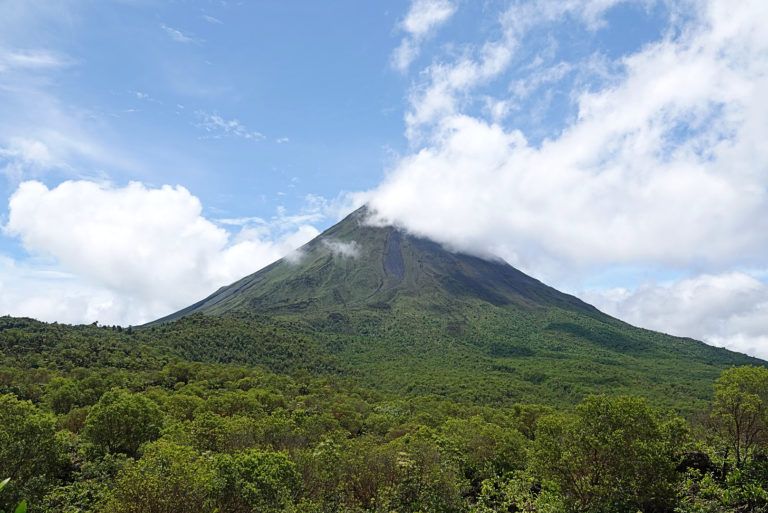 Arenal
The Arenal volcano is still active and has steam coming from the top (obscured by the cloud). There is a thermal river that flows down from it that we soaked in. La Fortuna is on the west side of the volcano and was spared by the big eruption in 1968. Three towns to the east were not so lucky and 87 people died.
Next Stop – Monteverde Cloud Forest