On the Road is a weekday feature spotlighting reader photo submissions.
From the exotic to the familiar, whether you're traveling or in your own backyard, we would love to see the world through your eyes.
A recent OTR posting about the Heceta Head Lighthouse inspired me to share some photos and stories about another Lighthouse I have visited "a few times". For reasons that will soon become obvious, this is easily my favorite Lighthouse (although Heceta Head, along with Pt. Reyes, is certainly near the top of that list as well).
During final edits, I realized this posting is actually a bit of a hybrid and I'm drawing outside the lines a bit; this posting is a mix of both OTR and "Artists In Our Midst" (mostly the former, but at least a little of the latter). In this case, the artists were a dedicated volunteer group of skilled craftspeople that allowed me to work with them for around a decade (I may be dedicated; skilled is open for debate). Over the past 25 years or so, this amazing team has contributed more than 80,000 person-hours (and it has to be near 100,000 person-hours by now) towards the restoration of this Light Station. I account for around 1,000 of those hours; along with occasionally getting really dirty, I was one of the docents when we had guests. It became our (occasionally obsessive) goal to restore this Lighthouse to the look and feel of when it was first operational (which was 1890). It was through this project I became a bigtime pharaohphile (Lighthouse fanatic) and have visited many Lighthouses on the West Coast.
Anyway, with that docent background, I can talk for hours (and have occasionally done so) about this place, so enough introductory words; time for some photos and some stories.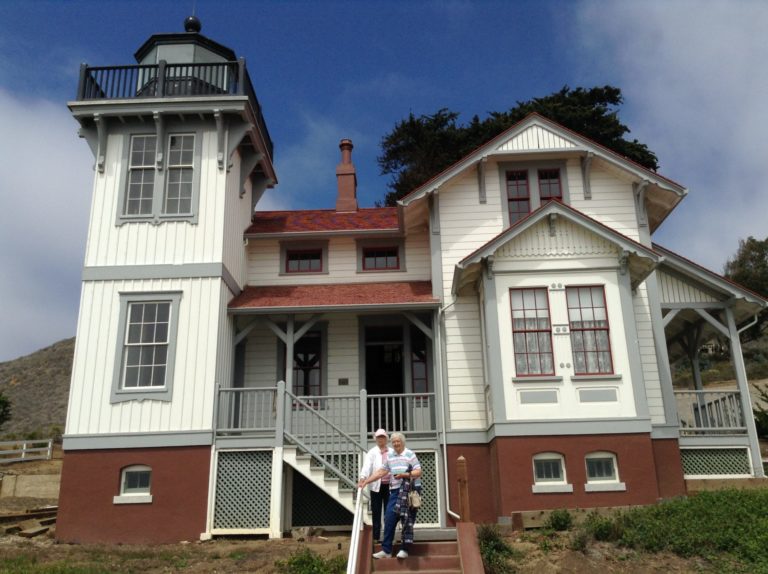 PSL Lighthouse Front
This is the Point San Luis Lighthouse, which is located near San Luis Obispo, CA (given this is Balloon-Juice, I'm amused that the linked map shows Fat Cats Cafe; Fat Cats is actually quite good and, better yet, gives a small discount for Folks that visit the Lighthouse). There are a few clues in the photo that tell me this is a fairly recent photo, not the least of which being my Mother and Aunt, but the first things I see (sorry Family Folks) are the vinca groundcover and the lantern railing. Both changed along the way, but this was the original configuration. The "original" thing will come up a few times in this posting.
PSL Lighthouse is a little difficult to reach. It's not the most difficult one I've ever tried to reach (easily, that would be St. George's Reef Lighthouse near Crescent City, CA; maybe I'll share a little about that one in another OTR post) but visiting there is going to take a little bit of planning. I'll come back to how to get to this hidden jewel of the Central Coast at the end.
Port San Luis and the Lighthouse have an incredible history. There is a video of some of that history here, where I show up VERY briefly (and, no, I'm not going to share which one is me). As part of the docenting, a fair amount of time is spent sharing stories of the Chumash Indians, the narrow gauge railroad, the unique geology of the area, and much more. What would be most spectacular (if we knew when they would show up), it is a FANTASTIC spot to watch for the northbound gray whales (northbound, the mothers and calves get VERY close to the shoreline).
I'll share one more video link that shares the "before" condition of the project around the time I became a part of it. Not long after I started, we had a visitor named Huell Howser (he was famous in California; if you haven't heard of him, he did travelogs in the state for PBS). His visit to the Lighthouse begins at 1:12 of this video and concludes around 16:55.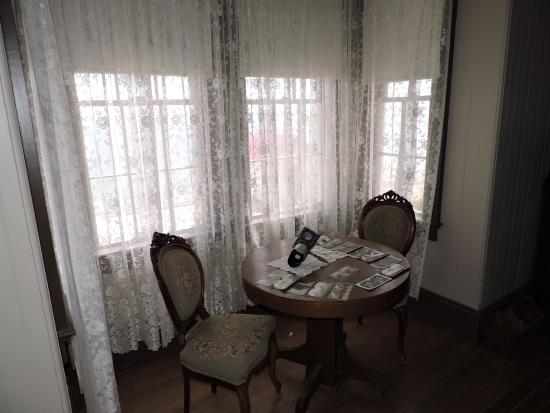 PSL LIGHTHOUSE PARLOR
This was the first room restored by the Lighthouse Keepers (and the one I had absolutely nothing to do with restoring; it was done before I showed up). All of the furnishings and artifacts are period authentic (there are better pictures of the parlor, but the stereoscope is a favorite item). Also of note in this picture is the effort made to make the rooms look as original as possible; scrapings were taken to an expert and that was the original color. Every room but one in the house has that look (and I can't spoil the story of the one room that is different; too long to explain and can't spoil the surprise for those of you that visit, in person or virtually).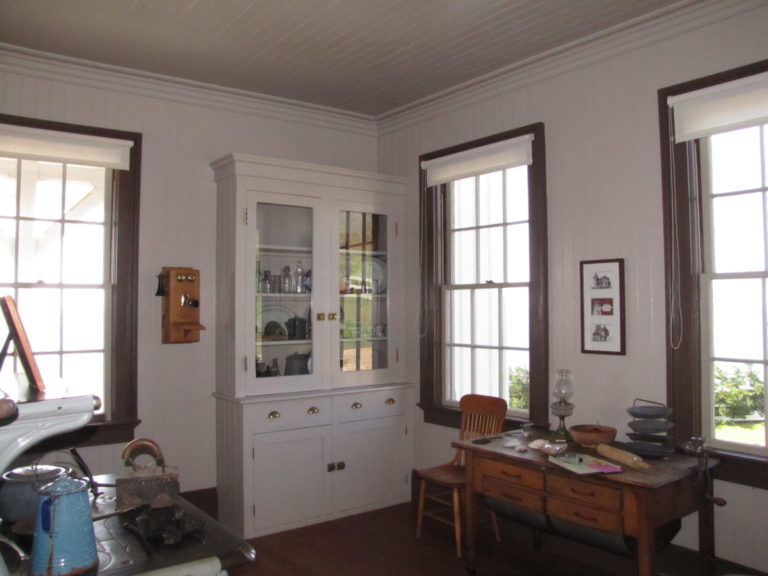 PSL LIGHTHOUSE KITCHEN
My favorite room in the house and only partially because it was the first room I worked on. The kitchen reminds me of the quality of the original craftsmanship (almost all of the wood in the house is original; there are a few patches here and there, but it is amazingly minimal) and the original design. This structure is SOLID. One of my favorite stories about the Lighthouse is about a strong earthquake that happened in the area; we went over the house very carefully and didn't find any damage at all. The much younger Duplex a few yards away? Obvious damage.
Oh, the Duplex. I will come back to the Duplex.
One more thing about the kitchen: The original stove was a Eureka #7 coal stove. I've looked all over virtually and in every antique store I visit for that stove and … can't find it. A lot of the things at the Lighthouse are things found here and there by friends of the Lighthouse (for example, the phone on the wall); if anyone ever sees a Eureka #7, we'd love to know about it.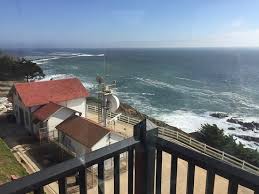 PSL LIGHTHOUSE LANTERN
This is where I spent a lot of my time getting dirty; the tower and the lantern were my two principal projects out there. The lantern had severe leaks; initially, it was originally guessed to be about 6 months of work, but it turned into a project that lasted about 6 years. The lantern glass was put in by a company that did something with the Monterey Bay Aquarium (so it isn't ever leaking) and all of the seals were carefully replaced (ditto).
Another story from this photo about how obsessive the Lighthouse Keepers are – the roof on the foghorn building (upper left) is new and special permission had to be obtained to use shingles that didn't have fire retardant (as those didn't exist in 1890)…
…that being said, fire was a huge concern at the Lighthouse and we went to extremes to prevent it from happening. By the time a Fire Engine navigated the single lane road out there (especially before it was improved and paved, circa 2008), it would be all over.
Final related story: There was a recent movie called "The Lighthouse Keeper" that used the location; terrible script, incompetent directing, ridiculous special effects, horrible acting, but a beautiful lighthouse (all bias readily admitted). I share that story as, unless it was CGI, lit candles were used inside the house in the movie and, when I saw it on screen, I thought I was going to have a heart attack. I'm not kidding; I screamed.
The lantern was also the second best location on the property to watch for the whales. I'll share the best in a moment.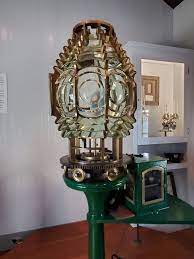 PSL LIGHTHOUSE LENS
This is a 4th Order Fresnel lens in it's own special environmentally controlled room in the Foghorn House. It's still owned by the Coast Guard and worth … a lot … so it can't go back into the lantern (not to mention that would be problematic for tours).
The lens was on display for decades in downtown San Luis Obispo; on the day of it's return to the Lighthouse, the weather was terrible downtown to start the journey. We were all seriously concerned, but, as soon as the Lens returned to the Light Station property, the weather cleared and it was a beautiful day.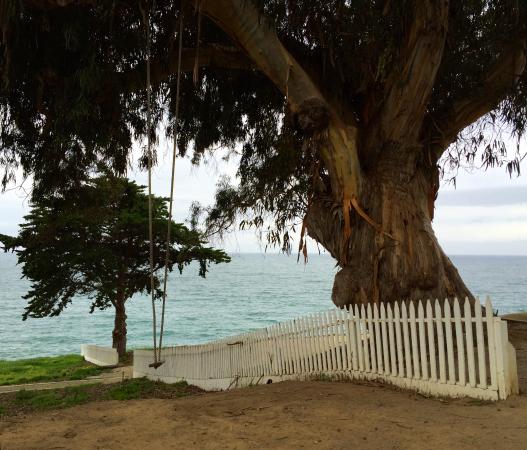 Probably the second most photographed location on the property (if we are talking video, it may be Number 1). It's a great swing and has a perfect view towards Point Sal to watch for whales. Best whale watching I've ever seen from land (by far) but, of course, it's so unpredictable. One time the whale was so close that I saw a large discoloration that I found odd, fearing it was from a ship strike; anyway, I contacted the lead veterinarian at the Marine Mammal Center (another volunteer gig at the time) and she said, no, it wasn't from a strike, it was whale lice. Ewww. Sorry.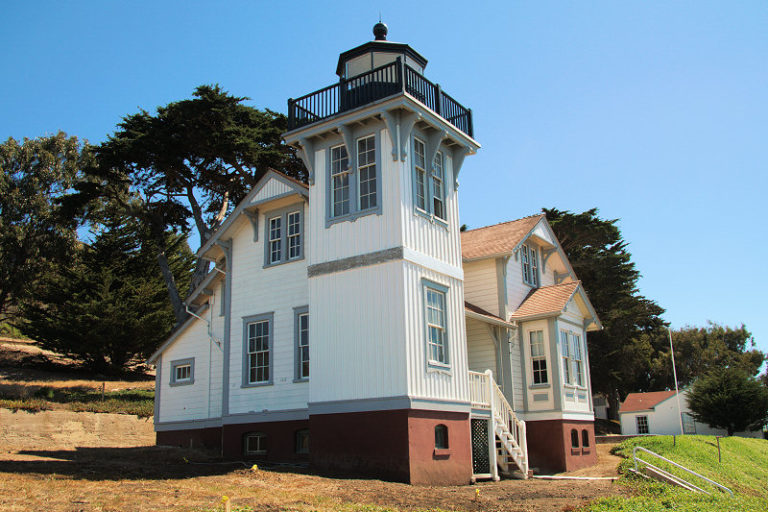 PSL LIGHTHOUSE
Another fairly recent photo, the clues this time are the indoor bathroom and the washroom had both been removed…
…and there is the first look in these pictures of the Duplex. Time to tell THAT story.

PSL Light Station
I'll confess up front: Not my photo, but I know the photographer and it's from a Commons Archive, so I'm calling it fair game. Also, this photo is moderately old. The clue this time? The Porta Potties. Several new bathrooms are there now, all very nice. Get those ugly blue things out of there!
So, there were 5 principal buildings at the lightstation (not counting things like the barn, etc). 4 of those buildings still exist and we have access to 3 of them. From left to right in this photo, the so far not introduced buildings are the Fuel Oil House (for paints and the original light fuel, which was kerosene), the Coal House (cooking and original Foghorns, which were steam whistles)…
…and the Duplex. Siggggggggh. The Duplex.
The original Duplex was a lovely Victorian as well, but it fell into disrepair and was razed circa 1960. The second Duplex just feels so wrong out there. The interior is quite lovely now and highly functional, but the exterior is … unacceptable. A group of us have wanted to recreate the facade of the old Duplex on top of the very nice interior but … it hasn't happened yet. Someday, maybe.
The one original building we can't access is probably obvious. The original Coal House is fenced off, mostly because of Vandyland, i.e., Vandenburg Air Force Base (I will not call it "Spaceforce") and the present day Coast Guard automated Light.
So, some final thoughts. There are all sorts of pictures and videos of the Lighthouse available online, from the website, guests, and local news, etc, but, if you have the chance, this Lighthouse is well worth the time and effort to visit in person. If that isn't possible, there are virtual tours as well (which became very necessary in these recent pandemic days).
It's a VERY special places. There is something going on out there that I won't try to explain. The coffee tastes better. The coffee cake tastes better. It's just very relaxing in a way that is hard to explain (I have heard this from guests as well; it's not just the volunteers). If you are able, I would be absolutely thrilled if you are able to visit in person (or virtually) and enjoy (better yet, fall in love with the place and choose to volunteer) this place that has been worked on so hard by a really amazing group of Folks (that tolerated me).
There are a few different ways to get there in person.
By road, one has to go through the gate at Diablo Canyon (which means only a limited number of people can drive out there; tours are offered). There is a reasonably easy 3.5 mile (round trip) trail with hikes offered at least twice per week (docent led; the nuclear plant property is crossed and they insist). There is one steep section but it isn't bad and we take our time. Finally, my personal favorite (other than driving, naturally) is getting there by kayak. Some might be tempted to walk out at low tide; that is a really bad idea (don't ask me how I know this fact; let's just call it a Dangerman thing).
As mentioned, I can go for hours on this place; I hope I didn't share too much here. Thanks for reading.