Well, well, well. Looks like the Republicans don't want to gain any ground in Colorado in 2022.
Seems they are voting to give those far-right nutjobs the advantage in the primaries and want to hobble the entire party with this:
The text of the resolution is:

Whereas over the last 6 election cycles the people of Colorado, on both sides of the aisle, continue to mistrust the accuracy of election results and whereas elections exist to give these same people a republican government they choose through democratic means that can be held accountable at the ballot box, and whereas illegally cast votes directly cancel out legally cast votes, Be It Resolved that the Colorado Republican Party supports each eligible voter actively registering to vote, ending automatic voter registration, and insists on the cleaning of county voter rolls so that only qualified voters receive ballots who then are required to show state issued ID when voting in person. The Colorado Republican Party also supports locally controlled elections following the rule of law with verifiable counts and processes; rejects Secretary of State administrative rules used inconsistently in opposition to state law and changed in the midst of an election; opposes the use of private funds to assist in the administration of elections; calls for the development of a plan to hold elections during emergencies; and requests forensic audits of election machines and the maintaining of backup images of each hard drive in the voting system on an external hard drive, kept safe for the statutory 25 months or until the completion of all audits
While it may mean we are stuck with the national embarrassment known as BoBo, it does not look good for the party overall:
"All it's going to do is give Democratic campaigns and candidates something to create headaches for Republican candidates come this fall," said David Flaherty.

Flaherty runs Magellan Strategies, a conservative-leaning polling firm based in Louisville.

His polling shows a split in the Republican Party.

"About half of them would prefer to have a candidate or support a candidate who believes the election fraud does exist in Colorado," said Flaherty "The other half, it is not much of a concern among primary voters."

Getting through the June 28 primary may require a different tap dance on this issue than the general election in November.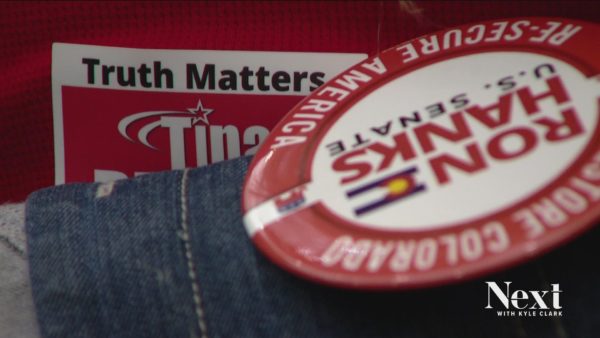 He goes on to say in the video above that it will work against them in the general election.
I suspect this vote will not end well for this "not a RHINO":
"I don't support that," said Matt Crane, Executive Director of the Colorado County Clerks Association.

Crane, the former Republican Arapahoe County Clerk took issue with the last section calling for forensic audits of election machines. Saying that independent audit of the Arizona 2020 election is not something to be modeled after.

"Anybody who says that was a good exercise for an election audit is either lying or they've been lied to by somebody else because what happened there, actually, hurt election integrity," said Crane.

He will be one of the delegates voting at the state assembly on Saturday. He said voting no on that election integrity resolution does not make him a RINO – Republican In Name Only.
Meanwhile, a lawsuit to try and block unaffiliated voters from voting in the Republican primary has gone down in flames. It was an attempt to keep out voters who might choose more moderate candidates. (Bold text mine)
A U.S. District Court judge has dismissed a request for a preliminary injunction seeking to block unaffiliated voters from participating in the June 28 state primary.

Judge John Kane on Friday evening granted the state's motion to dismiss the injunction request and dismissed the five claims filed by five Republicans, who are members of the state party's central committee.

In his decision, Kane agreed that the plaintiffs lacked standing to bring the lawsuit on all but a portion of the fifth claim. The judge also dismissed that portion of the claim under a different court rule, determining that the plaintiffs failed to state a claim for which relief could be granted.

"Plaintiffs have not shown that they are entitled to the disfavored injunctive relief they seek," Kane wrote in his 32-page decision.

Under the issue of standing, Kane wrote that plaintiffs must prove they suffered an injury that affects them in a personal and individualized way and there is a likelihood that the injury could be redressed by a favorable decision by the court on the merits of the case.

Kane pointed out that the Colorado Republican Party did not bring the lawsuit, nor did it authorize the plaintiffs to act as its representative. He noted that a resolution from 2021, which was adopted by the central committee, was insufficient to prove the plaintiffs were authorized by the party to initiate the lawsuit, which he called "troubling." Kane also pointed out the party didn't even file a friend of the court brief or affidavit in support of the lawsuit.

That the Colorado Republican Party was not a plaintiff in the lawsuit was a major point brought up by the state's motions, as well as during oral arguments in the lawsuit, which was filed against Secretary of State Jena Griswold on Feb. 24.

The plaintiffs – represented by John Eastman, the author of numerous memos and emails tied to Trump's attempts to overturn the 2020 presidential election while he was a visiting scholar conservative thought at the University of Colorado in Boulder; and, radio host and attorney Randy Corporon – alleged Proposition 108 would infringe on their First Amendment freedom of speech and association rights, as well as the right to equal protection under the 14th Amendment. 

Kane wrote that a member of a political party "suffers no constitutional injury when denied the preferred method for selecting his party's nomination of a candidate for office," in turning down the First Amendment claims.

"One member may wish to participate in a caucus that elects delegates to a convention but only so long as those delegates are required to vote according to the plurality vote at the caucus. Another may desire a closed primary in which party members are required to declare their party affiliation at least two months in advance of the election. Still, another may want to allow members of a particular minority party to vote in a major party's primary election. Given the large size of the CRP, there is no method that would appease each individual member," he wrote, referring to the Colorado Republican Party.

"Like Don Quixote, plaintiffs are self-appointed heroes, defending the rights of their party by going to battle against the allegedly insurmountable obstacle of a three-fourths majority that compels a form of diluted political speech. They have overstepped their bounds. By selecting its preferred candidate for the general election — the standard bearer — it is the party that is speaking as a single entity and not the cacophonous declarations of each of its registered members, simultaneously expressing their individual preferences," he added.

The state, represented in Tuesday and Wednesday's hearing by Solicitor General Grant Sullivan, argued that the plaintiffs did not have standing to sue and that they were challenging a law that has been in effect for more than five years.

During oral arguments on Tuesday, the plaintiffs' attorneys tried to get Kane to approve the addition of the state party as plaintiffs, a request that Kane rejected because it was made verbally. As of Friday, the state party had not filed a motion seeking to be added to the lawsuit.

Attorneys on behalf of the plaintiffs noted that the U.S. Supreme Court ruled in a case out of California in 2000 against "blanket" primaries, in which any voter could vote for any candidate, regardless of political party. That ruling claimed a blanket primary violated the First Amendment's freedom of association clause. The ability of a political party to choose its nominee is the most critical thing a party does, the attorneys said.

Sullivan, who argued behalf of the state, countered that "when you don't hear from the party itself on how its rights are being impacted, the record is inadequate" for the court to do its job and issue an injunction.

No one has a constitutional right to insist on a closed primary that is taxpayer-funded, Sullivan added.

If the party doesn't like that, Colorado allows for an opt-out that would permit only party members to participate, he said, noting that primary would not require taxpayer money. Such a move requires a vote of 75% of the state central committee, but the latter rejected the opt-out provision, he said.

The plaintiffs included Rep. Ron Hanks of Cañon City, who is seeking the Republican nomination for U.S. Senate; Laurel Imer of Jefferson County, who is seeking the Republican nomination for the 7th Congressional District; former state Rep. Joann Windholz, who chairs the Adams County Republican Party; Dave Peters, who chairs the La Plata County Republican Party and the Congressional District 3 Republican Party; and, Casper Stockham, a candidate for CD 7 in 2020.

Voters approved Proposition 108 in 2016 in a 53%-46% vote. The measure faced little opposition, with only $71,000 spent against it.

In their lawsuit, the plaintiffs pointed out that, as of Feb. 1, 2022, there are 954,102 registered active Republican voters, 1,070,804 registered active Democrat voters, and 1,637,864 active unaffiliated voters in Colorado. They argued that this leads to the "real possibility that unaffiliated voters voting in the Republican or Democrat primary elections would hand the nomination to someone who did not receive a majority or even plurality of votes from Republican or Democrat Party members, thereby placing the party's imprimatur on a candidate without majority or even plurality support from the party's members."

Griswold, in her response, said plaintiffs failed to explain why they waited until Feb. 24, 2022 to challenge a six-year-old law, which gave her office "mere days notice" to mount a defense.

"Poor planning on (plaintiffs') part does not translate into a crisis for everyone else," the response said.
There is no room for complacency in 2022, but I will enjoy the "Republicans in disarray" for the moment. Now if only it would sink Boebert…
This is an open thread