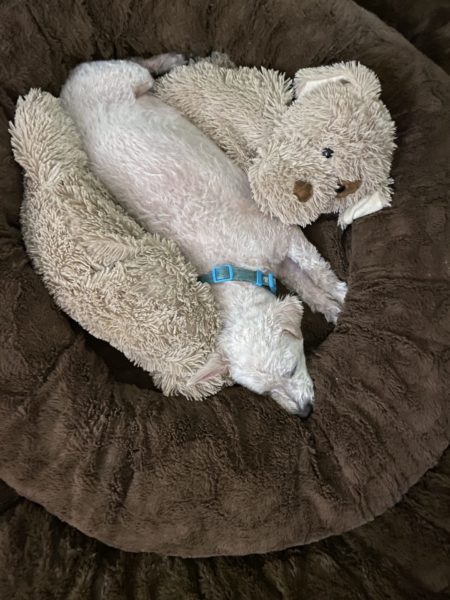 My little Henry wants me to remind you:
7 pm – zoom Q & A with the Michigan group  
8 pm – The second meeting of the "content creation" people who are part of the Social Media Initiative.
Even if you missed the first meeting of the content creation group, you are totally welcome to join.  
To RSVP for either or both zooms, please send email – watergirl at balloon-juice.com – to get the zoom link.
My poor little Henry, he was swimming in the big round dog bed without Tucker, so I put the smaller round dog bed inside that one, but that still didn't feel right.  He went into the closet room last week and found the flat dog that Tucker loved, but often tried to eat; the one I had put it away so Tucker wouldn't eat his face off.
Before Henry found Tucker's flat dog, he would burrow in and snuggle in between the two round beds. Now it's all about the dog that surely smells like Tucker.  Nothing makes Henry happier than to be what I call a Henry sandwich.
Totally open thread.