Slightly more than two years after recording its first Covid-19 death, the U.S. is about to cross a once-unthinkable threshold: one million deaths attributed to the disease, according to the CDC.https://t.co/GkZA0PVA9S

— Dustin Volz (@dnvolz) April 25, 2022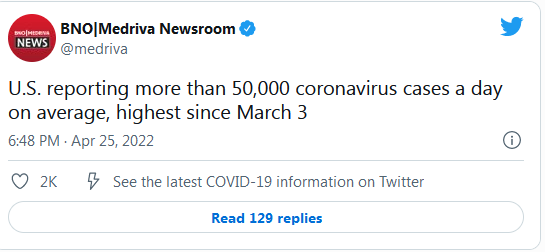 White House officials say they're worried that the U.S. is losing out on critical opportunities to secure coronavirus vaccines and new antiviral pills that could help the country maintain its reemerging sense of normalcy two years into the pandemic. https://t.co/5Tw1DWLUJx

— The Associated Press (@AP) April 25, 2022
President Joe Biden's administration is aiming to expand access to COVID oral antiviral treatments like Pfizer's Paxlovid by doubling the number of locations at which they are available, the White House said https://t.co/0LgNA6geSJ

— Reuters (@Reuters) April 26, 2022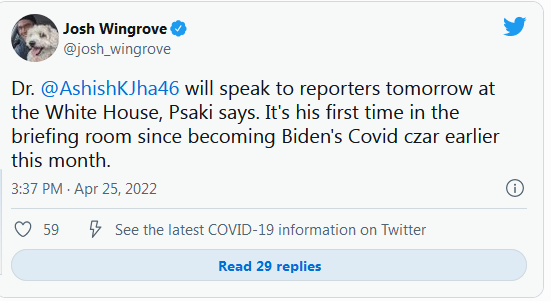 ======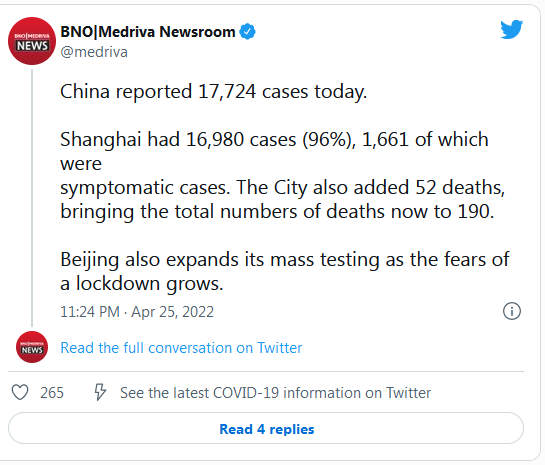 Beijing is enforcing mass testing and closing down access to neighborhoods as it seeks to contain a new COVID-19 outbreak. Despite the mandate, public transport is largely keeping to normal schedules and roads are packed with commuters in China's capital. https://t.co/1fLJbWrUir

— The Associated Press (@AP) April 26, 2022
In Beijing, residents have been clearing supermarket shelves as mass COVID testing began in the Chinese city's biggest district, prompting fears of a Shanghai-style lockdown https://t.co/WqxND1MtcR pic.twitter.com/6LvzTZHfyE

— Reuters (@Reuters) April 25, 2022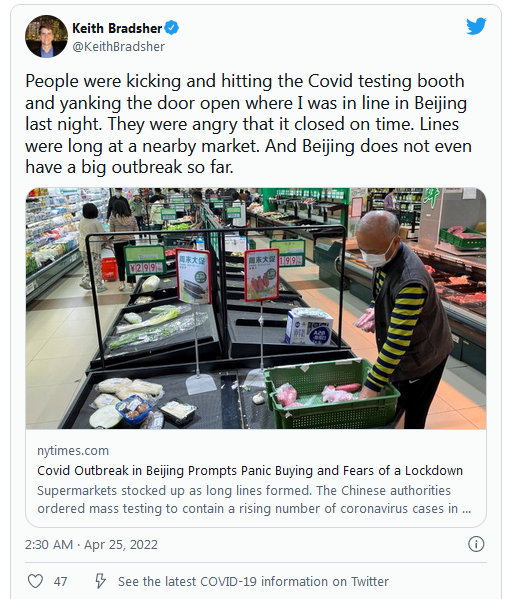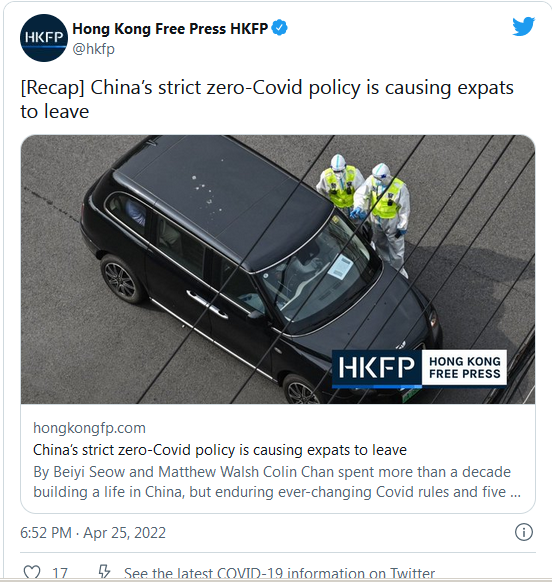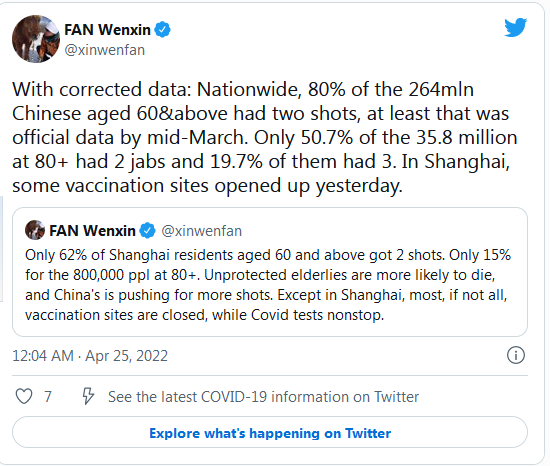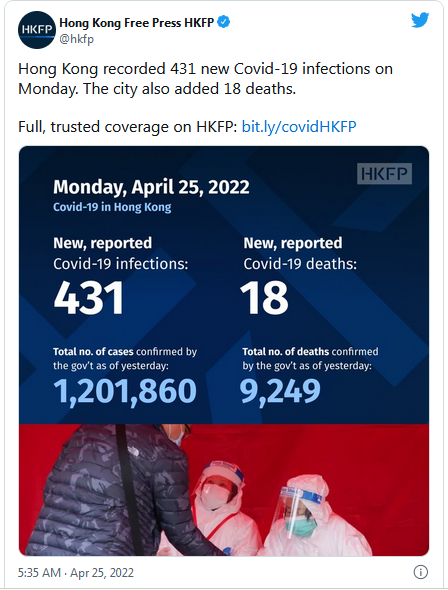 There are no plans to further relax any Covid-19 border controls and flight suspensions measures, Chief Executive Carrie Lam has said. #hongkong #covid19 pic.twitter.com/JjaeITnSLZ

— Hong Kong Free Press HKFP (@hkfp) April 26, 2022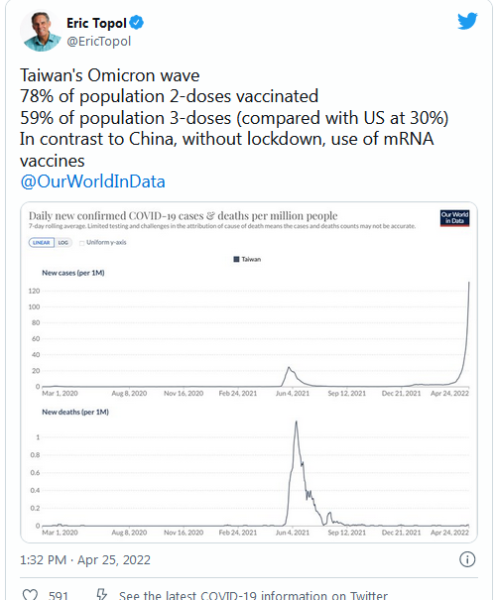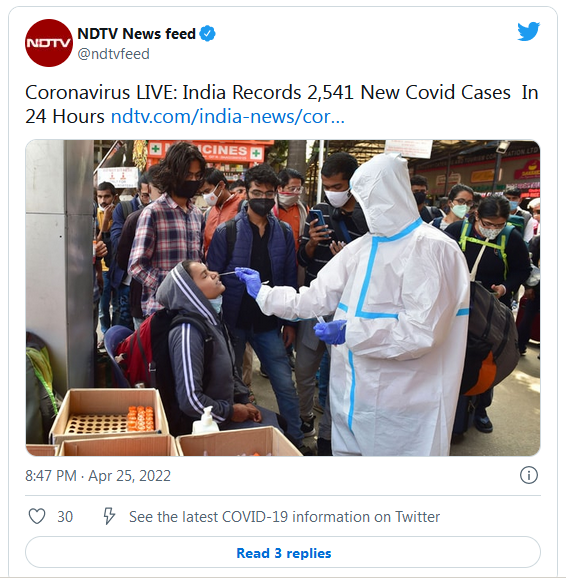 Thread, from a biostatistics professor at KU Leuven:
The BA.4 & BA.5 Omicron subvariant-driven increase of new confirmed Covid cases in South Africa gives a good idea of what the endemic equilibrium will look like: a significant wave every 6 months with significant mortality & morbidity. ? pic.twitter.com/I9jd5gMIPG

— Tom Wenseleers (@TWenseleers) April 25, 2022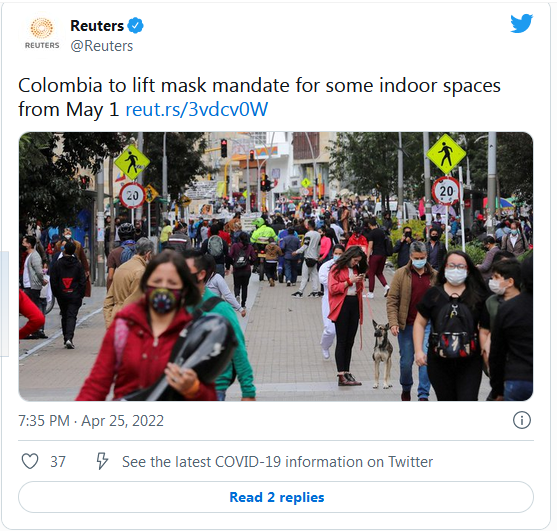 ======
#LongCovid: New worldwide data published in the Journal of Infectious Diseases suggest ~200 million people currently or previously experienced long-term health effects from Covid⬇️ https://t.co/qaOabGjlVE

— delthia ricks ? (@DelthiaRicks) April 25, 2022
"We found that the choices made by people who forgo vaccination contribute disproportionately to risk among those who do get vaccinated."https://t.co/gi7caDYnQ5
by @DFisman @AshTuite @AfiaAdofo @CMAJ

— Eric Topol (@EricTopol) April 26, 2022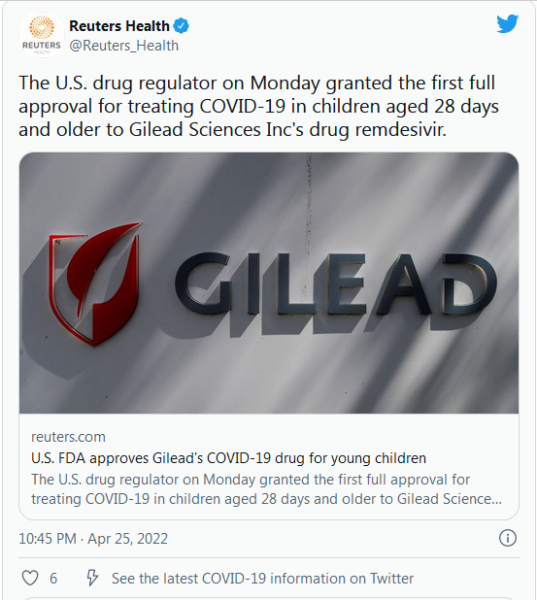 ======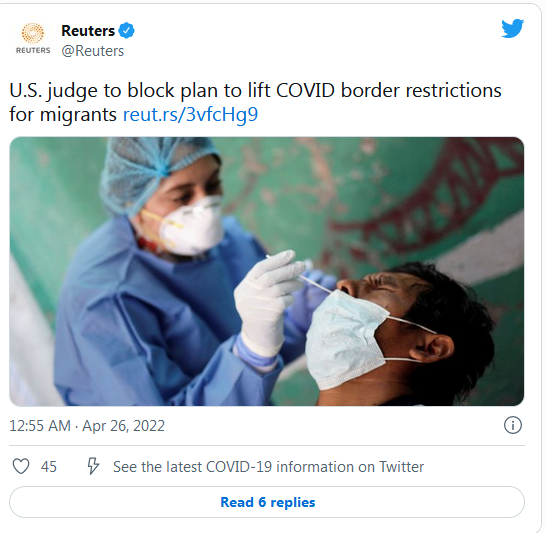 Title 42:
A federal judge in Louisiana said on Monday that he intends to rule that U.S. authorities cannot immediately proceed with plans to lift pandemic restrictions that empowered U.S. agents at the Mexico border to turn back migrants without giving them a chance to seek asylum…

The ruling would upend a decision by the U.S. Centers for Disease Control and Prevention (CDC) to terminate the so-called Title 42 border order by May 23. Title 42 allows U.S. authorities to rapidly expel migrants, including asylum seekers, to Mexico and other countries to avoid overcrowding in border stations that could exacerbate the spread of COVID-19.

Biden, a Democrat, has struggled to implement what he describes as a more humane and orderly system at the U.S.-Mexico border amid record numbers of migrants arrested while crossing illegally, unfavorable court rulings, and political opposition from Republicans and some in his own party.

The judge's statement is a victory for Republicans who said ending the order would have increased illegal immigration and what they characterized as meritless asylum claims.

Louisiana Attorney General Jeff Landry praised the decision on Twitter, writing that the judge had granted the states' request to "halt this enormous threat to our national security." The Department of Justice declined to comment.

The CDC said in early April that Title 42 was no longer needed to fight COVID-19 due to the increased availability of vaccines, therapeutics and other tools to counter the disease.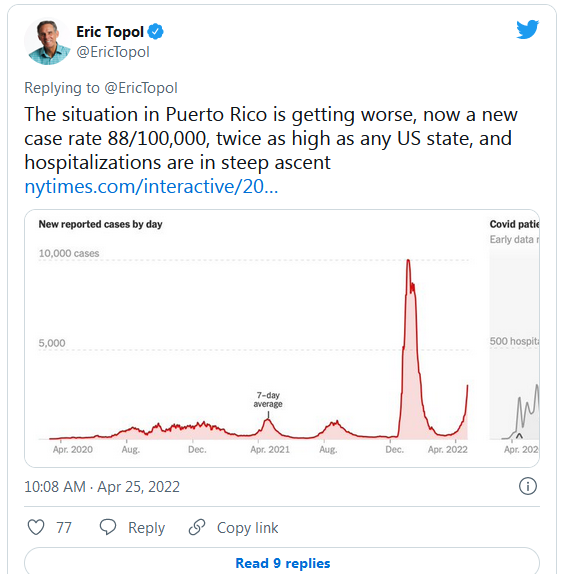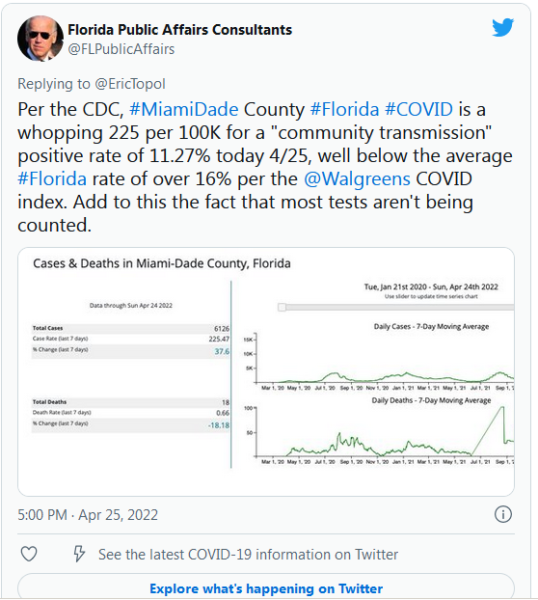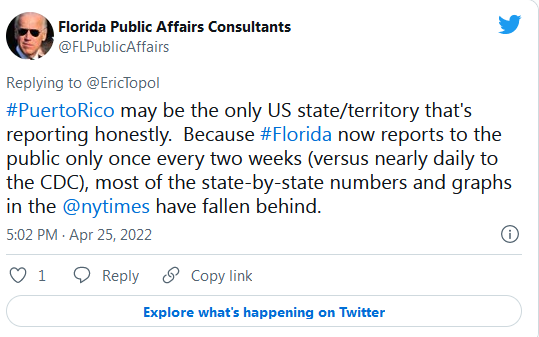 Without this successful vaccination program, at least another 100,000 nursing home residents who are alive today would be dead. https://t.co/iAcaMDE6DD pic.twitter.com/cT5bH9z3lF

— Dr. Tom Frieden (@DrTomFrieden) April 25, 2022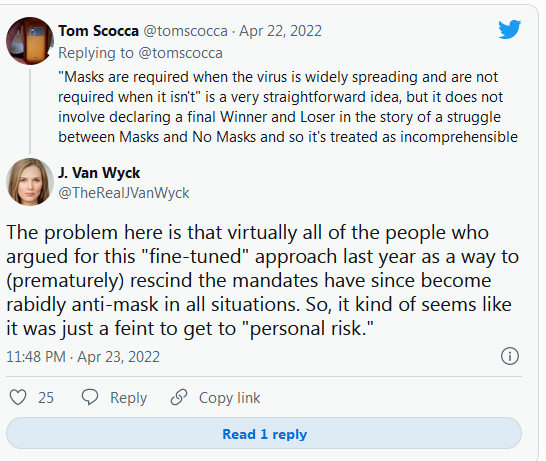 Republican operative Jonathan Carl: