Hey BJ Peeps,
You guys totally came through yesterday so let's see if some of you can help out today.
I assume that most of you have seen or heard talk of the Join the Fight! project some of us are working on, or at least have heard about one part of the project – our Social Media Initiative.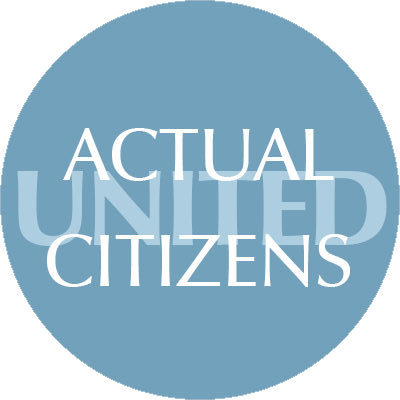 Big thanks to everyone who followed us yesterday @Actual_Citizens on twitter!  Extra thanks to anyone who not only followed us, but also liked us, double-thanks to everyone who retweeted one of our tweets, and triple-thanks to anyone who quote tweeted us.
Fun fact: Most of you may know this, but I did not until recently.  In terms of the twitter algorithm which controls how much of what is seen on twitter… to use an analogy… a "like' is maybe worth a penny, a retweet is worth a dime, and a "quote tweet" is worth a quarter.  (A quote tweet is where you add your comment to the tweet you are retweeting.)
So if you followed us yesterday but didn't "like" or retweet, you can always retweet or quote tweet the tweet from yesterday, if you're willing.
Here's the TINY ASK for today.  Can you tell us who else should be on the social media contact list?
We have a database of social media contacts that we think are key either because they have good-to-great content that we want to amplify, or because they are "both sides" types that we want to call out and push in the right direction.
For the folks who are clearly on the other side, we will mock them as needed but we will never retweet them or tweet at them because that just moves them up the in the twitter algorithm, which then works in favor of disinformation, and we don't want that!  So those people don't need to be in the database.
| | | |
| --- | --- | --- |
| Aaron Rupar | Fred Wellman | Marc E Elias |
| Acyn | Gary Peters | Marcy Wheeler |
| Adam Parkhomenko | Gene Wu | Mark Ruffalo |
| Adam Kinzinger | George Conway | Matt Negrin |
| Adam Schiff | Glenn Kirschner | Matt Pearce |
| Alexander Vindman | Grace Segers | Maxine Waters |
| Alexandria Ocasio-Cortez | Hakeem Jeffries | Maya Wylie |
| Anderson Cooper | Heather Cox Richardson | Mehdi Hassan |
| Arizona Republic | Ida Bae Wells | Molly Jong-Fast |
| Balloon Juice | Jaime Harrison | Mr. Weeks (Wonderking82) |
| Beau of The Fifth Column | Jake Tapper | Nancy Pelosi |
| Benjamin Wittes | Jamie Raskin | New York Times |
| Bennie Thompson | Jay Rosen | Oliver Willis |
| Bob Schneider | Jeet Heer | Palmer Report |
| Brian Schatz | Jen Psaki | Pete Aguilar |
| Brian Tyler Cohen | Jennifer Mercieca | Popehat (Ken White) |
| BrooklynDad_Defiant | Jennifer Rubin | Preet Bharara |
| Caroline Orr Bueno | Jimmy Kimmel | Rachel Bitecofer |
| Charles Gaba | Joaquin Castro | Rachel Maddow |
| Charles Johnson | Jonathan Capehart | Ragnarok Lobster |
| Chris Hayes | Jonathan Swan | Raw Story |
| Chris Murphy | Joy Reid | Ron Klain |
| Chuck Schumer | Joyce White Vance | Samantha Bee |
| Chuck Todd | Judd Legum | Seth Myers |
| Crooks and Liars | Karoli | Sheldon Whitehouse |
| Dan Froomkin | Kenneth of House Pfizer 1st of His Name | Soledad O'Brien |
| David Weigel | Kevin M. Kruse | Stephanie Murphy |
| Dick Durbin | LOLGOP | Stephen Colbert |
| Distill Social | Laura Vozella | Susan Vermazen |
| Don Winslow | Lawrence O'Donnell | Tea Pain |
| Elaine Luria | Liz Cheney | Ted Lieu |
| Elie Mystal | Los Angeles Times | The Hill |
| Elizabeth Warren | Lynn V | Virginia Heffernan |
| Frances Langum | Magdi Semrau (Magi Jay) | Wajahat Ali |
| Ben Wikler | Blue Virginia | Washington Post |
| Josh Marshall | George Takei | Zoe Lofgren |
Who should we add?  Please let us know in the comments.
Oh, and here's the ask from yesterday, in case you missed it:
I have one simple ask of every person who sees this today. If you have an account on twitter, please follow us. We set up our group account on Saturday, so we are just getting started, and the (fucking) Twitter algorithm will allow our content to be seen more widely if we have a bunch of followers. So I am asking you to please follow us, even if you don't get any more involved than that.

Our full group name is: Actual Citizens United – Join us in the Fight and you can find us on twitter as:

Please follow us on twitter: @Actual_Citizens

All our tweets will use the hashtag #ActualCitizensUnited

Plus, there's another group doing something similar with a focus totally on Michigan, so if you are willing to follow them, that will help boost their cause, which is a good one: @DistillSocial
This really is a totally Open thread.