An entire classroom was massacred with an AR-15 just 280 miles from this stage, and the Texas GOP is loudly booing someone for proposing even the mildest of gun safety legislation. #txlege https://t.co/oOJGEqtyxr

— Texas Democrats (@texasdemocrats) June 17, 2022
A Texan opines: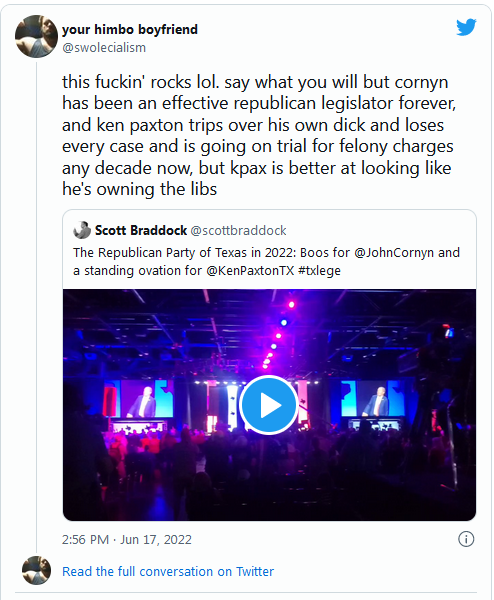 A Texas journalist (Christopher Hooks, Senior Editor of the Texas Monthly) — "Yes, the 2022 Texas GOP Platform Is Extreme. But Little of It Is New":
Party conventions are supposed to win a public spotlight for the party in question. By this measure, the 2022 convention of the Republican Party of Texas in Houston was a stunning success. Typically, the event, in which thousands of activists gather to rub shoulders while elected officials give speeches, can be a dry business. But this year, national media pored over the party's interminably long platform, highlighting language that declared the 2020 presidential election results illegitimate, endorsed a referendum that would allow Texas voters to declare their secession from the United States, and called for the state's schoolchildren to be drilled on "the humanity of the preborn child." The platform also declared homosexuality "an abnormal lifestyle choice," and called for Texas to strengthen the electric grid, not with regulations that keep the lights on in other states hit by extreme weather that our own leaders are averse to, but rather to defend against mythical "electromagnetic pulse weapons." …

The convention indeed showed a state party moving back to the right after a brief period, in 2018 and 2020, in which it inched ever so slightly to the center over concerns that Democrats might be getting more competitive in elections here. But the difference from prior conventions was one of degrees.

The Log Cabin Republicans have never been allowed to participate in the convention. Abbott has long been loathed by conservative activists, and both the current and former chair of the state GOP are among his enemies. (Current chair Matt Rinaldi, who presided over the convention, called Abbott a petty tyrant two years ago.) And John Cornyn is always booed at the gathering. He was simply booed louder and longer this time, and for a specific reason rather than a general sense among the grassroots that he is a wishy-washy Republican In Name Only. (When Cornyn spoke of the pain the families in Uvalde must feel after the school shooting, shouts of "No gun control" filled the room.)

The platform, meanwhile, always contains ludicrously extreme planks and is mostly irrelevant when it comes to actually passing bills. The platform-drafting process at the Texas Republican convention is a sort of day-care program for the grassroots. For many right-wingers, this is the highlight of their year. Texans who get their news from Facebook threads and chain emails gather together, load up a document with their complaints, pass it, and then elected officials throw it in the trash. That elected officials don't enact the platform is among the most common criticisms you'll hear from those who draft it. But it would be tough for even the most ideological legislators to adopt the planks wholesale: they are always a jumble of often-contradictory messages. (The 2022 platform, for instance, opposes decriminalization of drugs but also calls for marijuana to be moved from the federal Schedule 1 to Schedule 2, which would lessen legal penalties.)…

A difference of degrees is still a difference, however, and those degrees can add up over the years. There were indeed some developments at this year's convention that seemed indicative of larger dysfunctions within the state party. One of them was the convention's attendance. Somewhere between four thousand and five thousand showed up, which is not unimpressive. But a decade or so ago the convention regularly boasted ten thousand or more attendees. Back then, speakers would describe it as the largest gathering of its kind in a free country, or some such boast. Whether or not it was true, it was possible to believe. This year, state senator Brandon Creighton from Conroe, north of Houston, rather limply described the event as "one of the largest gatherings of conservative patriots in the country."
Can I dream of the term 'extinction burst'?
It's not clear why attendance dropped, and Republicans I interviewed offered a range of explanations. One reason might be that years ago the convention was a place where factions of the party would come together and vigorously contest ideas. In 2014, for example, there was a big fight over whether the platform should include a guest-worker program—a "Texas Solution" to the immigration crisis that would allow workers to come from Mexico legally for months at a time. Throughout the years there were also libertarians and chamber of commerce types and tea party activists all fighting for their priorities. Now there's little to contest. The delegates this year were a smaller, purer group of like-minded right-wingers, which is why the platform they produced was marginally more hardcore than that of the last convention…

What's perhaps most bizarre is that, in leading us into these choppy waters, conservative activists in Texas are framing their fight as one for a return to tradition. The mascot of the convention this year, if not its star, wasn't a politician at all, but Lieutenant Governor Dan Patrick's pickup truck, which got a berth of honor in the gathering's trade show. This was the folksy down-home antique you may have seen in Patrick's ads, where he puts on his boots and hunting garb and sits in a rocking chair and acts like your angry grandpappy. Patrick is from Baltimore, of course, and his childhood home probably saw more delivery vans than pickup trucks. His current home, in suburban Houston, is more accustomed to the Escalade.

But no matter. The pickup's falseness is appropriate for a political movement that is becoming more and more radical in pursuit of what it likes to call "traditional" values. In searching for a mythic past that never was, the delegates at the convention promise to take us to places we've never been.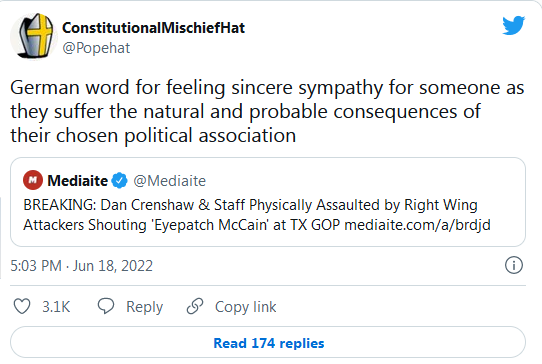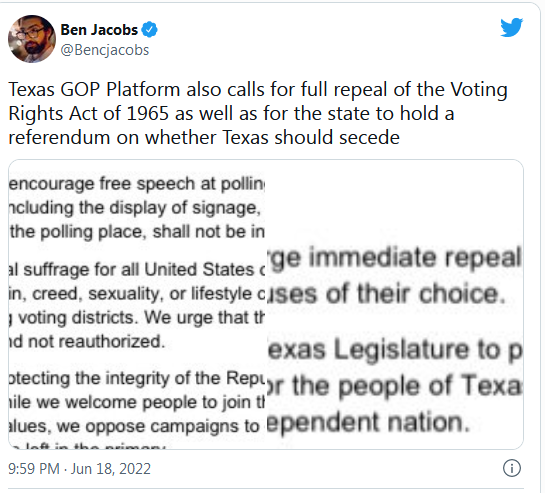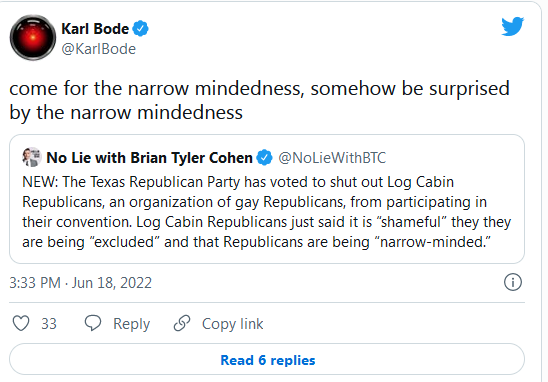 Ted Cruz gets heckled and harassed by a right winger at TX State GOP Convention, who calls him a coward and a globalist, asks him how he can like Trump after he called his wife ugly, then finished with Cancun. pic.twitter.com/L1hEvN8nV5

— Ron Filipkowski ???? (@RonFilipkowski) June 19, 2022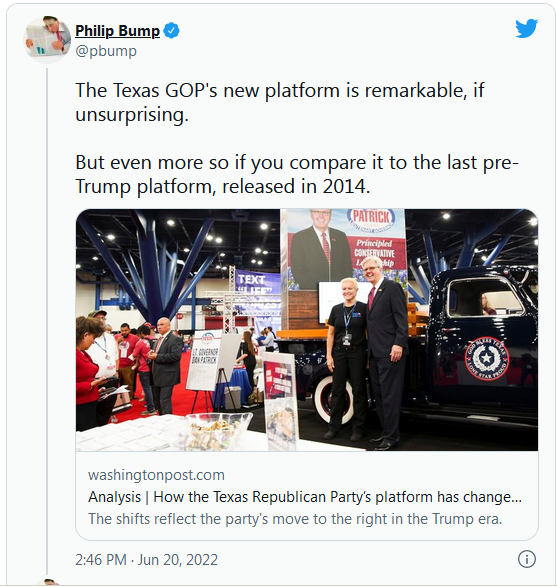 Serious analysis (plus a pic of Patrick's pickup) from a serious guy (the Washington Post's Philip Bump):
… One should not be surprised at the rhetoric in the party's platform, of course, however extreme it happens to be. This is a state party that recently had as its chairman right-wing personality Allen West and which has consistently offered positions that sit to the right even of the GOP nationally. But it is worth identifying the way in which this platform captures a very specific evolution of the party in the era of Donald Trump.

It was seven years ago last week that Trump first descended the escalator in Trump Tower to announce his candidacy for the presidency. The year prior, the Texas Republican Party produced a platform document that offers an interesting point of comparison for the one approved this weekend: It is the last platform from the party that was not touched at all by the way in which Trump shifted the party's politics…

I went through both platform documents to identify significant places the two differ. Key differences have been highlighted…

Immigration
Statement of core principles
2014: "America is proudly a nation of immigrants. Throughout our history, our nation has attracted productive, industrious and gifted people to America because she is exceptional, and those immigrants and their descendants helped make America the world's unrivaled economic and military superpower. It remains imperative to create fair and consistent procedures that will again enable freedom-loving, hard-working and law-abiding immigrants to join us, by providing them an efficient, practical method of legal entry, so they can lawfully take positions where their labor is needed, without exploitation or harassment."
2022: Not included…

"Western civilization"
2014: Not included.
2022: In a section titled "Fund and Support Western Civilization Instruction, Defund Political Correctness," the platform states that Republicans "oppose any state formula funding or graduation requirements for divisive curricula inconsistent with the above, including Marxist, anti-American, Critical Race Theory, multiculturalism, or diversity-equity-inclusion courses" and oppose "using public funds for homosexuality, transgender, or diversity-equity-inclusion centers."…
There's lots more — read the whole thing — but, IMO, the rightward tack is less about 'Trumpism' and more about the increasingly intolerant currents that Trump (with help from Putin, not to mention our Very Serious #Failed Media) rode into the Oval Office.
The Republican Party of Texas has controlled every lever of state government since 2003.

But the mood at the Texas Republican Convention this weekend was not celebratory.

Here, was a climate of mistrust, conspiracy and victimhood. https://t.co/1TBv7vMF33

— Texas Tribune (@TexasTribune) June 19, 2022
Schadenfreude, from another Texan publication, the Texas Tribune:
… Above all, attendees said they were fed up. Fed up with elections they believe are rife with fraud. Fed up with their own politicians — including U.S. Sen. John Cornyn, whom they rebuked for taking part in bipartisan talks on gun legislation — for being open to compromise with Democrats. Fed up with the persecution of Christians with traditional values. Fed up with a credulous mainstream media that spouts liberal talking points and disdains anyone who disagrees as racists or bigots. Fed up with undocumented immigrants, even those fleeing war and poverty, for taking advantage of public benefits. Fed up with the education of their children, especially on matters of history and race. Fed up with experts, starting with Dr. Alfred Kinsey, who they said are "sexualizing" students before they've hit puberty.

"The enemy is coming in and trying to change our society, change the very fabric of what made America great and they're doing it by going to the children," said Conny Moore, a 75-year-old retired pharmacist and pastor…

Sid Miller, the state agricultural commissioner, said the struggle for America wasn't even partisan anymore.

"The battlefield used to be between Republicans and Democrats," he told the convention on Saturday. "Then it was between conservatives and liberals. Now the battlefield has once again changed. We must improvise, adapt and overcome to defeat our enemy. This new battlefield, this new battlefield is between patriots and traitors."

This was a crowd familiar with The Great Replacement, the theory that immigrants are being used to replace white, native-born Americans, and The Great Reset, supposedly a plan by global capitalists meeting in Davos, Switzerland, to impose their environmental and social goals on the world economy and restrict what people can eat and own. Fox News did not come up much; One America Network and NewsMax seemed far more influential.

Conspiracy theories abounded. Anne Meng, a middle-aged nurse-practitioner in The Woodlands, said she believed the May 24 massacre at Robb Elementary School in Uvalde was "a ploy by the government," and that "cops were told to stand down." (The police delay in confronting the gunman, who killed 21 people, has been widely criticized.)…

Attendees were also in lockstep in their views on election integrity. Several said that in-person, watermarked, hand-counted, sequentially numbered paper ballots were the only trustworthy way to conduct an election (even though delegates themselves used Scantron ballots to vote on the platform planks, and the results won't be known for days until the ballots are tallied in Austin)…

Our minds are made up, don't confuse us with facts. Maybe we don't know much (and much of what we *do* know is false), but we know what we hate!