this is of course on the whole dishonest but it's nice to see dipshit mcgee over here admitting the guy tried to destroy the country. baby steps. https://t.co/diHIPbQD91

— World Famous Art Thief (@CalmSporting) June 22, 2022
I usually call them Idiots, which they are, but they have the self-preservation instincts of a subway rat. These guys loved having TFG in the Oval Office, churning out reams of copy 24/7, no need for the high-dollar 'journalists' to do more than stenography — with the hopes of TV facetime and maybe a fat book deal to keep them interested, when it all got kinda repetitive.
But what has he done for them lately?
What they don't want, at this moment in time, is for the possible downfall of the Trump Crime Cartel to let the rubes — er, their target markets — see how rotten and shaky the whole Republican party edifice actually is. If this means downvoting TFG in order to preserve a figleaf of deniability, well, Mr. You're-Fired should've known the job was dangerous when he took it!
journalist in the year 2022: really striking to me how trump turned out to be a bad president https://t.co/PlQS3MgDSa

— Comirnaty By Nature (@canderaid) June 22, 2022


(Sam Stein's modest self-attribution on Twitter is Politico/MSNBC. Beating heart of the great media beast, and yet not a clue to be found there. )
Callback to Rich 'Sparklepants' Lowry, Editor of the National Review, back in 2020:
Great day to revisit this tweet https://t.co/YncbdgYLsx

— Isaac Chotiner (@IChotiner) June 21, 2022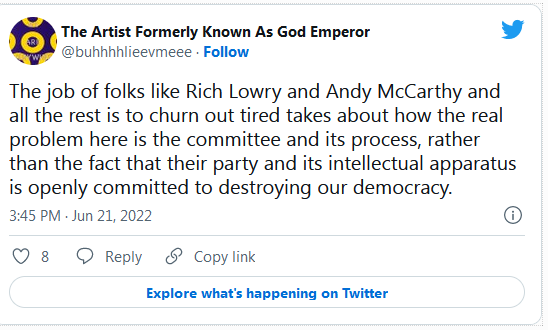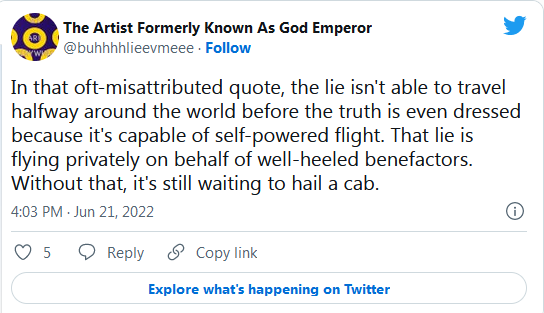 And, apparently, those "well-heeled benefactors" are still willing to throw money down the Klout rat-hole…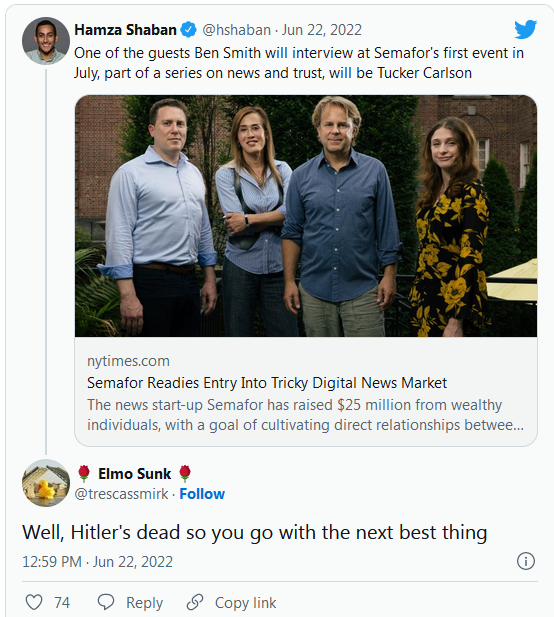 "Semafor has raised $25 million from wealthy individuals, with a goal of cultivating direct relationships between its journalists and its audience."
… Justin Smith and Ben Smith surprised the media world early this year when they said they were leaving prominent jobs at Bloomberg Media and The New York Times to start a global news organization, Semafor. They said it would tackle the lack of trust in media and compete for English-language readers against outlets like CNN, The Times and The Washington Post.

The coverage is set to start this fall, they said in a recent interview, with a staff of about 30 journalists based in London, New York and Washington, D.C., and another international location, either in Africa or the Middle East. The operations will initially be supported by around $25 million from investors, with early revenue coming from advertising and live events. They plan to eventually charge for subscriptions. They hired Rachel Oppenheim, an advertising executive at The Times, to be the company's chief revenue officer.

The money to get started comes from a variety of wealthy people, including the crypto-billionaire Sam Bankman-Fried and his brother Gabe; Jessica Lessin, the founder of The Information; David G. Bradley, chairman emeritus of The Atlantic; and John Thornton, co-founder of the American Journalism Project and The Texas Tribune. Michael R. Bloomberg, the billionaire founder of Bloomberg L.P., was pitched but decided not to invest.

Justin Smith, who had been the chief executive of Bloomberg Media, said Semafor's decision to seek money from wealthy individuals rather than venture firms was a sign that the founders were not looking to cash out anytime soon. In the interview, he said that he and Ben Smith, who was a media columnist at The Times, wanted to leave behind a news organization that would last for generations. Both have committed to work on the project for at least 10 years…

"I think the business model conditions for global news media are better in 2022 than they've ever been since before the internet arrived," Justin Smith said, "and it has to do with the ubiquitous broad adoption of subscriptions and the loosening grip of tech platforms on global ad markets."…
Sounds like a high-dollar SubStack, only with celebrity 'professionals' to do the ghostwriting for its sponsors:
… Reporter bylines will be sized similarly to headlines, part of an effort to cultivate direct relationships between Semafor's journalists and its audience. Employees will be encouraged to offer their own perspective on social media "in a fair, analytical way," said Ben Smith.

He said the company aimed to have a different relationship with its reporters than other newsrooms, including by ensuring that journalists receive "all or most" of the financial upside of their intellectual property, such as book deals or movie rights…
Wonder if Tucker Carlson pitched in a token few hundred thousands, as a good-faith investment. Maybe he just put it on his Fox company expense account, under 'publicity'?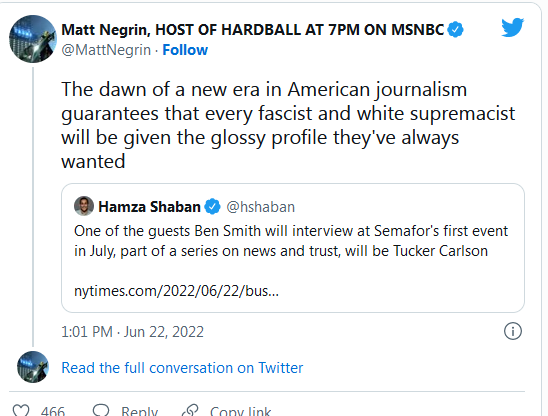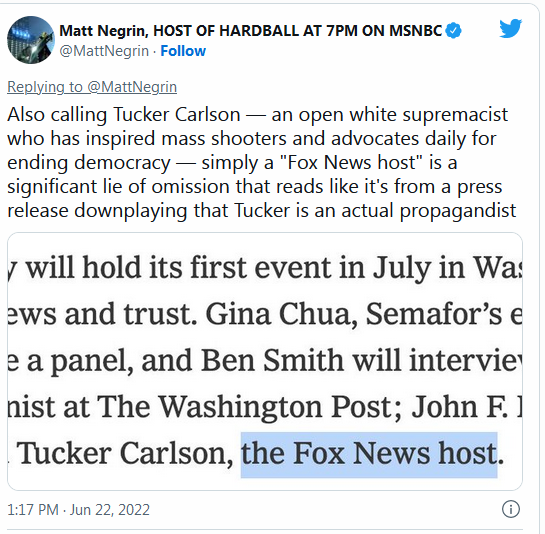 Punchbowl News, when Politico isn't *quite* enough like Tiger-Beat-on-the-Potomac: