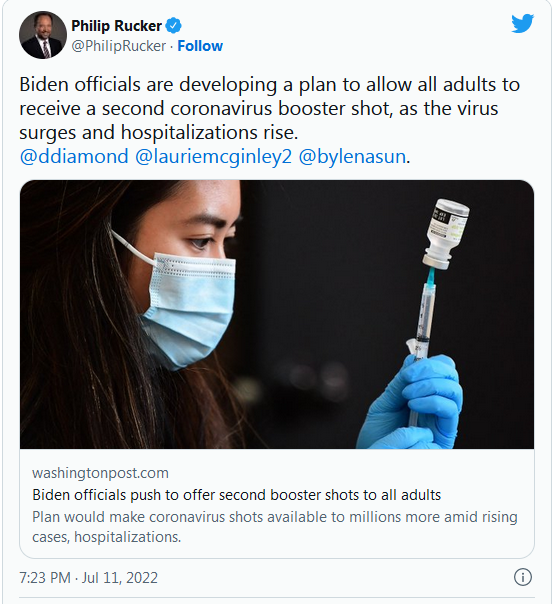 "This article is free to access" —
… Virus levels have risen across the country, fueled by ever-more-contagious omicron subvariants such as BA. 5 that evade some immune protections and have increased the risk of reinfections. About 112,000 new cases have been reported per day, according to The Washington Post's rolling seven-day average — with the actual number probably many times higher, experts say, as most Americans test at home. Hospitalization and death levels are mounting, although they remain significantly below January peaks, with about 38,000 people hospitalized with covid as of Sunday and an average daily death toll of 327 as of Monday.

Currently, a second booster shot is available only to those 50 and older, as well as to those 12 and older who are immunocompromised. But administration officials are concerned by data that suggests immunity wanes within several months of the first booster shot. Swiftly expanding access to booster shots also would enable people who are boosted now to receive reformulated shots that target newer virus variants, when those become available, probably later this year. In addition, officials want to use vaccine doses that are reaching their expiration dates and would otherwise be discarded.

While the booster plan still needs formal sign-off from regulators and public health officials, it has the backing of White House coronavirus coordinator Ashish Jha and Anthony S. Fauci, the government's top infectious-disease expert, according to five officials who like others interviewed in this report spoke on the condition of anonymity because they were not authorized to discuss the plan…
Go for your booster now — you're not taking a shot away from anybody who might 'need it more', and it won't stop you getting another dose when the projected 'targeted' vaxx comes out this fall / winter.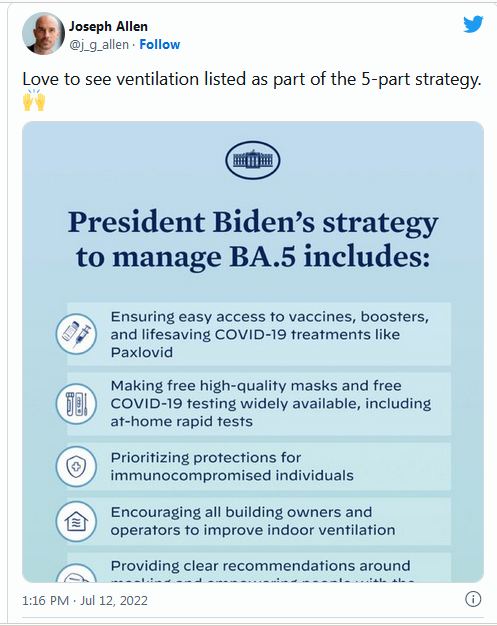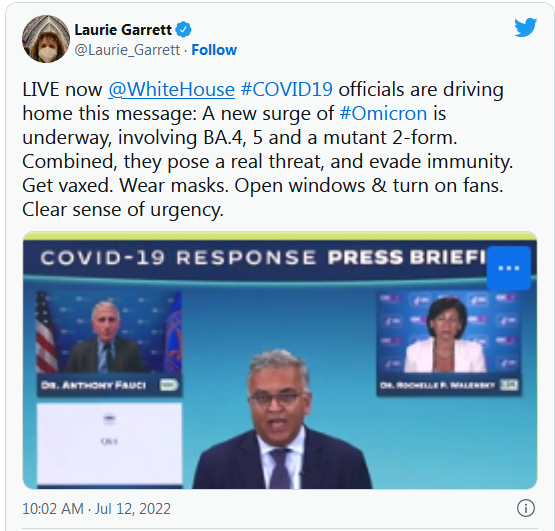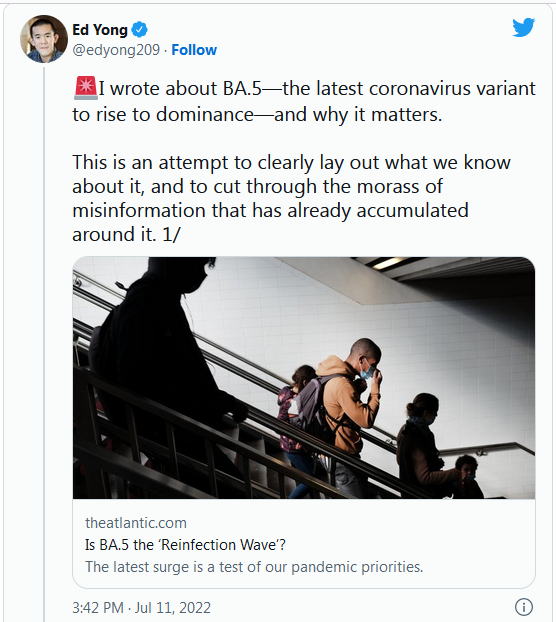 Well, here we go again. Once more, the ever-changing coronavirus behind COVID-19 is assaulting the United States in a new guise—BA.5, an offshoot of the Omicron variant that devastated the most recent winter. The new variant is spreading quickly, likely because it snakes past some of the immune defenses acquired by vaccinated people, or those infected by earlier variants. Those who have managed to avoid the virus for close to three years will find it a little harder to continue that streak, and some who recently caught COVID are getting it again. "People shouldn't be surprised if they get infected, and they shouldn't be surprised if it's pretty unpleasant," Stephen Goldstein, a virologist at the University of Utah, told me.

That doesn't mean we're about to have a surge on the scale of what we saw last winter, or that BA.5 (and its close cousin BA.4) will set us back to immunological square one. Goldstein told me that he takes "some level of comfort" in the knowledge that, based on how other countries have fared against BA.5, vaccines are still keeping a lot of people out of hospitals, intensive-care units, and morgues. The new variant is not an apocalyptic menace.

But it can't be ignored, either. Infections (and reinfections) still matter, and by increasing both, BA.5 is extending and deepening the pandemic's ongoing burden. "We will not prevent all transmission—that is not the goal—but we have to reduce the spread," Maria Van Kerkhove, an infectious-disease epidemiologist at the World Health Organization, told me. "It's not over, and we are playing with fire by letting this virus circulate at such intense levels."…

The degree to which the new variant escapes immunity is also a shadow of what we saw last winter, when Omicron first arrived. For comparison, antibodies in vaccinated people were 20 to 40 times worse at neutralizing BA.1 than the original coronavirus. BA.5 reduces their efficiency threefold again—a small gain of sneakiness on top of its predecessor's dramatic flair for infiltration. "BA.5 is doing what Omicron does but with a marginally more effective immune evasion," Kall told me. "I don't believe that it represents a massive paradigm shift."

Why, then, does it feel like we're in a reinfection wave right now, with anecdotal reports being prominent in a way they weren't seven months ago? It's because Omicron completely changed our baseline. Before its arrival, only a third of Americans had ever experienced COVID. By the end of February, almost 60 percent had. We're hearing more about reinfections now in part because the number of people who could possibly be reinfected has doubled…
======
#Covid isn't over. The pandemic remains a global health emergency, experts at WHO say https://t.co/u4TfFV386v

— delthia ricks (@DelthiaRicks) July 13, 2022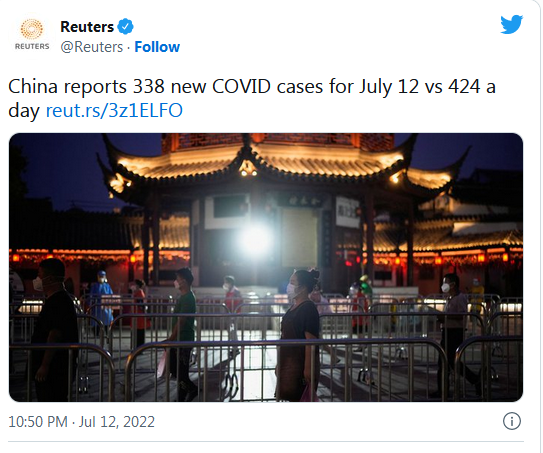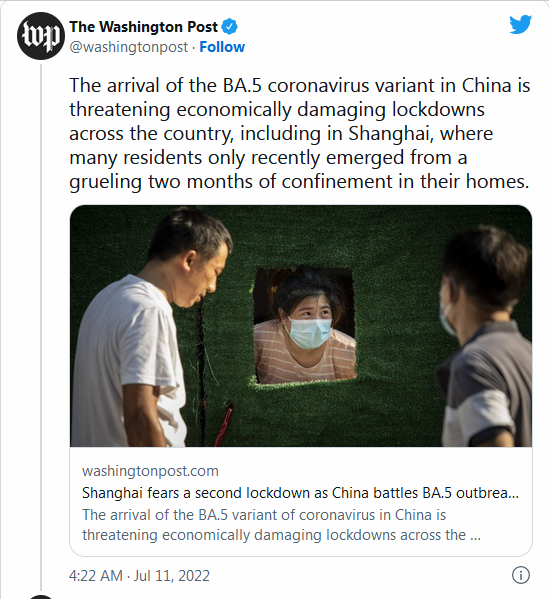 (link)
Still testing frozen / chilled foods, though
(see below)
…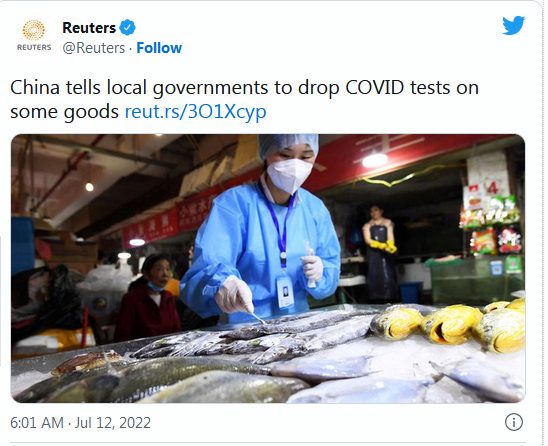 (link)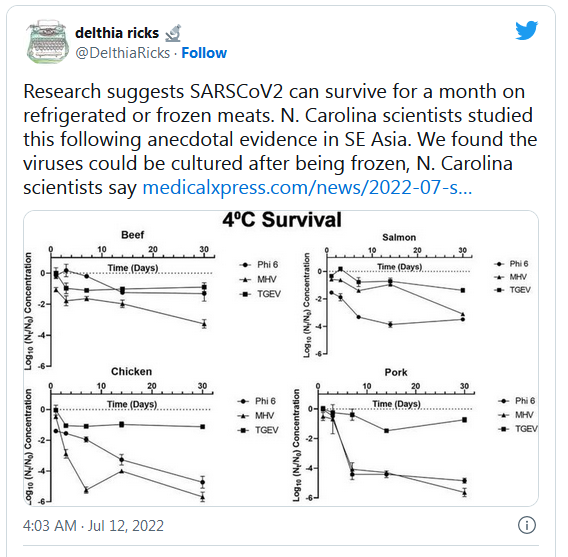 (link)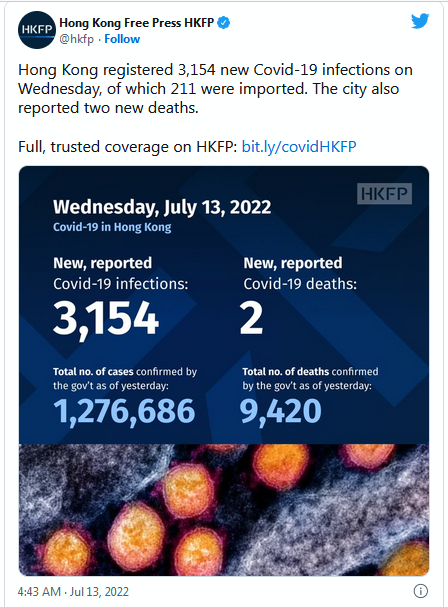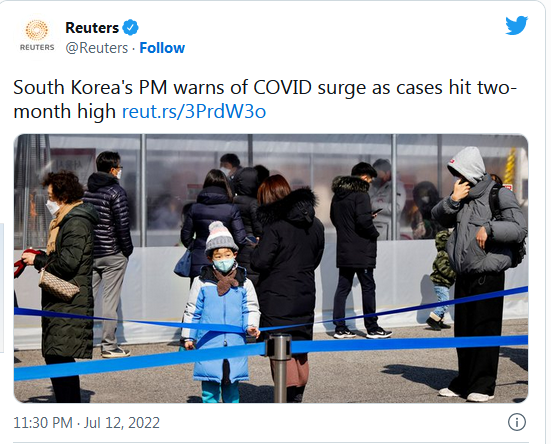 (link)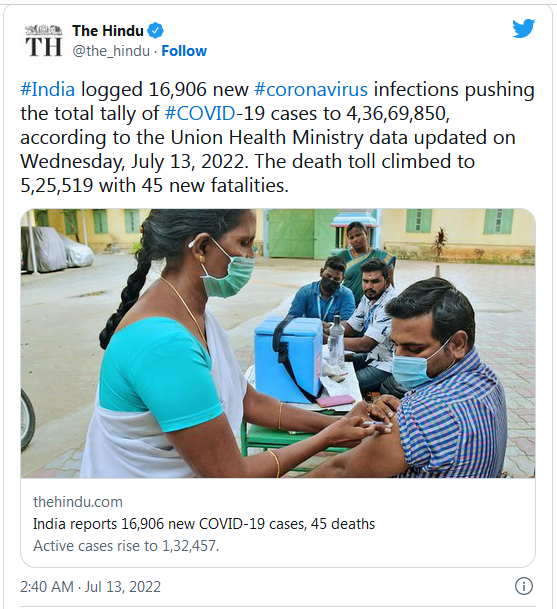 (link)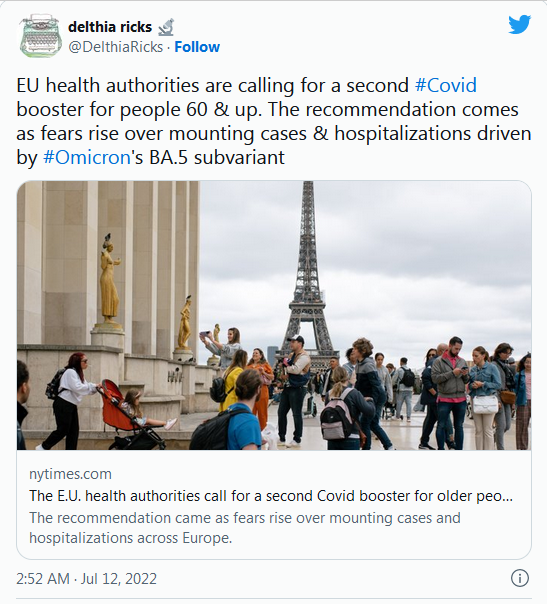 (link)
======
Don't breathe it in. #COVIDisAirborne pic.twitter.com/czmr4ki2dC

— The John Snow Project (@JohnSnowProject) July 10, 2022
Thread:
Encouraging news with UPDATED DATA! Moderna's Omicron bivalent booster vaccine candidate, mRNA-1273.214, has demonstrated significantly higher neutralizing antibody responses against ALL variants of concern INCLUDING Omicron subvariants BA.4 and BA.5! Let's talk about that! ??

— Chise ?????????????? (@sailorrooscout) July 11, 2022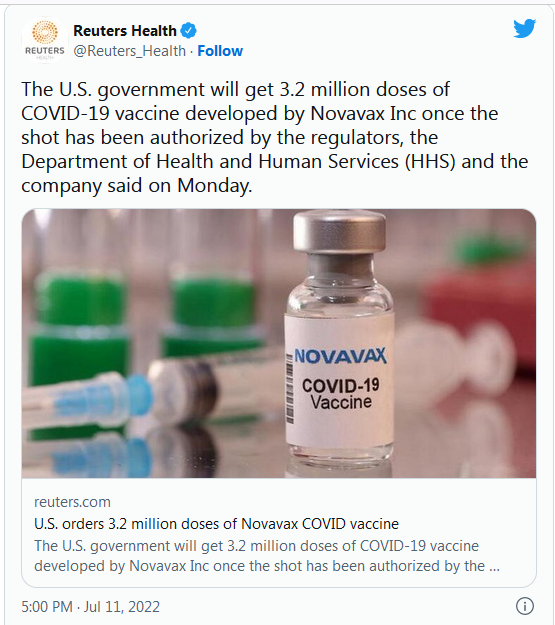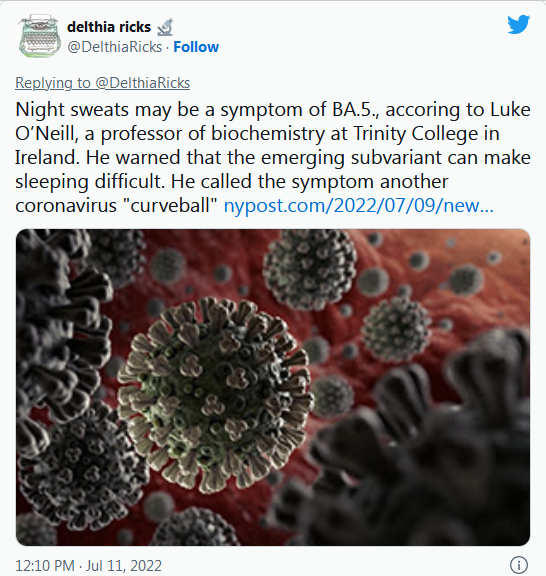 Researchers scoured >7 million news articles & broadcasts on #COVID19 #vaccines & found that merely 0.1% contained primary disinformation. Just 41,718 had serious factual errors. It shows that a small number of people, if loud & sly, can do real harm.https://t.co/88Ngy1Bw2P

— Laurie Garrett (@Laurie_Garrett) July 10, 2022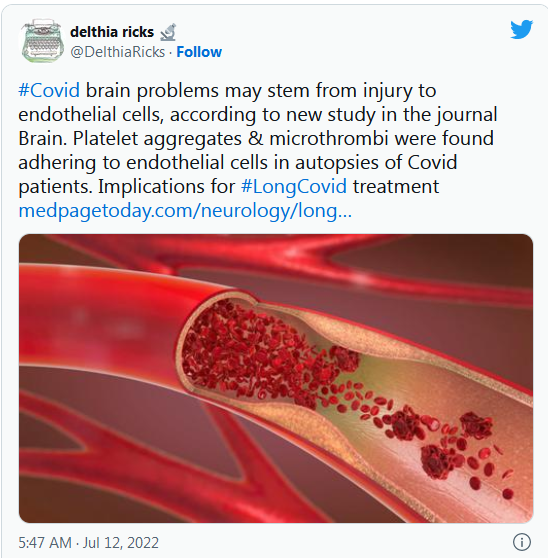 ======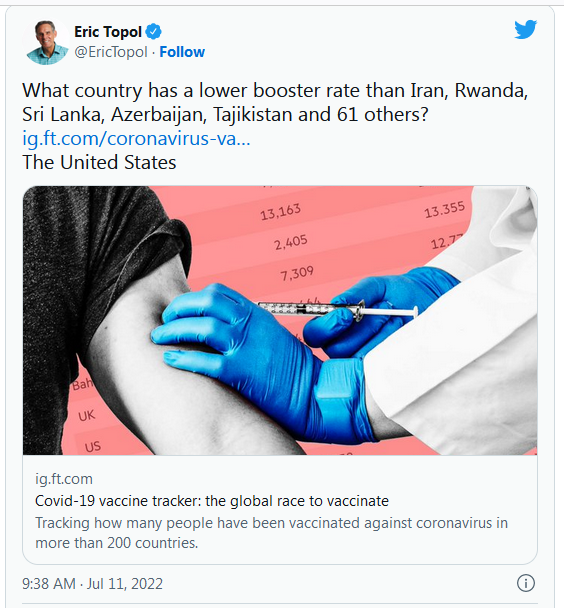 (link)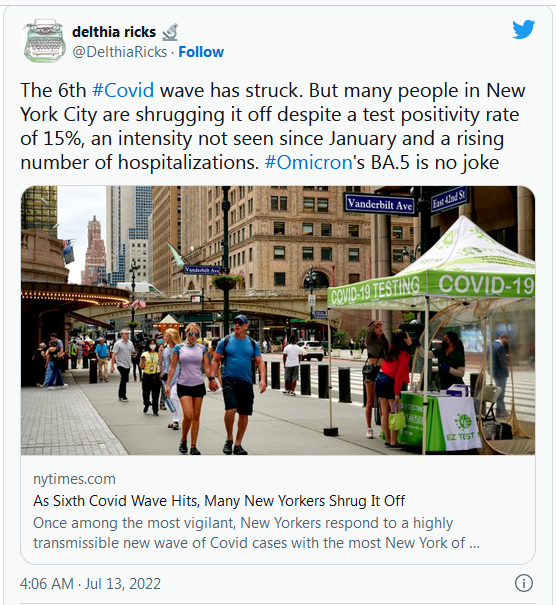 (link)
Long covid is very real, and it impacts a great many people. But the pandemic is too recent, and we do have the data, to go all doomerist Abandon hope! on the scope, severity, or chances for future medical improvements…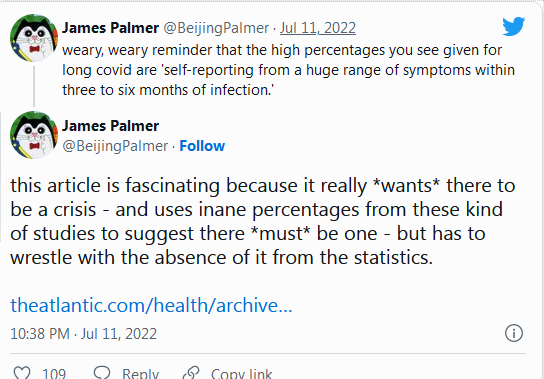 (link)
This thread, from the "Professor and Chair of @busphEH" seems more reasonable, IMO: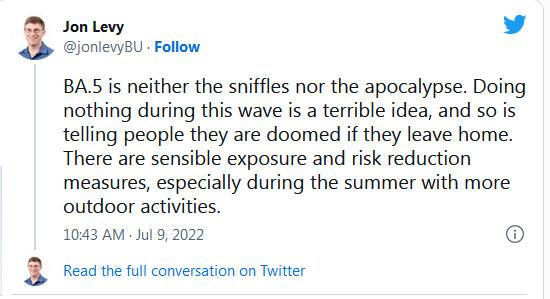 We just took a family vacation. Very important for mental health. We rapid tested before seeing people and masked when sharing air for extended periods. No masks for swimming, mini-golf, boating, hiking, etc. Ate outdoors when with people. Lots of fun, returned home healthy.

BA.5 is very transmissible, and being outdoors isn't a "get out of COVID free" card. But a little common sense helps. In a large outdoor crowd for a long time? Wear a mask. Walking in the tranquil woods? Don't.

We need to message to people to take BA.5 seriously, and be up to date on vaccine + booster. But also reinforce that you can enjoy your summer while at the same time using sensible exposure reduction strategies.

Anticipating some of the comments, I know some people can't easily reduce their exposures, especially in workplaces. We need policies that protect people where voluntary individual action won't cut it. And some people want or need to do indoor recreational activities.

My broad point is that people are getting the message either that the pandemic is over or that doom is upon us, depending on who they listen to. This leads to inaction and polarization. We need different messaging that encourages and enables exposure and risk reduction.

Addendum – I am not trying to individualize what needs to be collective, or to minimize risks for the vulnerable. But in a moment where few leaders seem willing to do anything, messaging that parallels the "3 Cs" as in Japan would be a huge step forward.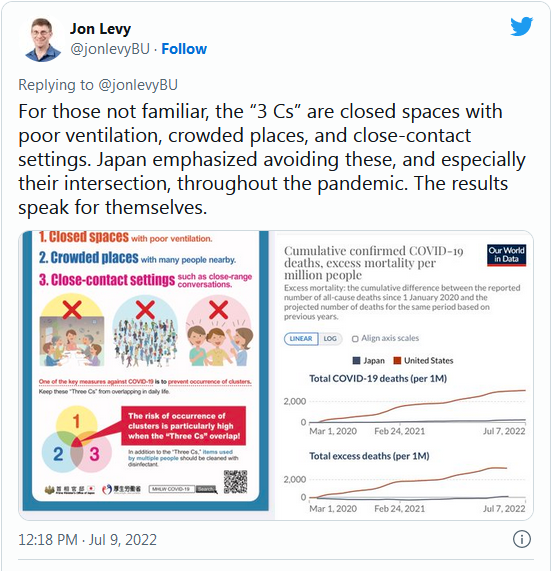 Reader Interactions