Elon Musk's effort to delay Twitter's trial against him flopped in court, after a Delaware judge ruled that Twitter's lawsuit seeking to hold Elon Musk to his $44 billion takeover will go to trial in October https://t.co/ZhHM7IN1S8 pic.twitter.com/c99AWRqczQ

— Reuters (@Reuters) July 20, 2022
Gina Chon & John Foley, "Twitter-Musk divorce court favors the kids":
If the priority in a divorce is the kids, then the merger equivalent needs to be all about the shareholders. That's more or less the outcome of the Delaware Chancery Court's first decision on the $44 billion deal between Twitter and Elon Musk. On Tuesday, Chancellor Kathaleen McCormick set a speedier October trial for the fight with Tesla's boss, which favors the social network's wishes. Swifter clarity is good for everyone, especially investors.

Shareholders have been shuffled between the combating parties since the saga began in April when Musk disclosed his investment in the social network. Shares hit a high of about $52 and a low of around $33 as the SpaceX founder touted and then ditched the deal. McCormick noted that the risk of irreparable harm to Twitter grew as uncertainty about its future was prolonged.

The social network pushed for an expedited trial in September for four days to force the erratic buyer to close the transaction. Musk, in turn, requested a February court date for 10 days. The court's decision for a five-day hearing in October seems sensible. The deal has certain contingencies that expire in the fall, and blowing past those would have made Twitter's shareholders face even more uncertainty. In that light, Musk's interest in pushing the trial to next year was an extreme ask that was probably just meant to be a starting point for a negotiation, akin to demanding the house and the dog in a divorce…
All well enough, except… (trigger warning: body shaming)…
— Scott Nover (@ScottNover) July 19, 2022
While the Chancery court met, Musk was in Greece, visiting a fellow billionaire's yacht and swimming in the lovely Mediterranean Sea, as one does. Photographers for the Daily Mail were also in Mykonos, doing what *they* do — bringing joy to the cruel, shrunken hearts of snarksters.
Shirtless Elon Musk vacations in Mykonos on luxury yacht https://t.co/xH4luUMTgr pic.twitter.com/j4N21y5wWT

— Page Six (@PageSix) July 18, 2022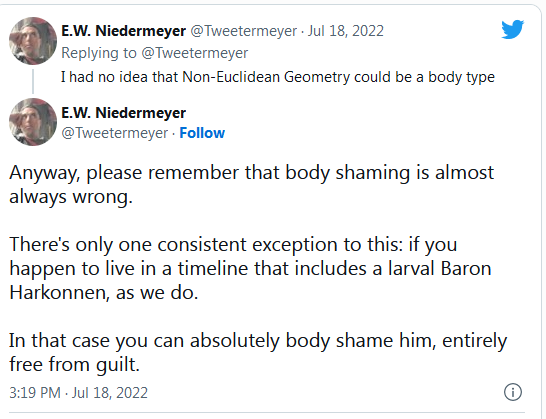 … and there was, per the experts, surprisingly little pushback from the usual suspects…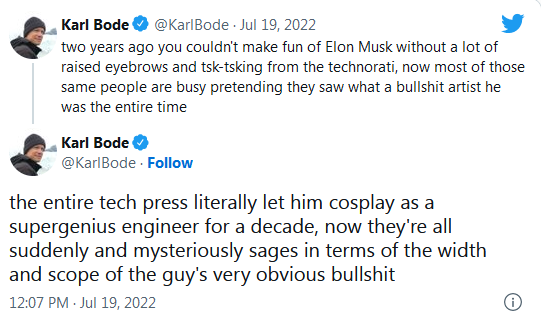 But "seriously"…