For some reason I'm on Dr Oz's mailing list. Compared to the deft, relentless and imaginative Fetterman campaign, here's how Dr. Oz communicates with his best contributors:
Dr. Oz is in a strong position to return the U.S. Senate to Republican control in 2022! Why must that happen? Skyrocketing inflation, an illegal alien invasion, rampant crime, a weakened military, record high gas prices, and out-of-control spending of your hard-earned money.  That's what Joe Biden and his Congress have given us in two years.  All of America is looking to Pennsylvania, as this is one of the most important Senate races in the nation!
I can almost smell the hangover sweat of the intern who cranked out that uninspiring prose.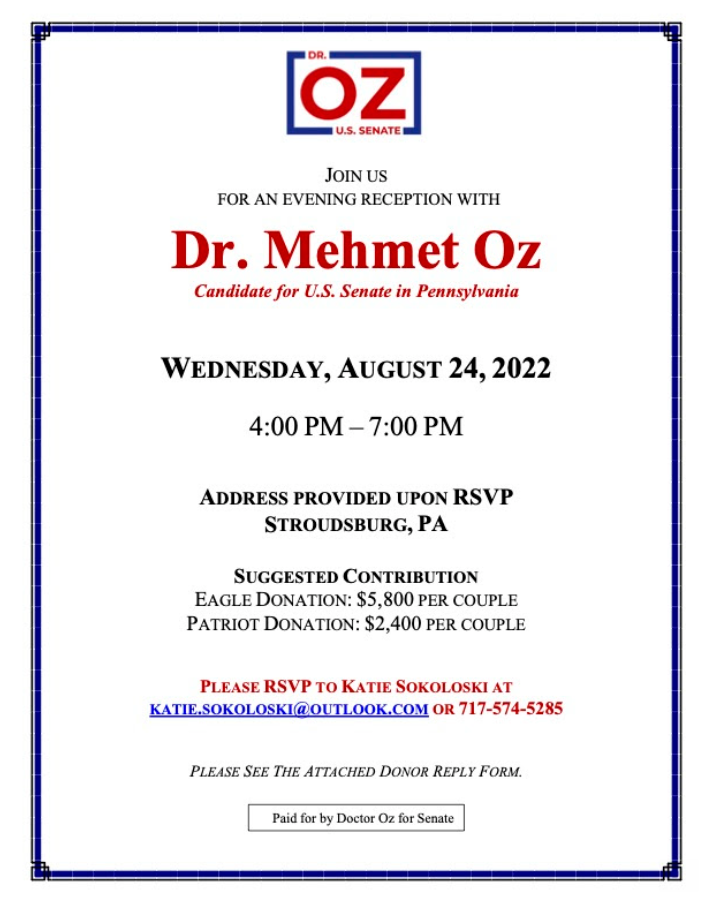 The rinky-dink outlook.com email address attached to a $2-5K solicitation is as laughable as the notion that someone would spend $2-5K to meet this rich asshole.
The mailing was sent by "Americans for Freedom," headquartered in Naples, FL, but the solicitation says that checks should be payable to the Oz campaign, so Americans for Freedom are fundraising contractors. This was sent to my "real" email address, which I used once to contribute to a Democrat running for Senate somewhere. I do all my donating on a different email address now. So it's a shit email, for a shit event, sent to a shit list.
The whole thing reeks of what would happen if a lazy, rich grifter decided to run a vanity campaign and delegated the hard work to people with no skin in the game. Above all, it is absolutely no fun. The Fettermans are having fun with their campaign. This guy isn't.