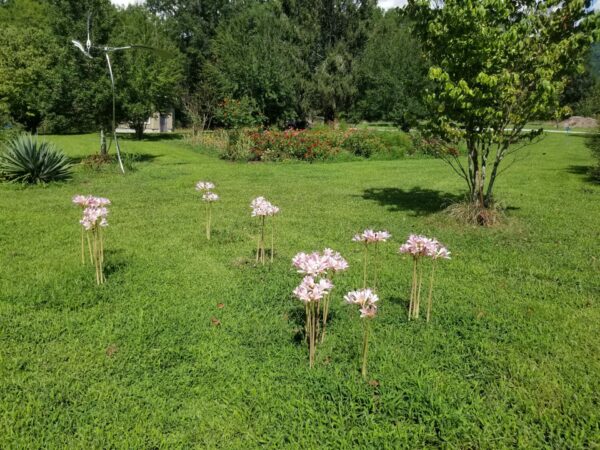 Commentor HarryC:
Late summer in Tennessee means the gardens are getting somewhat shaggy. It also means the butterflies are out in force and the goldfinches are waiting in the wings for the seeds to ripen.

The surprise lilies (aka naked ladies) are always a treat, visually for us and as nectar for others.


Ten years ago the deer population forced me to give up vegetable gardening. (Thankfully, there are lots of intrepid folks who supply our local producers' market!)

Until this year, the deer didn't care for the Mexican Sunflowers but they've decided those are tasty, too. Only one [at far left] was able to outgrow their reach.


That one Tithonia makes the butterflies very happy.
As do the zinnias.

There are swarms of tiny butterflies on the lantana. Sadly, I couldn't capture the whole bank in a nice shot, nor would one sit still for the close up.

Summer isn't complete without a sweet little yellow flower beside the ramp up to the porch.
***********
"The hottest thirty-day period in recorded Boston history" was not kind to my poor tomato plants — especially since, during the last worst week or so, I just hid indoors entirely. Went out to check on them yesterday, now that it's both cooler and less humid, and was pleased to discover that at least some of the plants haven't completely succumbed to blight and/or wilt, but those trellised rootpouches are a sorry sight at the moment.
(And to think, back in April's gloriously clement days, I was hoping that cutting back on my tomatoes would leave me time to dig up and replace some of the flower raised beds… )
What's going on in your garden(s), this week?