hasn't sunk into the boot lamprey pundit class that they're no longer out there fighting in the narrative sphere where there are no rules and saying the dumbest shit can win anyway

— kilgore trout, death to putiner (@KT_So_It_Goes) August 13, 2022
… as they begin to suspect that TFG is no longer their Grift Gift That Keeps on Giving. They're having a really hard time giving up on their favorite political subject, squirming to find some excuse (however thin) for the latest torrent of criminal exposures.
Nobody wants to be first — or last — off the TFG gravy train! It's genuinely traumatic for them. But Maggie Haberman is the Queen Lamprey, and if she's beginning to waver…
Just asked a former senior administration official who would be in a position to know about such a thing and they had absolutely no idea what this report is talking about https://t.co/ucEXaHdblg

— Maggie Haberman (@maggieNYT) August 13, 2022
Trump made clear to several people last year he saw the NARA-requested documents as his personal property. When speaking about his correspondence with the Kim Jong-un, Mr. Trump said, "They're mine," according to a person familiar with the exchange.https://t.co/zgExwDy65A

— Maggie Haberman (@maggieNYT) August 13, 2022
Plenty still willing to go down with the SS Trumptanic, though. Including Maggie's colleague, BoBo Brooks: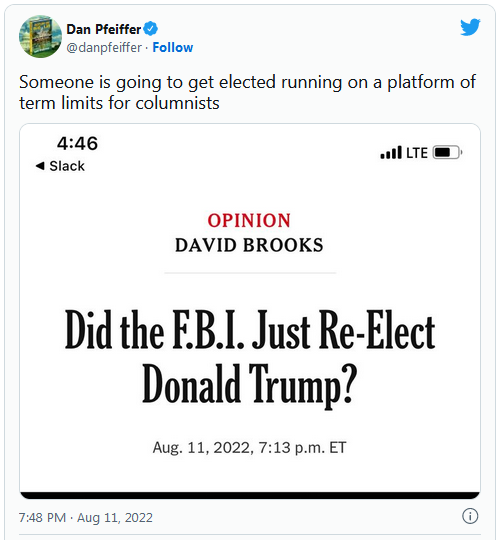 Why is Donald Trump so powerful? How did he come to dominate one of the two major parties and get himself elected president? Is it his hair? His waistline? No, it's his narratives. Trump tells powerful stories that ring true to tens of millions of Americans.

The main one is that America is being ruined by corrupt coastal elites. According to this narrative, there is an interlocking network of highly educated Americans who make up what the Trumpians have come to call the Regime: Washington power players, liberal media, big foundations, elite universities, woke corporations. These people are corrupt, condescending and immoral and are looking out only for themselves. They are out to get Trump because Trump is the person who stands up to them. They are not only out to get Trump; they are out to get you.

This narrative has a core of truth to it…

What happens if a prosecutor charges Trump and he is convicted just as he is cruising to the G.O.P. nomination or maybe even the presidency? What happens if the legal system, using its criteria, decides Trump should go to prison at the very moment that the electoral system, using its criteria, decides he should go to the White House?

I presume in those circumstances Trump would be arrested and imprisoned. I also presume we would see widespread political violence from incensed Trump voters who would conclude that the Regime has stolen the country. In my view, this is the most likely path to a complete democratic breakdown…

My impression is that the F.B.I. had legitimate reasons to do what it did. My guess is it will find some damning documents that will do nothing to weaken Trump's support. I'm also convinced that, at least for now, it has unintentionally improved Trump's re-election chances. It has unintentionally made life harder for Trump's potential primary challengers and motivated his base…
It's not that I *want* Trump back in the White House, but if we just indulge him on this, maybe his rabid followers won't destroy the country. Worth a try!
Another masterpiece of the genre, from long-time Trump apologist Marc Caputo & friends: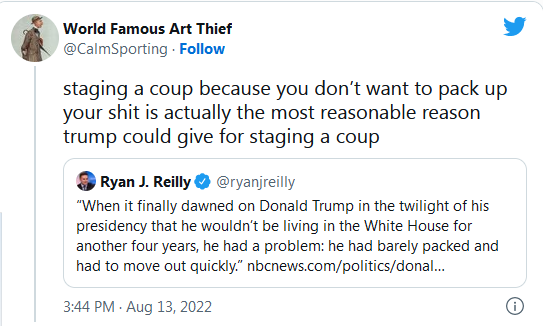 … West Wing aides and government movers frantically tossed documents and other items into banker boxes that were shipped to a storage room at his Mar-a-Lago club in Florida along with other, previously packed records set aside by Trump, sometimes erratically so, according to two sources with knowledge of Trump's move and records issues…

The criminal investigation into how sensitive records moved from the White House to Trump's beachfront club writes a new chapter of his political biography. It's a story of his impulsive instincts and disregard for established rules or norms that repeatedly created trouble for him in office and now may jeopardize the 2024 election bid that he could launch at any time…

"It was a chaotic exit," this source said. "Everyone piled everything — staff, the White House movers — into the moving trucks. When they got to Mar-a-Lago, they piled everything there in this storage room, except for things like the first lady's clothes. Everything in a box went there."

"He didn't care. He didn't care about the boxes. He was in a dark place at the time, if you remember. He didn't even unpack things," the source continued. "Over time, the staff moved them back in. If you had brought him into that storeroom, and asked, 'Which are your presidential papers?' he couldn't tell you."…

According to advisers, confidants and former aides, Trump is a "pack rat" who tends to leave the actual packing to underlings. At the end of the day, they clear his desk of paperwork — notes, scribbles, newspaper clippings, printed-out-emails, the new tree alignment for a golf course, a new grill for Mar-a-Lago — and the contents are placed in a box on the floor.

When filled, the box is removed by an aide and stored elsewhere. When he travels, an aide sometimes brings boxes along…

Trump also saved sentimental items, advisers said. He would ask to keep items that were fun to show off: classified surveillance photos or letters from foreign leaders, like France's Emmanuel Macron, Canada's Justin Trudeau and North Korea's Kim Jong Un, they said…

Still, even critics like Bolton say they're not sure Trump was that careless.

"We don't know what Trump has at Mar-a-Lago and people shouldn't hyperventilate over it until we know more. Just because a piece of paper has the word 'nuclear' on it somewhere doesn't mean it's apocalyptic if it gets out."
I mean, the "it was just an accident, didn't mean to keep them, and also declassified them" is deeply humiliating, but Trump has just the people to carry that water. https://t.co/0lcmSZmF1S

— 18Hat793 (@Popehat) August 12, 2022
NYT tomorrow: Are Event Venues Good Places to Store Nuclear Secrets? It's Complicated. https://t.co/QjrWNkQ2cB

— Pfizer Hellmaxxing ?? (@pleizar) August 12, 2022
Chris, he was impeached the first time for trying to shop information to a foreign power so they could release it and benefit him politically. He wants to be president again. Put two and two together. https://t.co/dz3AHsceVc

— The Fig Economy (@figgityfigs) August 12, 2022
"Trump's only crime is being dumber than the other presidents" is Trump apologism, and saying it doesn't make you a cool cynical intellectual, it just makes me wonder why you feel so compelled to do it. Why does it hurt your psyche for Trump to be acknowledged as a truly bad guy? https://t.co/TUSaYqVPGZ

— méli mélo (@PulsePersephone) August 12, 2022
Davis: He does not need to explain it so therefore a sitting President can never violate the espionage act by declassifying records by sending them to Mar-a-Lago or whatever… pic.twitter.com/eGx4RqfPhw

— Acyn (@Acyn) August 13, 2022
crowdsourcing crisis response https://t.co/Iqg2zVkRM6

— Andreas Schou (@revhowardarson) August 12, 2022
Meanwhile in Russia: Putin's mouthpieces on state TV are taunting America about "Top Secret" documents sought during the raid of Trump's estate, which they claim had to do with the newest nuclear weapons developed by the US and gleefully imply that Moscow already got to see them. pic.twitter.com/hmmphB4Utf

— Julia Davis (@JuliaDavisNews) August 13, 2022