On the Road is a weekday feature spotlighting reader photo submissions.
From the exotic to the familiar, whether you're traveling or in your own backyard, we would love to see the world through your eyes.
way2blue
[Last OTR submission of a 10-day trek along the Tsavo & Galana Rivers in southern Kenya.  Whew.]
We began to feel the influence of the Indian Ocean in the change of vegetation during the final days of our walking safari.  The mornig after we finished our last walk, we drove to Malindi.  Driving out, the landscape shifted from open land, to small huts, to small farms, to villages, solar panels…  Graceful women in lovely colorful skirts walking along the side of the road to fetch water, with yellow, 5-gallon containers balanced on their heads (~40 lbs when full).  From Malindi we flew to Lamu Island in the Indian Ocean.  An OTR for another day…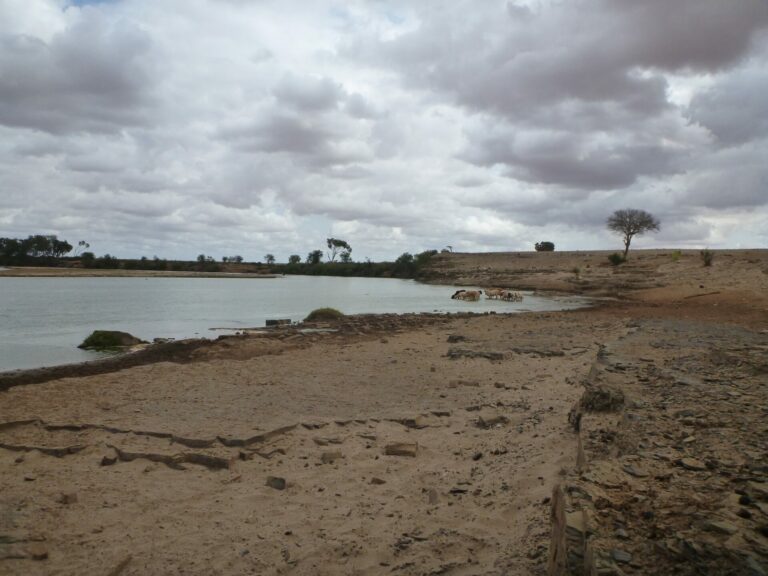 MORNING CATTLE.
As we moved further east, we saw evidence of (illegal) cattle grazing in the park.  Given the dryness of the terrain and the sparsity of grass, the cattle were competing with wildlife for food.  And wherever they grazed, the fragile soil turned to sand.  Desertification.  Alas.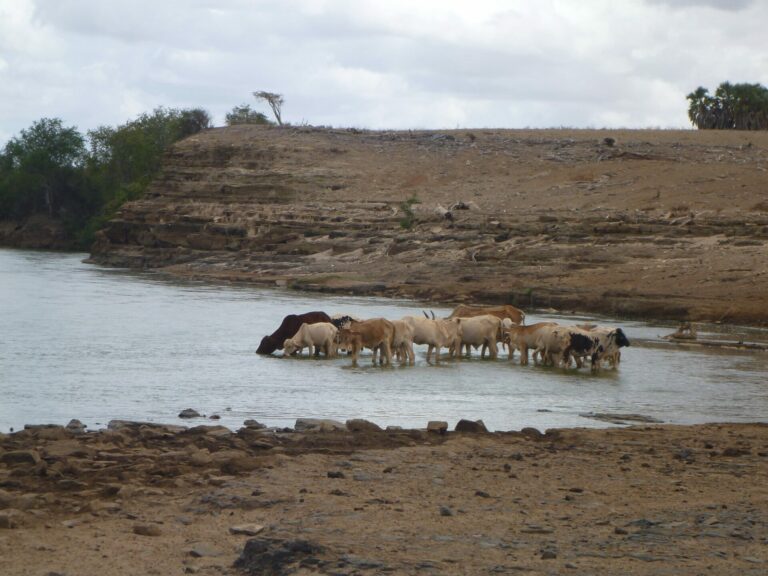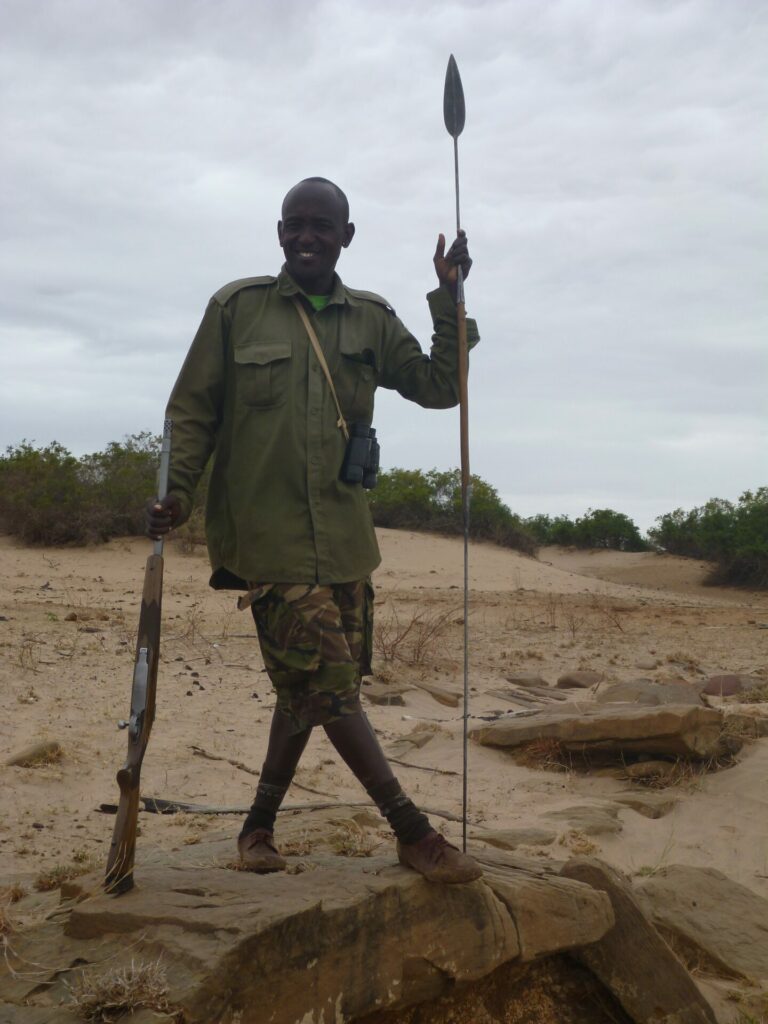 LAJORI SYLING.
Lajori posing for a photo at an afternoon rest stop.  We hiked all day our last day (16.8 miles).  Stopping for a picnic lunch and a very brief siesta (too windy)…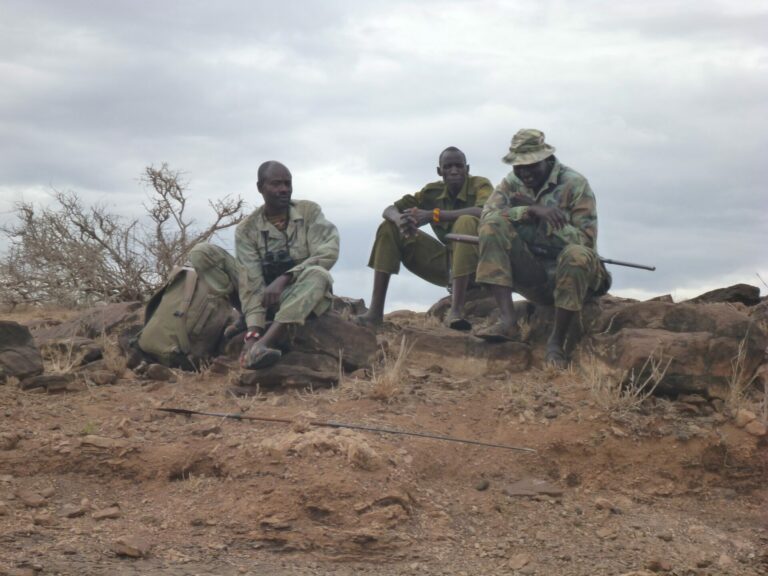 RESTING.
Washii, Ekutan, and Chui.  Washii was the spotter who held my hand during river crossings so I wouldn't lose my footing, and also helped me along one hairy, canyon traverse (narrow uneven ledge, impressive drop to the river…  )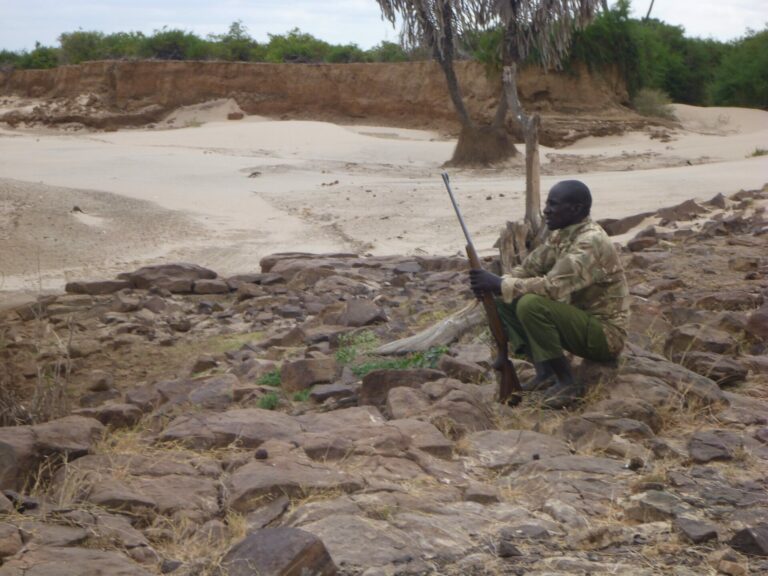 RESTING.
Lokori before the final river crossing.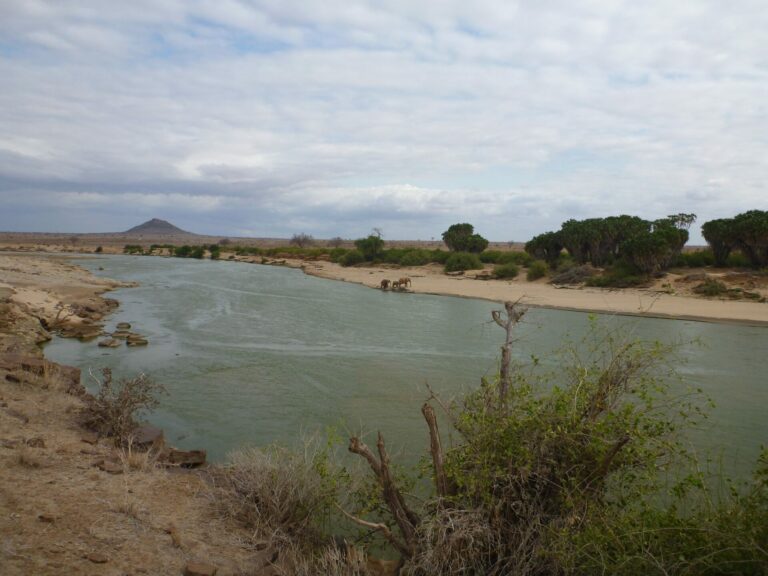 ELEPHANTS.
Across the river.  A few miles later, we spotted a group of lioness with cubs lounging by a fallen tree.  We spooked them—since they didn't know what we were—and they moved away.  But our guide said if they'd spent some time observing us, we'd have shifted from being classified as potential predators to prey.  And they'd have moved closer… 
ELEPHANTS.
Two guys on the left have spotted us…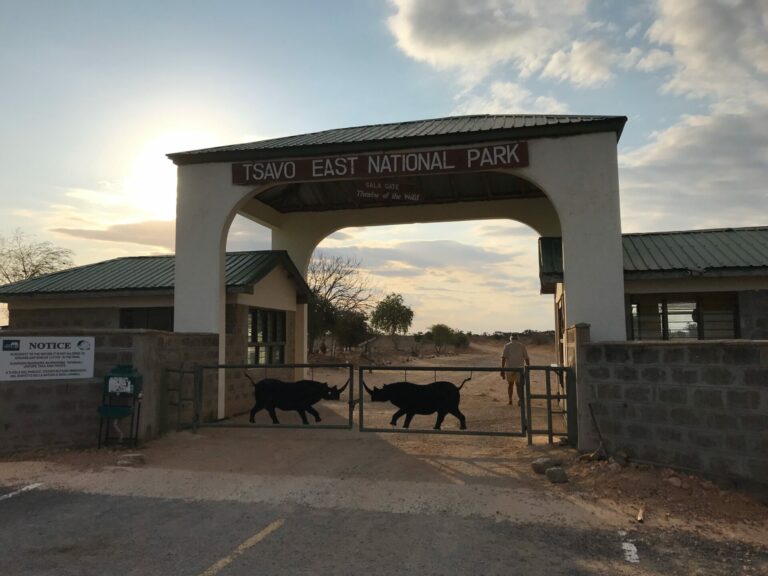 TSAVO EAST GATE.
Our last full day of hiking, we crossed the river four times.  First in the morning to start the trek, then back again for lunch at a temporary camp, then back across the river to continue the trek, and finally back again for another few miles to the park gate.  I made the mistake of keeping my Tevas on after the last river crossing rather than taking time to switch back to boots.  
We covered 110 miles in 10 days of hiking.  After a soda pop break at the gate, we climbed in the field vehicle and headed back to camp.