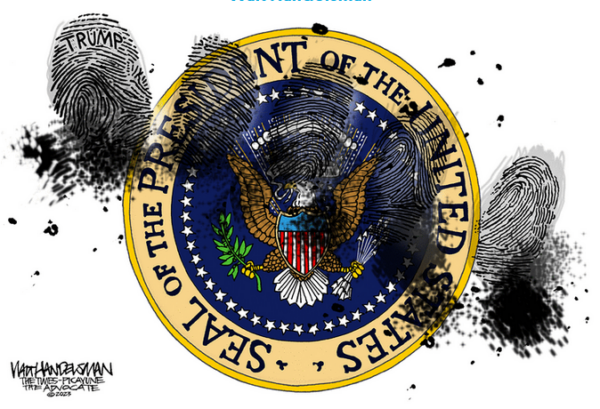 Trump presents a real collective action problem for the GOP. His die hards are a big enough portion of the GOP base that no individual office holder can risk pissing him off, but collectively he's looking more and more like a stone around the whole party's neck.

— The Fig Economy (@figgityfigs) April 5, 2023
If recent history is any guide, since they're true believers, it'll take some time for this to lead to meaningful moderation on anything.

If that means cementing further losses, good.

— The Fig Economy (@figgityfigs) April 5, 2023
And if it means that anti-Trump Republicans are able to break out as a meaningful force and splinter the vote further, extra good.

— The Fig Economy (@figgityfigs) April 5, 2023
I sense a theme here… pic.twitter.com/591kEgIcxi

— @mbaram (@mbaram) April 5, 2023
Per Rolling Stone, Trump Team Says Only 'Thirsty' 'Cockroaches' Would Claim He's Sad About Getting Arrested:
Donald Trump wants everyone to know that he was not at all saddened about getting arrested and having to plead not guilty to 34 felony charges stemming from an alleged sexual encounter with a porn star. "I can say that at least for this moment right now, I am in great spirits," Trump wrote in an email blasted out to supporters after his historic arraignment in Manhattan on Tuesday. But behind the scenes of that crafted public image, cracks have begun to show in the former president's famous self-confidence, according to those who know him well.

Despite the bravado, one person close to Trump was struck by how "shitty and pissed off" he has sounded in private the past few days when discussing the charges. Two other sources who currently work for Trump note to Rolling Stone, one completely unprompted, how "unhappy" or obviously "deflated" the former president looked in the video and photos of his Tuesday court appearance…

Trump's team is taking pains to make sure none of that brooding reaches his supporters. According to two sources with knowledge of the matter, Trump has cared so much about curating this perception of being unshaken that he himself in recent days encouraged allies to tell the press and public that his mood was "great," and he was stronger than ever.

And in a sign of just how much the former president wishes to convince the public that he wasn't feeling down about getting criminally charged, in the earliest hours of Wednesday morning, Trump's spokesperson Steven Cheung sent Rolling Stone a statement fervently disputing the characterizations of the ex-president's mood. "These unnamed sources who speak about President Trump's mood have no idea what they're talking about and are simply lying to make it seem like they know what's going on," Cheung says. "In fact, they are on the outside looking in, and it's desperate, sad, and thirsty beyond belief. They are cowards and should stop acting like cockroaches scurrying around in the dark."…

Trump had hoped, Rolling Stone reported Monday, to turn the booking into a high-profile display of public persecution, sending a message to his supporters and galvanizing his campaign. Instead, he got a more muted proceeding, with few statements to the public. By evening, he was back to running for president, delivering a short — by his standards — address to supporters at Mar-a-Lago. In a rambling speech filled with grievances, a hoarse and tired-looking Trump fumed at what he claimed were "racist" and "radical-left lunatic bomb-thrower" prosecutors pursuing him in New York, Georgia, and the special counsel's office…
Humorous coda!
… Trump's outrage was not solely performative, as he was also expressing his fury and dismay in private communications. Alan Dershowitz, the celebrity lawyer who served on Trump's legal defense for his first impeachment, tells Rolling Stone that he received a morning text message from Trump himself on Monday.

"Alan, getting ready to leave for New York and can't really believe it. These maniacs want to destroy our country. So SAD. Nothing on Hunter or Biden, and their crimes are so bad. Anyway, your words are so important," Trump texted the lawyer, according to Dershowitz. "Save America!" Trump texted, before signing the message "DJT" and adding, "P.S. congrats on the book."
(Do we believe this? On the one hand, it's Deshowitz; on the other, it does sound like pre-indictment Trump… )
No reporter should be this dazzled by a political event. No sentient primate should be this dazzled by a political event.https://t.co/jBpfEJluAa

— Charles P. Pierce (@CharlesPPierce) April 5, 2023
Would you like to see two A-1, prime examples of how not to cover the 2024 presidential election as long as The Defendant is blighting the ballot? You know you would. First, from what we must call (again), Tiger Beat On The Potomac…

When Trump eventually arrived on Tuesday evening, there was an aura of anger and defiance about him. Johnny Cash's "Ring of Fire" played over the speakers before Trump walked out. When he finally spoke, he ticked off the list of scandals he's endured and the prosecutors and opponents he's faced. Each one — he claimed — was biased against him. Alvin Bragg, the Manhattan D.A., was the real "criminal." Jack Smith, the special prosecutor investigating the lead up to Jan. 6, a "lunatic."

Tuesday, in a way, was like a campaign relaunch, still grievance-filled but with Trump world feeling that they are in a better position. The polling that just months ago was used as evidence of his failure to rally the base has dramatically shifted, now showing the former president with leads upward of 20 percentage points over DeSantis. It underscored the central paradox of Trump's political career: His standing benefits from the crises he endures.

The same could have been said, of course, of Al Capone. There's nothing paradoxical about a leader's having a mob.

Surely, then, we can find an antidote to this fanzine burbling somewhere in the deep gravitas of the Paper Of Record? Hello? Is this on? Hello?

Americans could be forgiven if they momentarily forgot the most powerful person in the country. As helicopters and cameras followed every step of the Donald J. Trump legal drama in New York more than 200 miles to the north with white Ford Bronco-level intensity, President Biden faded into the background, ceding the stage to his defendant-predecessor. He seemed content to do so, at least for now. The White House made no effort to compete for attention with the arrest of a former president. Mr. Biden's only appearance came during a meeting with his science advisers. Reporters were escorted in at 2:59 p.m., a hoarse Mr. Biden, fighting a cold, said a few words and the reporters were ushered out again at 3:03 p.m. Ten minutes later, the White House announced Mr. Biden was finished with public events for the day..

… One of the primary acts of journalistic malfeasance that made the previous administration* possible in 2016 was the unspoken assumption that the elite political media has no agency over how it covers a candidate. Endless shots of an empty podium during the 2016 primaries just sort of, you know, happened. How ever did El Caudillo del Mar-a-Lago command such an audience? What dark magic did he wield over national editors and news directors? What is this mysterious phenomenon that kept him on television for hour after hour? Apparently, the same mistakes will be made again this time around. We are being told that criminal indictments are political advantages, which puts us so far through the looking glass that we can barely see it behind us any more. How ever could that happen?…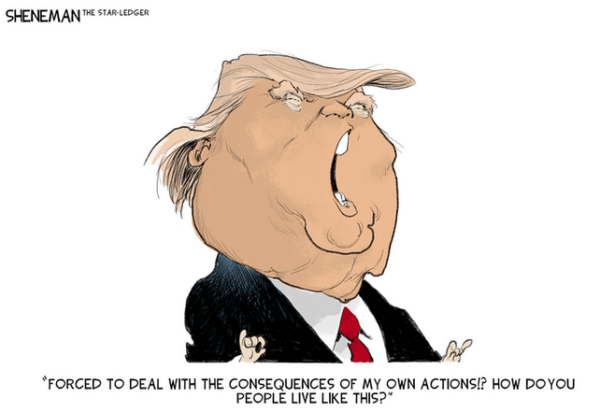 Tom Nichols, at the Atlantic, reports on Trump's Authoritarian Playbook:
… Trump, for his part, didn't dwell on the case when he returned to his safe space in Florida. He spoke for only about 25 minutes, which is usually just the amount of time it takes him to clear his throat. But in that short time, he talked about everything—and I mean everything.

There were the usual cries of "Russia Russia Russia" and "Ukraine Ukraine Ukraine," which Trump now tends to repeat as a kind of ritual invocation without context. He went off about the Georgia investigation involving his call to Georgia's Secretary of State Brad Raffensperger looking for more votes in the 2020 election, referring to that call as "even more perfect" than the call to Ukraine that helped get him impeached. He railed against the "lunatic" Special Counsel Jack Smith, who is overseeing the probes into Trump's handling of classified documents and his attempts to overturn the 2020 election results, and called the former investigation the "boxes hoax." He even went after the U.S. National Archives and Records Administration, which he called "a radical-left troublemaking organization." If you've ever wondered why America is in trouble, you need look no further, apparently, than those unruly Trotskyite archivists.

As usual, Trump's histrionics would be comical if the stakes were not so high…

Donald Trump has never faced serious criminal consequences—or, really, any consequences—that he could not smother with enough money. (Losing the 2020 election was likely the first time in his life that large numbers of people disobeyed him, and his current troubles stem from his inability to cope with that realization.) He may yet wriggle out of the criminal charges in Manhattan, but there are likely more to come from Georgia and Washington, D.C.

And yet, Trump is still the choice of millions for the presidency, despite his attacks on the rule of law and the judges who oversee it. We cannot say we have not been warned: The authoritarian rule and personal threats Trump will bring back to the White House were on full display last night in a resort ballroom in Florida.
"It's so embarrassing that this is what the leadership of the Republican Party has become– some two-bit televangelists hocking for Donald Trump."

— @MichaelSteele calls out Lindsey Graham's tearful message to donate to Trump's legal fees or to pray https://t.co/hfkFsq8Wn7

— Morning Joe (@Morning_Joe) April 5, 2023
Even then the party will be all about everyone claiming to be his rightful successor.

— The Fig Economy (@figgityfigs) April 5, 2023
In other words: the Republican Party is going to get worse before they get even worse

— chatham harrison is tending his garden (@chathamharrison) April 5, 2023
Trump is horrible, & the Republican Party is awful.

But step back, and you can see the root problem: the GOP is the party of the roughly 20% of Americans—& a higher % of voters—who are assholes.

— Dana Houle (@DanaHoule) March 31, 2023