On the Road is a weekday feature spotlighting reader photo submissions.
From the exotic to the familiar, whether you're traveling or in your own backyard, we would love to see the world through your eyes.
Ex-lurker
Many (many) years ago I was a master falconer. "Master" is a bit misleading; it's just a matter of being licensed and flying enough birds.  I don't have a smidgen of the knowledge of people who have been doing it for 30 years or more.
Anyway, a few years ago I decided to get back into the sport, if only to be a spectator.  I joined the California Hawking Club and I've been to a few of their meets.  I spent an inordinate amount of time in my late teens and early twenties just wandering around southern Idaho looking at raptor nests and (in the winter) trapping birds.  (I just let them go after checking they were healthy.)  I've been back in southern Idaho a couple of times in the last few years going to places I used to get birds.  So, now I have a bunch of pictures of raptors and raptor nests that I thought people might find interesting.  I don't have the photography skills or knowledge of Albatrossity, but I do have the advantage that most of my photos are of birds sitting still.
Some notes on nomenclature. Since falconry is an ancient sport, there are words commonly used by falconers which have fallen into disuse in regular circles, or have a different meaning outside of falconry.
In falconry lingo, a "falcon" refers to a female of the genus Falco, in particular Peregrines; the males are tiercels (supposedly so-called because they are about 1/3 smaller than the females).  Because it's somewhat clumsy to refer to, say, a "falcon gyrfalcon," females are often referred to as "females" rather than as "falcons."  And tiercel is often applied to any male raptor.
Birds are also described with different terms for when they were taken from the wild (or, these days, from a breeding program). The three general categories are (1) eyasses (taken from the nest or soon after they are fledged), (2) passagers or passage birds, taken in the fall of their first year and through the winter before their first molt and (3) haggards, which are adult birds taken after their first molt.  Birds become progressively more difficult to "man" (become tame enough to be ready to train) from eyasses to haggards, but they're easier to train to hunt as they get older. These age designations follow the bird throughout its life.  A bird that has molted in captivity is referred to as "intermewed," so a 5-year-old bird taken from the nest is an "intermewed eyass."
There have been two enormous changes to the sport since I flew birds.  First, cheap telemetry, so you don't lose your birds.  The birds fly free, and if they don't feel like working, they might just fly away. In the old days, you could easily lose them.  I can't describe the frustration of losing a bird you've spent dozens, even hundreds of hours training, but it happened often.  Nowadays, you put a GPS tracker on the bird and you can see on your phone where and how fast and how high it's been flying.  (Incidentally, if a bird is lost it just goes back to the wild; they're fine–more than once I trapped birds that somebody else had lost months previously.)
The other big change is captive breeding.  Falconry was practiced for 2500 years before falconers figured out how to breed them in captivity. Falconers nowadays have access to all sorts of exotic birds that were simply unavailable when I was flying. I used to joke that I could have paid my way through college by trapping a gyrfalcon and selling it (illegally) to the Saudis, but these days you can just go online and buy one legally.  There are also interesting hybrids.  A lot of falconers these days like gyrfalcon/peregrine hybrids–they're nearly as large as gyrfalcons, but they're much less high strung; also they are easier to teach to "wait on" (circle around above the falconer's head at anywhere from 100 to 1500 feet), which peregrines do naturally but gyrs do not.
You'll notice some of the gyr/peregrine hybrids have very different plumage.  That's because gyrs come in three color morphs (black, grey and white), and because there is no "standard" plumage in hybrids.
So, enjoy.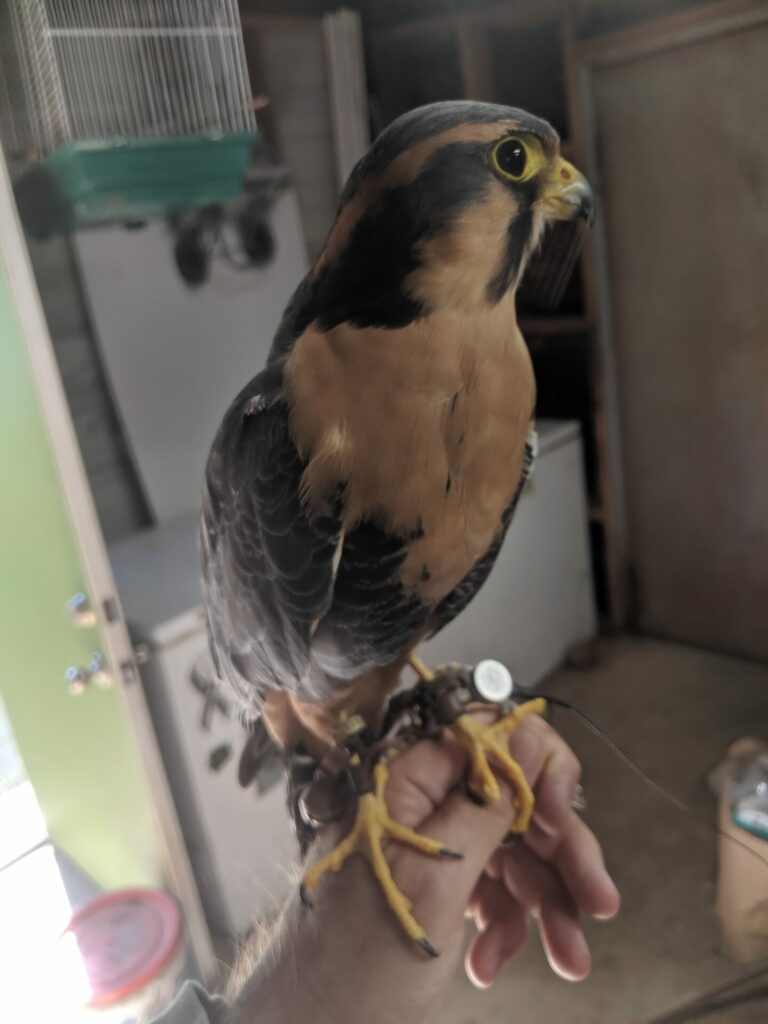 This is a tiercel Aplomado falcon (Falco femoralis).  They're occasionally found in southern Arizona and Texas, but this bird was captive bred.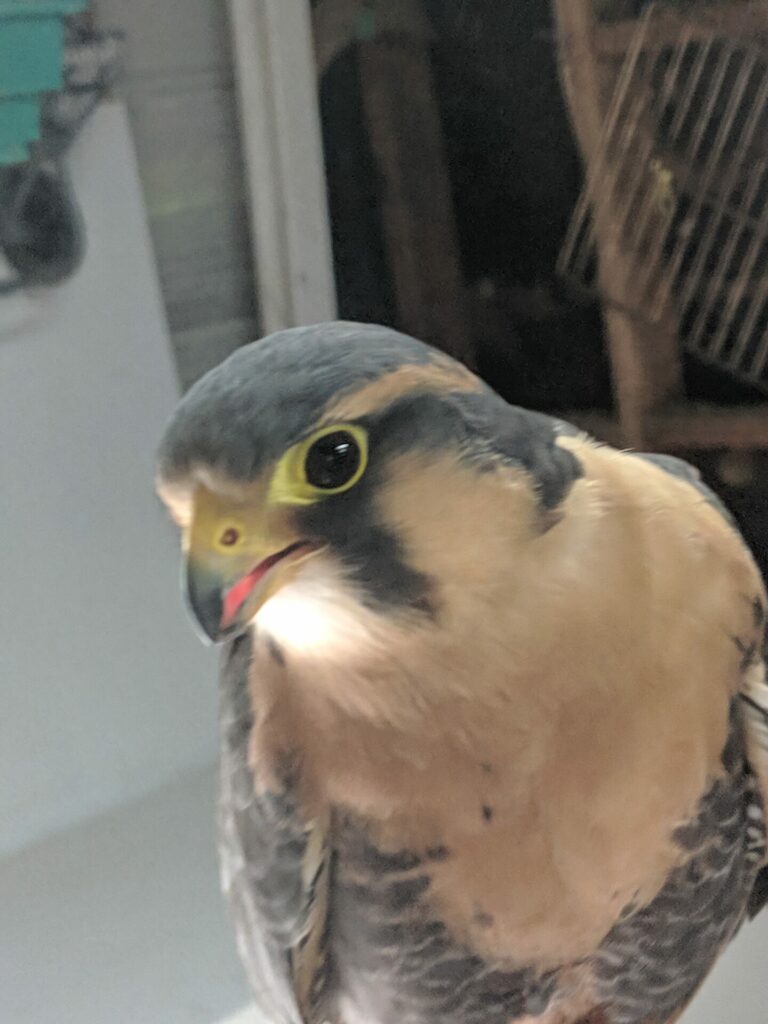 This is another view of the tiercel Aplomado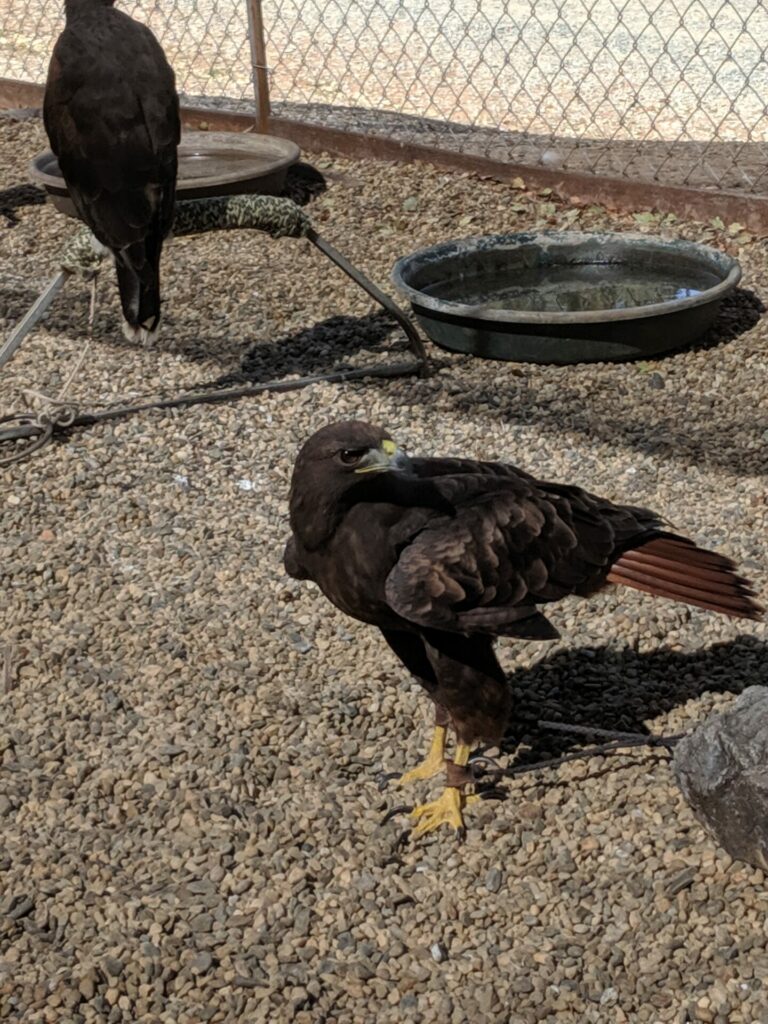 This is a dark phase female red tail (buteo jamaicensis), which is fairly rare here in California.  I've seen them even darker in Idaho, with just a red "wash" on the tail feathers to tell you it's a red tail.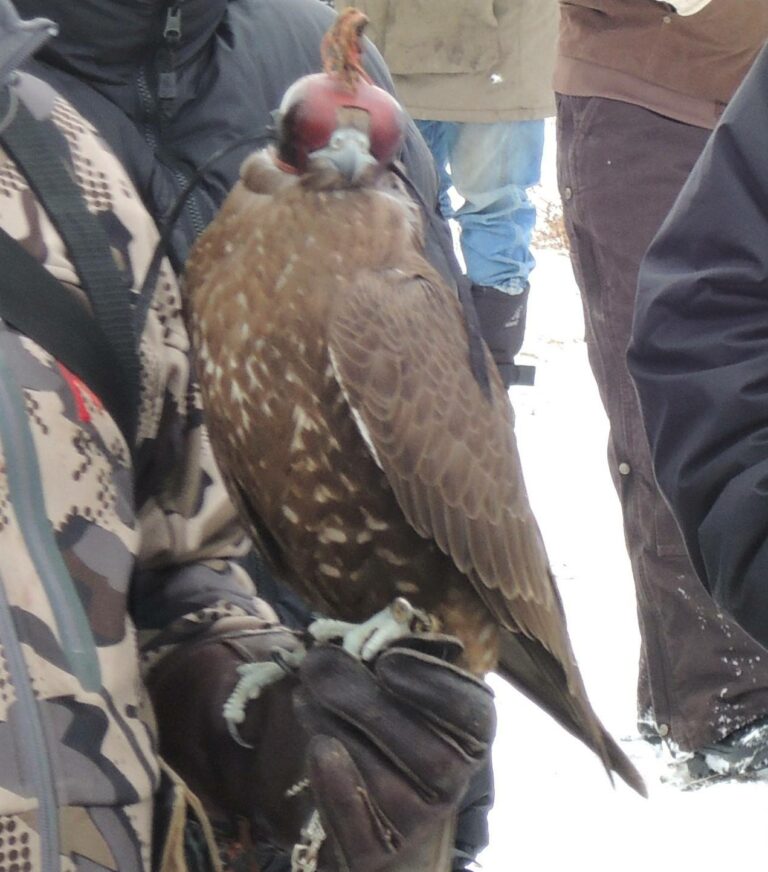 This is an eyass tiercel gyrfalcon (Falco rusticolus).  This bird will molt into a black gyr.  This bird is enormous for a tiercel–I would have guessed it was a falcon if somebody hadn't told me what it was.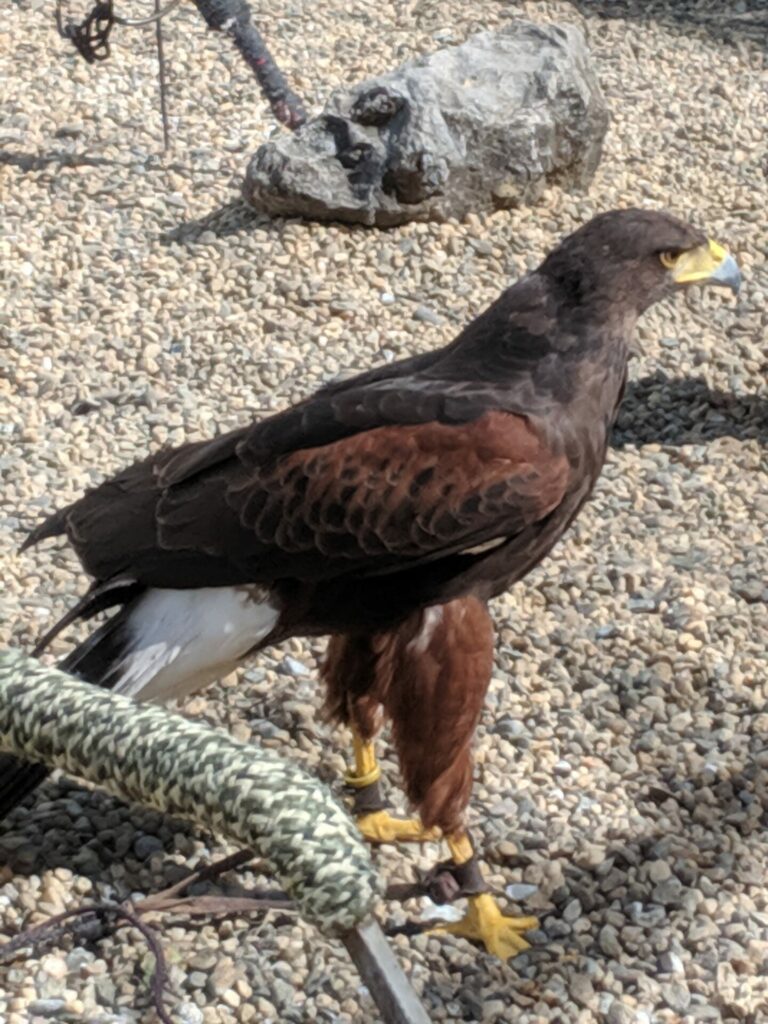 This is a female Harris hawk (Parabuteo unbicinctus).  Harrises are really popular these days; they're very mellow and usually easy to train.  I had a female Harris hawk that Fish and Game confiscated from someone who had her illegally and asked me to look after.  She used to play with my dog–waiting for him to fall asleep, then walking over to tweak his ear and bouncing away.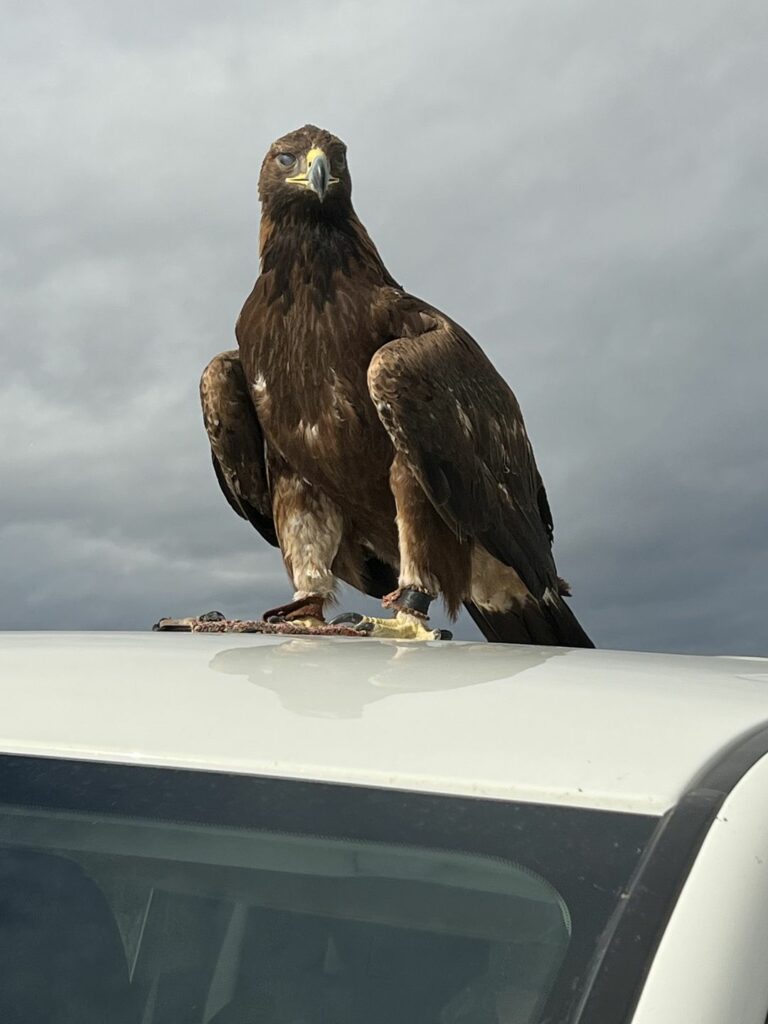 This is a better shot of the same Golden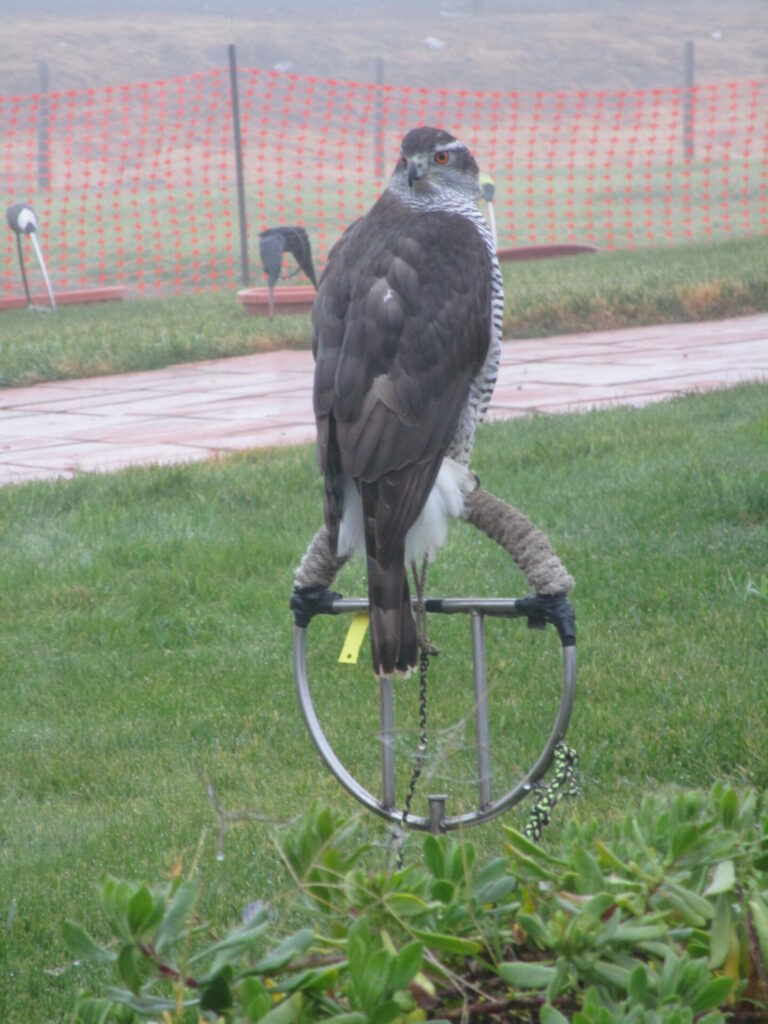 This is an intermewed eyass Northern Goshawk (Accipter gentilis).  You can tell this is an adult bird by the orange color of the eyes.  Let me tell you, it's damned intimidating to be near a goshawk nest and have one of these birds come arrowing in through the trees with those mad eyes gleaming under the white eyebrow.  I never went into a goshawk nest without a helmet and a thick canvas coat.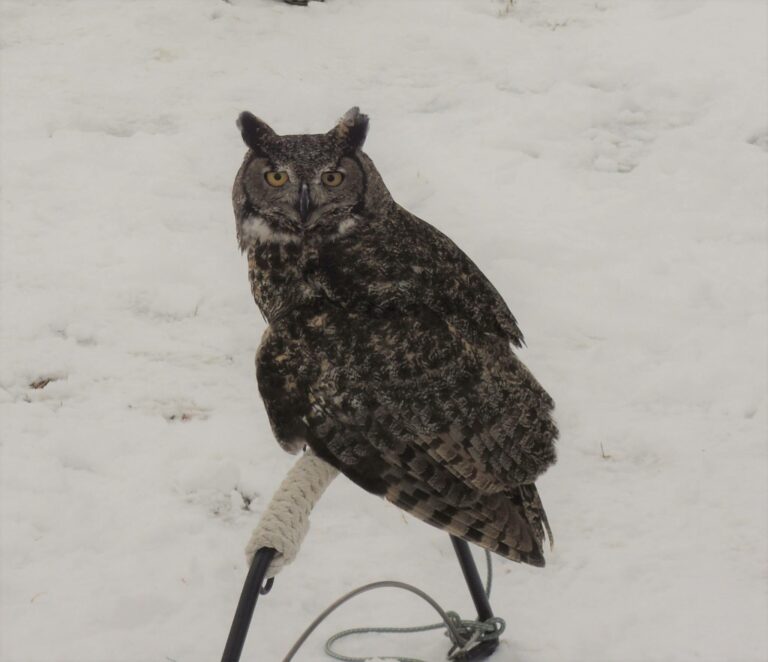 This is a male Great Horned Owl.  This is the only North American owl regularly used in falconry.  I rehabbed a couple of these and found them difficult to deal with and "grabby" with their feet.