Nashville Council votes to reinstate Justin Jones 36-0 pic.twitter.com/cOueZkbtmy

— Acyn (@Acyn) April 10, 2023
Rep. Justin Jones was reinstated to Tennessee's House on Monday, just four days after Republicans expelled him from the Legislature. Moments after the vote by Nashville's governing council, Jones began marching to the Capitol with hundreds of supporters. https://t.co/sqAgxnUwrh pic.twitter.com/sKpqfYwiAt

— The Associated Press (@AP) April 10, 2023
… The unanimous vote by the Nashville Metropolitan Council took only a few minutes to restore Rep. Justin Jones to office just four days after Republicans stripped him of his seat.

Moments later, Jones marched to the Capitol several blocks away. He took the oath of office on the steps and entered the building while supporters sang "This Little Light of Mine."

A loud round of applause erupted as Jones walked into the chamber with Democratic Rep. Gloria Johnson, who was also targeted for expulsion, but spared by one vote.

"To the people of Tennessee, I stand with you," Jones said in his first statement on the House floor. "We will continue to be your voice here. And no expulsion, no attempt to silence us will stop us, but it will only galvanize and strengthen our movement. And we will continue to show up in the people's house.
"Power to the people," he shouted, to cheers. Republican House Speaker Cameron Sexton told Jones' supporters in the galleries to "please refrain from disrupting the proceedings."

Republicans banished Jones and fellow lawmaker Justin Pearson over their role in a gun-control protest on the House floor in the aftermath of a deadly school shooting.

Pearson could be reappointed Wednesday at a meeting of the Shelby County Commission.

The expulsions on Thursday made Tennessee a new front in the battle for the future of American democracy and propelled the ousted lawmakers into the national spotlight. In the span of a few days, the two had raised thousands of campaign dollars and the Tennessee Democratic Party had received a new jolt of support from across the U.S.

Jones' appointment is an interim basis. Special elections for the seats will take place in the coming months. Jones and Pearson have said they plan to run in the special election…
Representative Justin Jones @brotherjones_ has been appointed by the Nashville Metro Council to fill the vacant seat that Republicans expelled him from. The Council has followed the law, it's time for the Republican Speaker to do the same and swear him back into the State House.

— Tennessee Democratic Party (@tndp) April 10, 2023
To recap, Tennessee Republicans got a week of thrashing on the national stage, Democrats got money and attention they've only dreamed of for years, and Justin Jones didn't miss a day of session since his expulsion. https://t.co/HnxYQLncbt

— Natalie Allison (@natalie_allison) April 10, 2023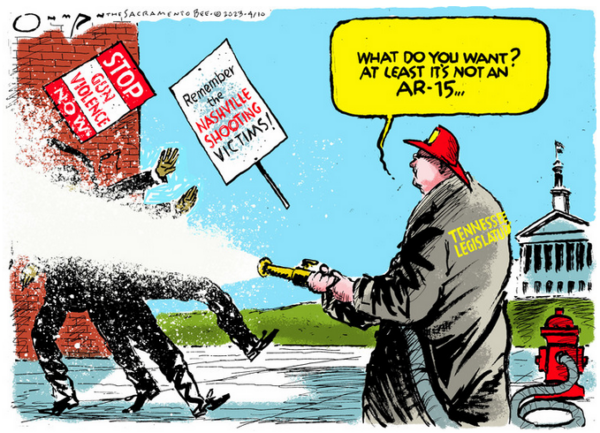 ?? @JustinJPearson comforts a woman holding a sign that reads: "Covenant Mom."

Reminder for the people in power: The families, who are burying children and loved ones murdered in last week's #CovenantSchool shooting, deserve real action to stop gun violence.

?? via @Dulcet24 pic.twitter.com/A2lKe25eiq

— Tennessee Senate Democrats (@TNSenateDems) April 7, 2023
Because they'd be expelled for something like trying to overthrow the government not for trying to stop kids from being pulped by an AR-15 you disingenuous little freak. pic.twitter.com/Qmulu1qMcM

— Jean-Michel Connard ?? (@torriangray) April 10, 2023
WATCH: To better understand Democratic frustrations surrounding how business is conducted in Tennessee's GOP supermajority House, watch this segment from our award-winning Revealed investigation – long before #TheTennesseeThree made national news. (Please like and share.) 1/2 pic.twitter.com/DOw3LVOznT

— Phil Williams (@NC5PhilWilliams) April 8, 2023
Honestly, I'm not sure this could have gone much better for the Democrats. Maybe if the Tennessee Republicans stepped on a bunch of rakes first. https://t.co/46onuBqOom

— Panda Bernstein (@J4Years) April 10, 2023
Just to put a fine point on this: This was our biggest candidate recruitment week since the Dobbs decision+weeks after.

Usually candidate recruitment #s shake out commensurate with population. That TN makes up nearly 10% of our sign-ups is absolutely wild.

— Amanda Litman (@amandalitman) April 10, 2023