Our author today is Dorothy Winsor, whose book is being released on May 6!  We all know and love Dorothy, so I don't even have to remind you to give her a warm welcome!

Dragons, Defiant Workers, and a Secret Theme – what more could we ask for in a book?

If you are an Author or an Artist who is interested in having your work featured, just let me know.
Glass Girl
by Dorothy A. Winsor
My new book, Glass Girl, is (unsurprisingly) about a girl who makes glass.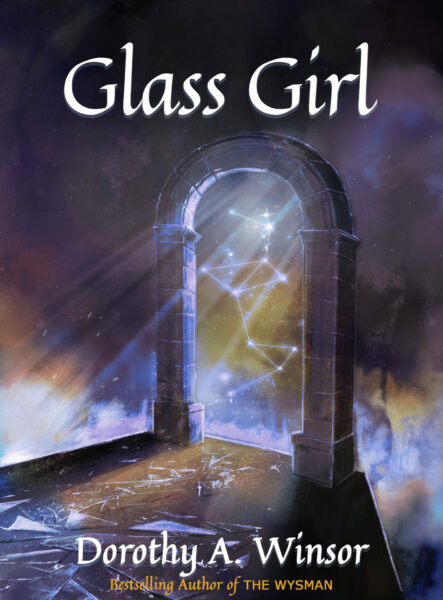 I got the idea for it probably ten years ago now, when I heard an NPR story about a factory somewhere in Latin America. Yes, ten years ago. This story has sat on my computer for a long time. Occasionally, I would drag it out, tinker with it, decide it wasn't good enough yet, and put it away for a while. But during the pandemic, I finally wrote a version I liked.
So anyway, in this NPR factory story, the workers (all women) protested when the owner cut their wages. In answer, he threw the key on the floor and told them to pick it up and see if they could do any better, which they did. After they made the factory profitable, of course he wanted it back.
Thus, this was a story of the underdog triumphing. Plus, I was charmed by the idea of the feminine world inside the factory. I settled on glass making because it required a factory-like facility that could exist in my pre-industrial world. To create a compelling plot, I threw in a mystery. The central character's mother (who is also the factory's craft mistress) is murdered in the book's opening chapter, and when the Watch proves inept, she decides to hunt down the murderer herself.
In one way, then, that's what Glass Girl is about. But really, that's not what it's about. It's not what's at its heart that kept me coming back to it for ten years.
I'm talking about the book's theme. By "theme," I don't mean message or lesson. I mean something like a topic or a question about what it means to be a human being.
I once read some writing advice to the effect that all good stories have a theme, even if the writer can't articulate it yet. When I started Glass Girl, I thought it was going to be about trust. I thought the central character was someone who learned to trust, though it was hard for her. And indeed, the theme of trust does run through the book.
But I've since realized that the central theme was not trust, but love. In Glass Girl, I am asking myself, the reader, and my characters how flawed human beings can love one another (or not). What does love ask of us? What are we willing to do for people we love? What are we willing to do to gain love, even love of a warped nature? How do we react when we are deprived of it?
So, there's glass making here, and defiant workers, and, for a bonus, rumors of a dragon sleeping in that smoking volcano. But there are also questions about love. I hope people enjoy the book. I'm going to miss it now that it's out in the world and on its own.
Glass Girl is available at pretty much all online bookstores including Amazon and Barnes & Noble. You can also support a small publisher – Inspired Quill – by buying directly from them, though that's trickier for most jackals since Inspired Quill is in the UK.