On the Road is a weekday feature spotlighting reader photo submissions.
From the exotic to the familiar, whether you're traveling or in your own backyard, we would love to see the world through your eyes.
way2blue
Patagonia.  A friend, a colleague at work, gave a slide show a few years back of a trip he & his wife took in Patagonia.  They rode horses accompanied by gauchos from ranchero to ranchero with the stark Torres del Paine massif as a backdrop.  Sheepskins on the saddles.  Ever since I've wanted to visit.  I would need to forego horseback travel though as I'd torn my meniscus in 2020 on a long pack-trip ride in the Sierras (previous OTR).
I pinged several people who'd spent time in Patagonia about what to see and how to travel.  After a few false starts, I booked a U-shaped trip from the U.S. to Buenos Aires to Ushuaia to Punta Arenas to Torres del Paine to Valparaiso.  This first batch of photos is from the core of the trip.  A five-day cruise on M/V Ventus Australis through the fjords.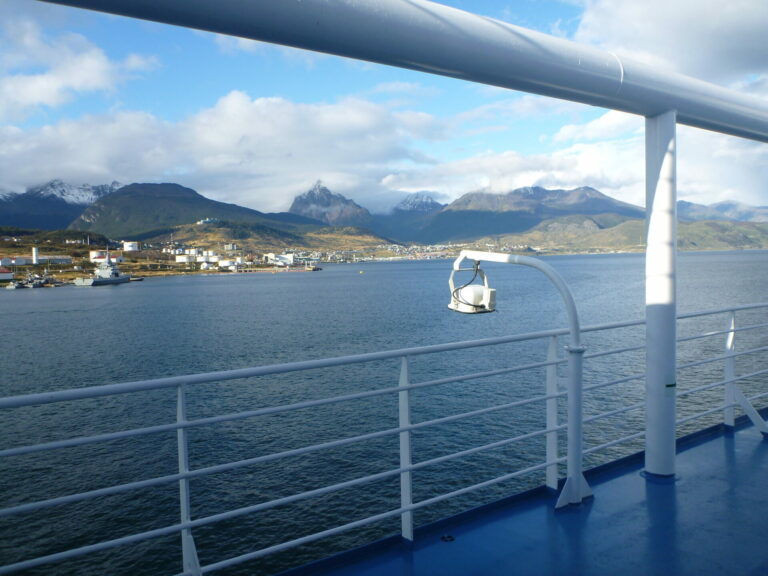 DEPARTING USHUAIA, ARGENTINA.
Ushuaia is situated on the southern shore of Isla Grande de Tierra del Fuego, at the base of the Martial Range, where the Andes meet the Beagle Channel.  Lots of backpackers on our flight from Buenos Aires.  Ushuaia claims to be the southernmost town in the world at latitude 54° 48'S, however Puerto Williams in Chile is situated a few miles further south at 54° 56'S…  We embarked the evening of March 8th and traveled overnight to Cape Horn (Cabo de Hornos).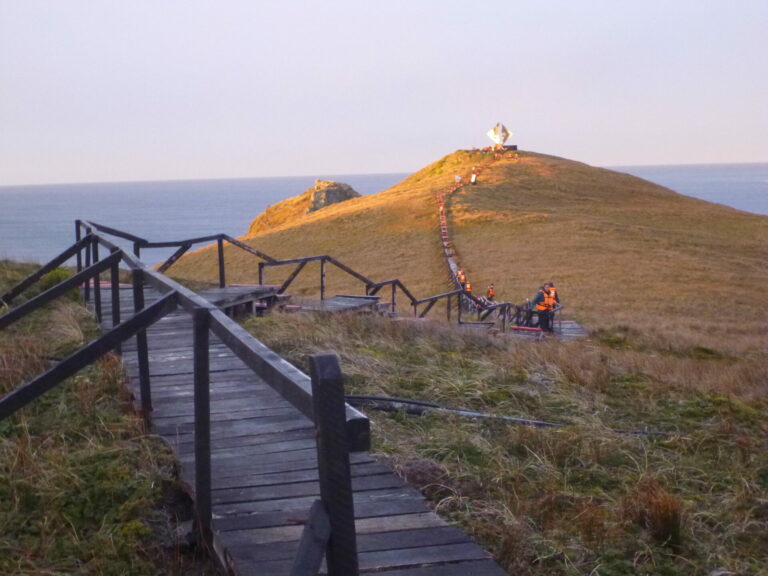 HIKE TO CAPE HORN MONUMENT, CHILE.
Got up just before dawn on March 9th for a quick coffee then at 0645 climbed aboard a zodiac for Cape Horn (Cabo de Hornos), the southernmost headland of the Tierra del Fuego archipelago.  Cape Horn marks the northern boundary of the Drake Passage—where the Atlantic and Pacific Oceans meet.  A family with a young child live at the lighthouse and enjoyed chatting with the passengers who spoke better Spanish than me…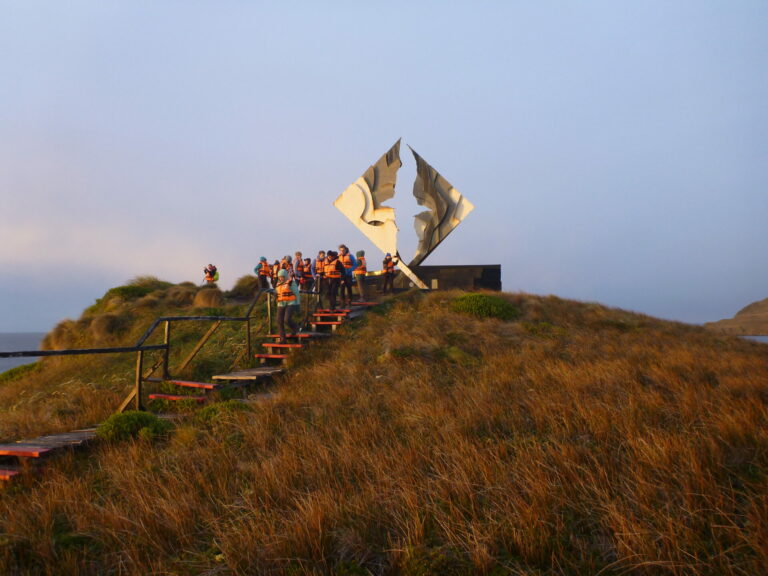 CAPE HORN MONUMENT, CHILE.
Hiked on a boardwalk up to the monument—a diamond shaped sculpture defining a cut-out of an albatross.  Everyone wearing their PFDs (personal flotation devices).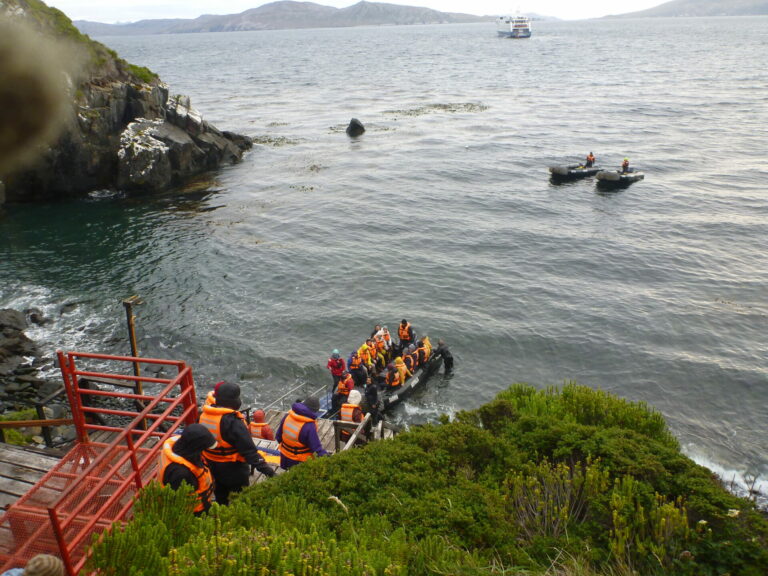 HEADING BACK TO THE SHIP.
Passengers lining up for a zodiac ride back to the ship & breakfast.  We were lucky that the weather was relatively calm (albeit windy) as it's often too rough for passengers to get in the zodiacs and travel to the island.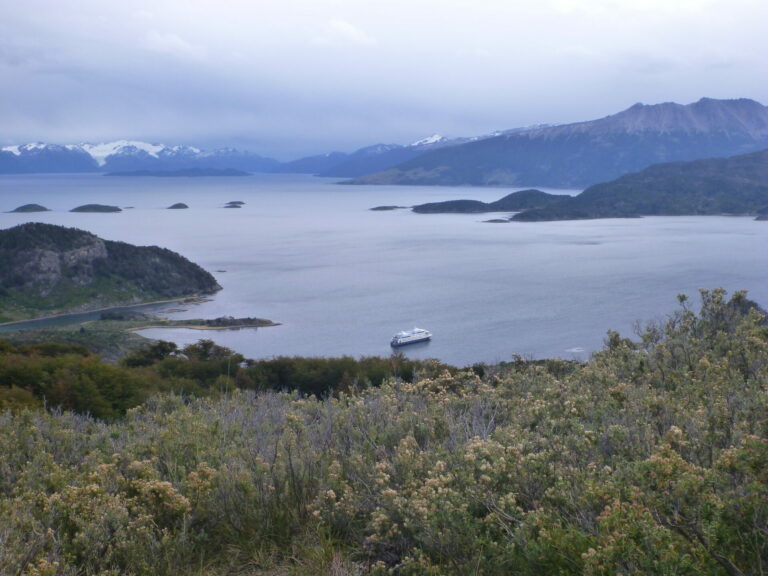 WULAIA BAY, CHILE.
After returning to the ship, we headed along the Murray Channel to Wulaia Bay (Bahia Wulaia) on the western side of Isla Navarino.  (Apparently Darwin stopped here on the H.M.S. Beagle.)  This became the pattern over the next 4 days.  A morning zodiac trip, breakfast & lunch while the ship travels on, followed by an afternoon excursion.  In between we glided along the fjords with mountains on either side.  Glorious.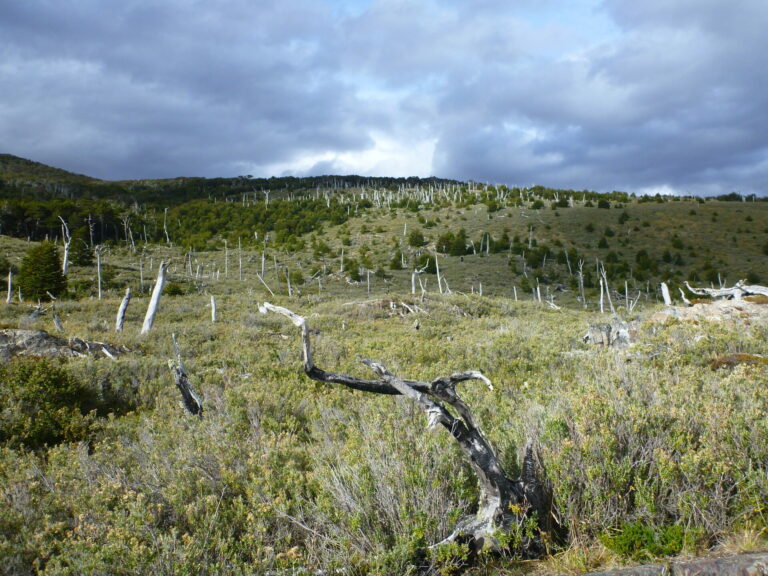 ISLA NAVARINO, CHILE.
I don't know why these trees have died…. My *guess* would be a wildfire.  A nomadic people, Yahgan, lived on this island for thousands of years before Europeans arrived, leaving middens to mark their seasonal settlements.