On the Road is a weekday feature spotlighting reader photo submissions.
From the exotic to the familiar, whether you're traveling or in your own backyard, we would love to see the world through your eyes.
way2blue
[I previously posted an OTR series about a boat trip taken later in our South America travels.
This short photo series starts at the beginning—in Buenos Aires.]
Given our long flight from San Francisco to Buenos Aires
via
Houston, we decided to spend a few days in Buenos Aires to catch our breath and acclimate to the 5-hour time change before flying on to Ushuaia.
Friends who'd been to Buenos Aires loved the colonial districts so I was looking forward to visiting.
We stayed in a small village near the airport as the flight to Ushuaia left fairly early in the morning.
Our first full day we took a taxi into the city and bought tickets for the yellow hop on / hop off buses to get our bearings.
We hopped off in the colorful La Boca barrio, originally home to Italian & Spanish immigrants in the mid 1800s who settled at the mouth of Rio Riachuelo adjacent to the old port.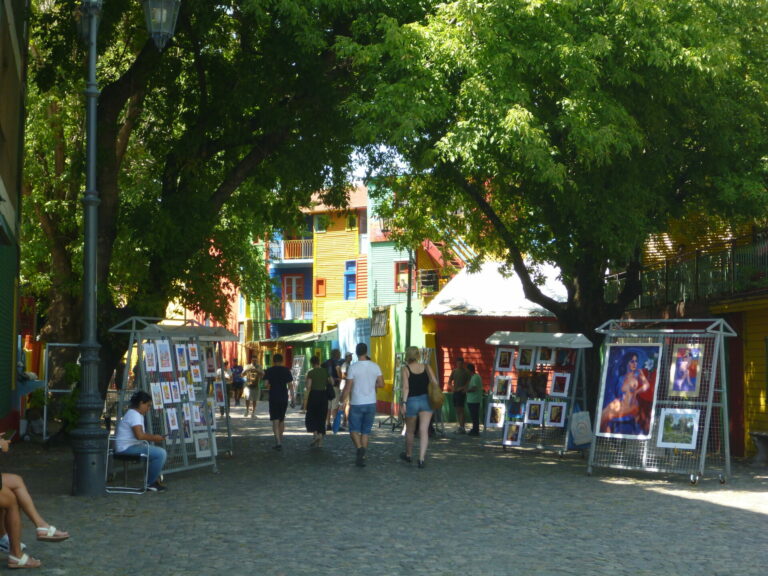 LA BOCA BARRIO, BUENOS AIRES
The main street in the La Boca barrio is lined with souvenir shops & stalls, artwork plus tango dancers.  A bit crowded too.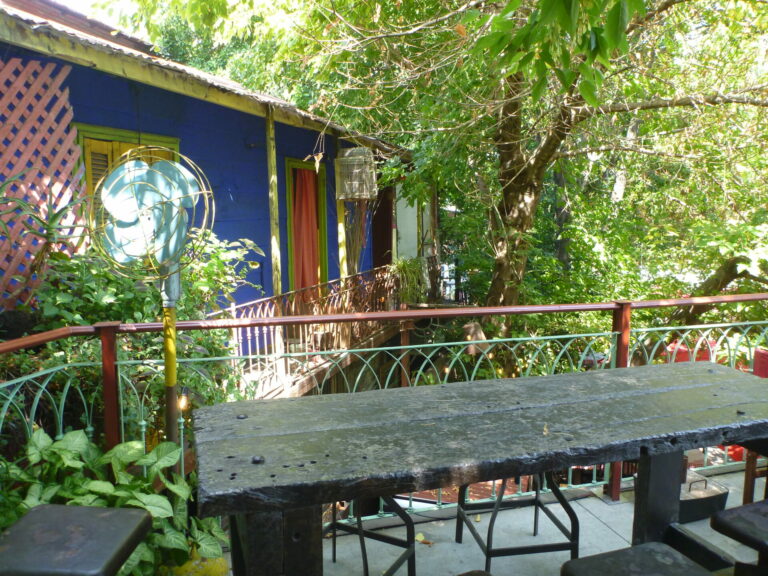 LA BOCA BARRIO, BUENOS AIRES
Looking for a lunch spot out of the fray—I spied tables up above the street in a leafy garden setting.  Took a few false starts to find the entrance…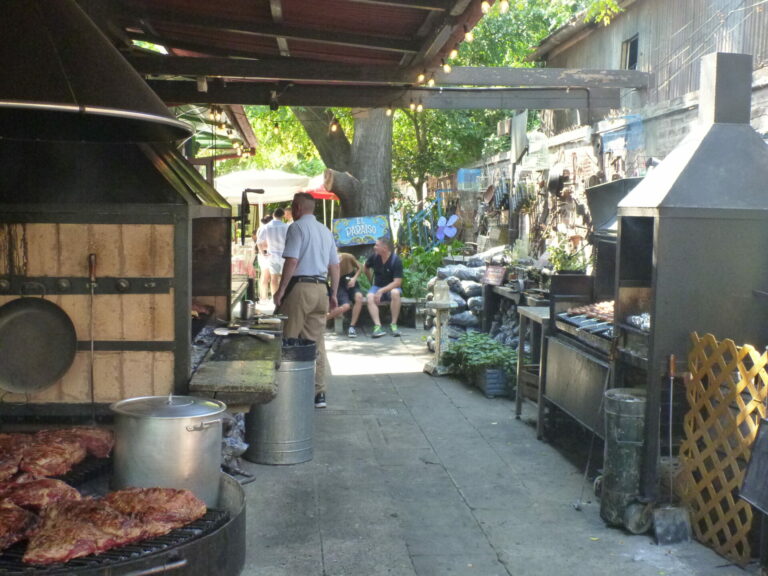 LA BOCA BARRIO, BUENOS AIRES
The restaurant entrance is lined with BBQ grills.  (I think I ate a year's worth of meat while in Argentina.)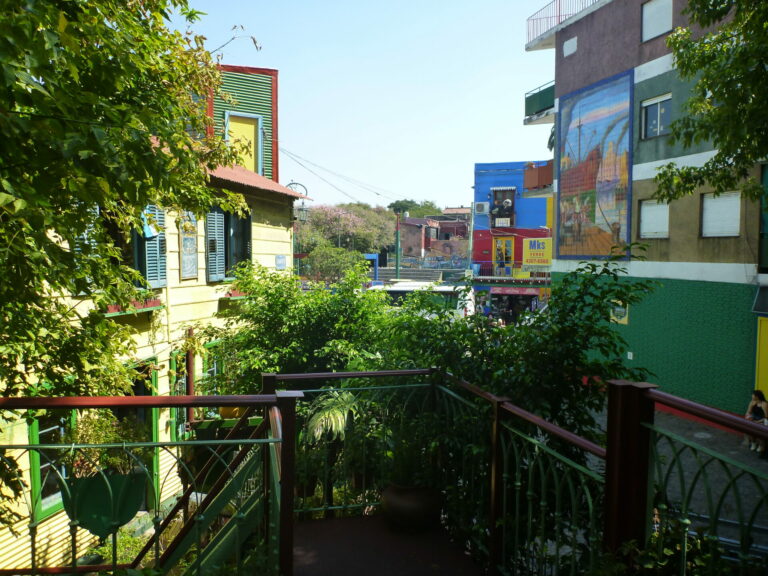 LA BOCA BARRIO, BUENOS AIRES
Exuberant colors every direction from the upper terrace.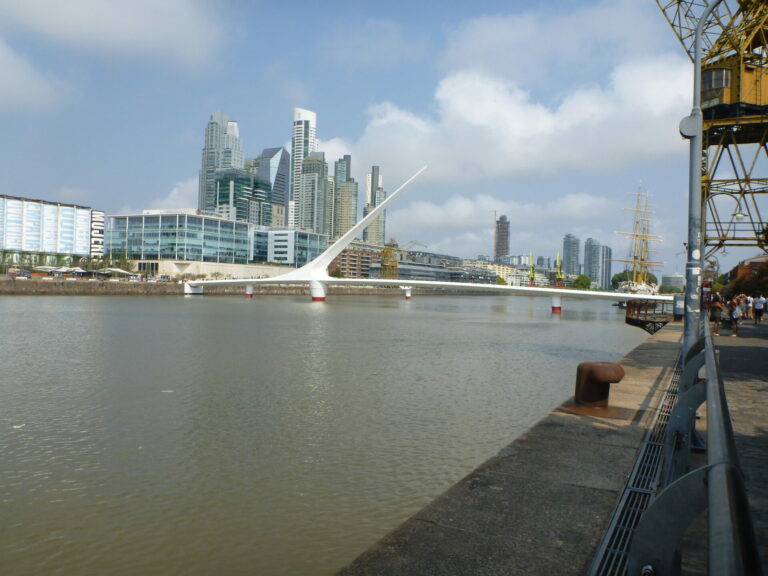 PORT OF BUENOS AIRES
Our second day in Buenos Aires we had a taxi drop us off directly in La Boca.  Had a cappuccino at my new favorite restaurant.  We'd arranged with our taxi driver to pick us up at the ferry terminal in the afternoon, ~5 miles away, so we could explore the recently renovated waterfront (Puerto Madero) en route.  We walked mostly along the waterfront promenade, just shifting inland when we came to a warehouse district.  The port basin has several modern, high rise buildings and this extraordinary bridge crossing over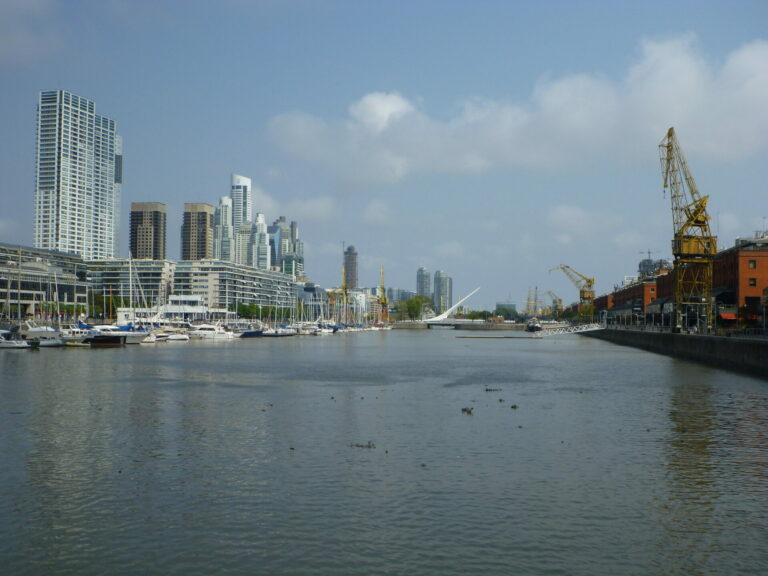 PORT OF BUENOS AIRES
Another view of the bridge and the working port.  'Our' side of the waterfront was lined with modern restaurants, shops, offices & apartments.  After lunch on a terrace along the waterfront and another cappuccino at the ferry terminal, we found our taxi and headed back to the village for our last night in Buenos Aries.  Did I mention that it was surprisingly warm and didn't particularly cool off at night.  Very still air.  Very different from my home town.