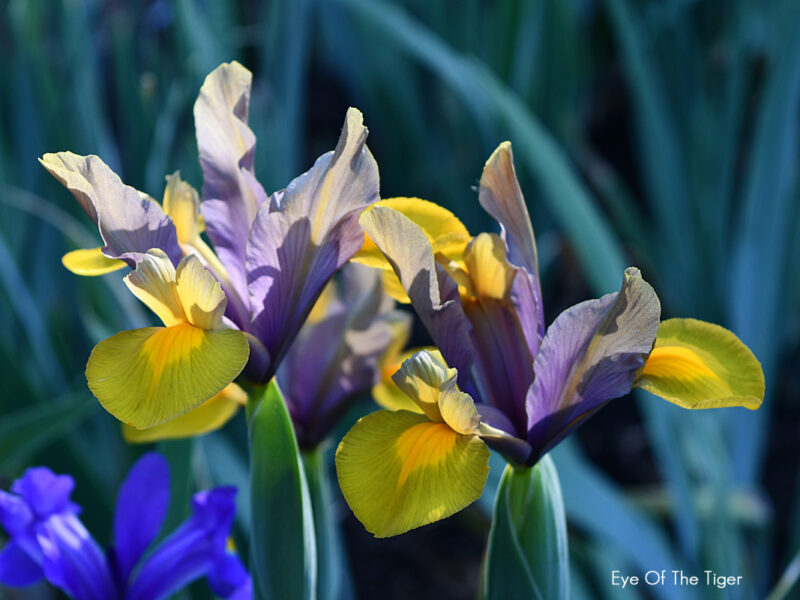 More great photos from Mike in Oly:
As much as I love the historic bearded irises I cannot be without some of the beardless irises as well. Here is a selection of them that bloomed for me this season.

(A few either didn't bloom or will be blooming soon, so adding a couple of shots from previous years of them.)

At top: Dutch iris 'Eye of the Tiger' – A bulbous variety that is good for use as a cut flower. They do well here and last if the drainage is good. I like this odd color combo.

I. douglasiana – a Pacific coast species, it requires mild wet winters and dry summers.

I. tectorum – the Japanese 'roof iris'. Legend has it that this variety was grown on thatch roofs to lower the chance of fire, and the rhizomes were dried and ground into powder to use as a cosmetic by the ladies of the household.

I. tenax – Our local native iris. I have several versions of it grown from wild collected seed from Washington and northern Oregon. Such a dainty looking thing but it is tough. Local tribes grew it on their prairies to use in braiding ropes.
i. foetidissima – I have the yellow form. It has been blooming for over a week but I just noticed it a few days ago. Very drab flowers do not catch the eye, but when their seed pods pop open in the fall the bright orange seeds sure do!

This is a species ripe for hybridizing and improvement. Little work has been done. It does well in dry shade, but likes zone 6 or higher. Does very well in a Mediterranean climate.

'French Buttercream' – A pseudata iris, being a species cross of I.pseudacorus and I. ensata, this was a new break that came about in the 90s and has gained popularity with many varieties being named and registered. A good grower and gorgeous bloom. Our local hummingbirds love them.

I. chrysographes – I rescued this last year after years of it struggling under a peony, and moved it to better digs. It survived and increased but did not bloom this year.

This variety came from seed collected and grown by Dan Hinkley at Heronswood nurseries back in the day. He called it 'Kiwi Black' but never registered it. It is in the Siberian iris family of species. A very elegant flower, in my opinion.

Hope you enjoyed these!
***********
Minor brag: Just picked (and shared with the Spousal Unit) our first ripe cherry tomatoes of the year — variety Wee Tang Shebang. Right on schedule, despite my secret hopes for an early start after the unseasonably warm spring. The other plants are doing well, but it'll be a week or more before even the other cherry tomatoes (Sun Gold and Chocolate Sprinkles) ripen…
What's going on in your gardens, this week?