On the Road is a weekday feature spotlighting reader photo submissions.
From the exotic to the familiar, whether you're traveling or in your own backyard, we would love to see the world through your eyes.
Aurora season in Iceland begins in mid-to-late August, when the summer has receded enough for the stars to become visible again, and winds down in early May, when the sun completes its takeover of the skies.  In between, the nights can be magical.  But you need to get here when we actually have darkness!
Our favorite star also has seasons: every eleven years, it cycles from one active period to another.  As the Sun becomes more active, sunspots become more common, producing flares and vast clouds of debris called coronal mass ejections, or CMEs for short.  If they strike the Earth (which is, after all, a very small target very far away from the Sun), CMEs can trigger brilliant aurora displays sometimes visible in the lower latitudes.  But even without a CME, residents of northern countries like Iceland get to see the lights quite often.  Here, it's less a matter of aurora hunting than just opening your front door and going "oh all right then there they are."
We're headed toward solar max later this year or in 2024.  If you've ever wanted to see the northern lights, you might want to think about planning your expedition soon.  For inspiration, here are a few photos from the 2022-2023 season in the land of fire and ice.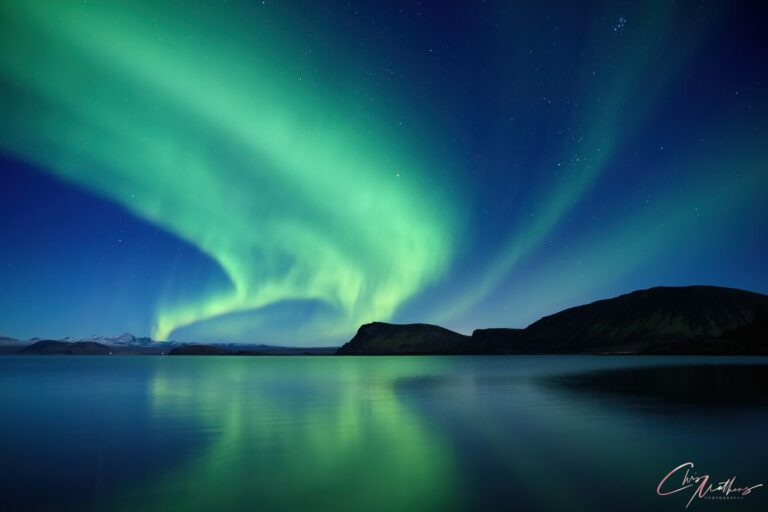 Hagavík, southern Iceland
November 3, 2022
Lady Aurora shines over Hagavík, a small cove on the southern shores of Þingvallavatn, Iceland's largest natural lake.  In the distance you can see the snow-dusted mountains of the western highlands.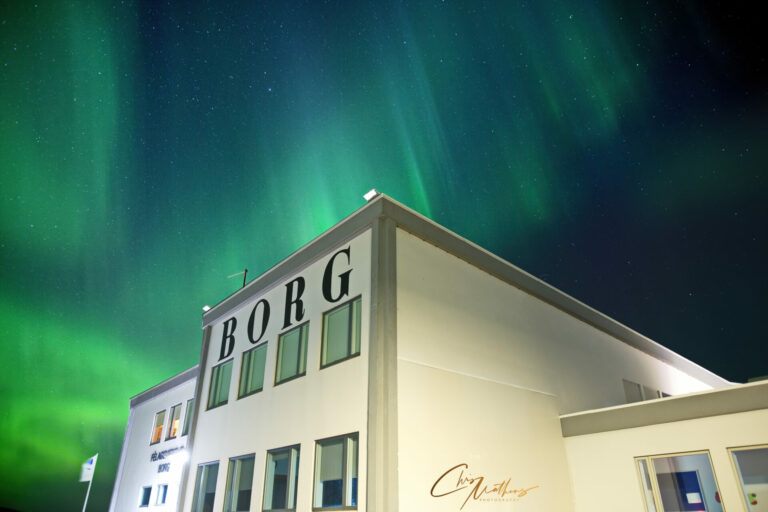 Borg í Grímsnesi, southern Iceland
September 2, 2022
An iconic name from popular culture?  Check.  Eerie green lights coming from somewhere in outer space?  Check.  I'd been jonesing for this shot for quite a while and even though it's an obvious cliché …
… resistance was futile.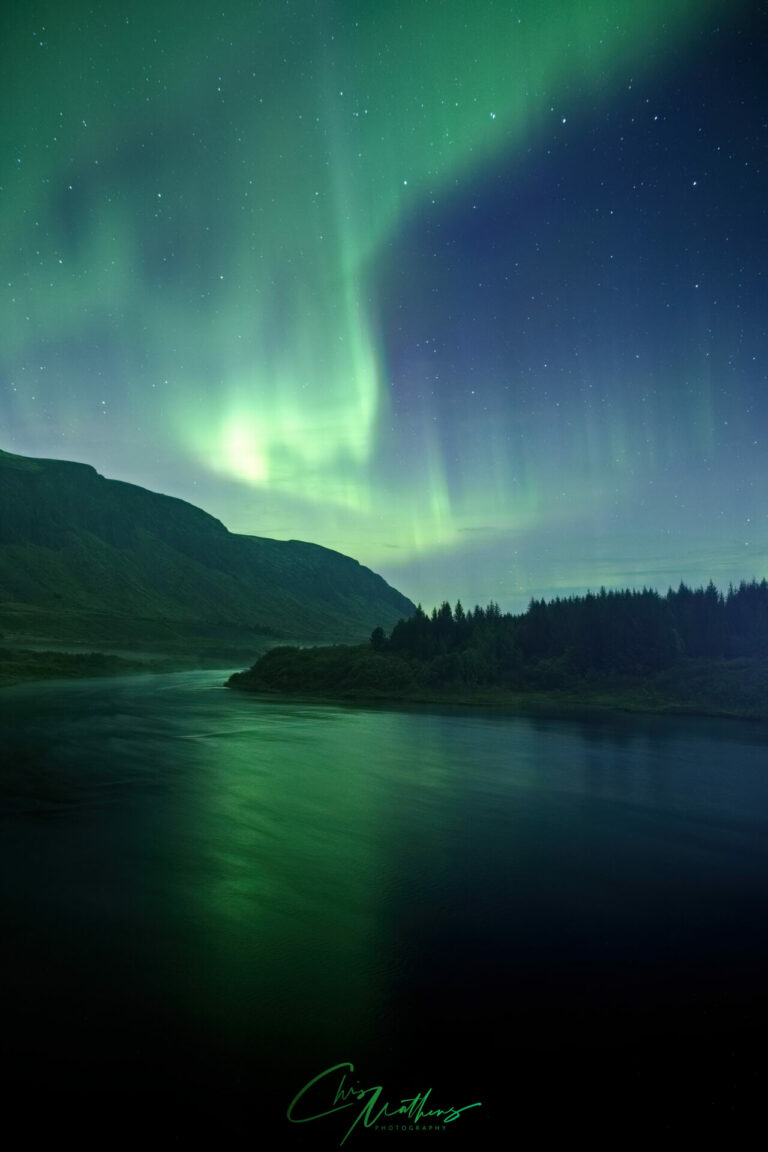 Þrastalundur, southern Iceland
September 7, 2022
There are not a lot of  forests in Iceland – settlers cut down to older trees, and the flocks of sheep tended to devour the saplings – but there are a few here and there.  This grove stands on the left bank of the river Sög where it meets the Hvitá river on their way to the sea.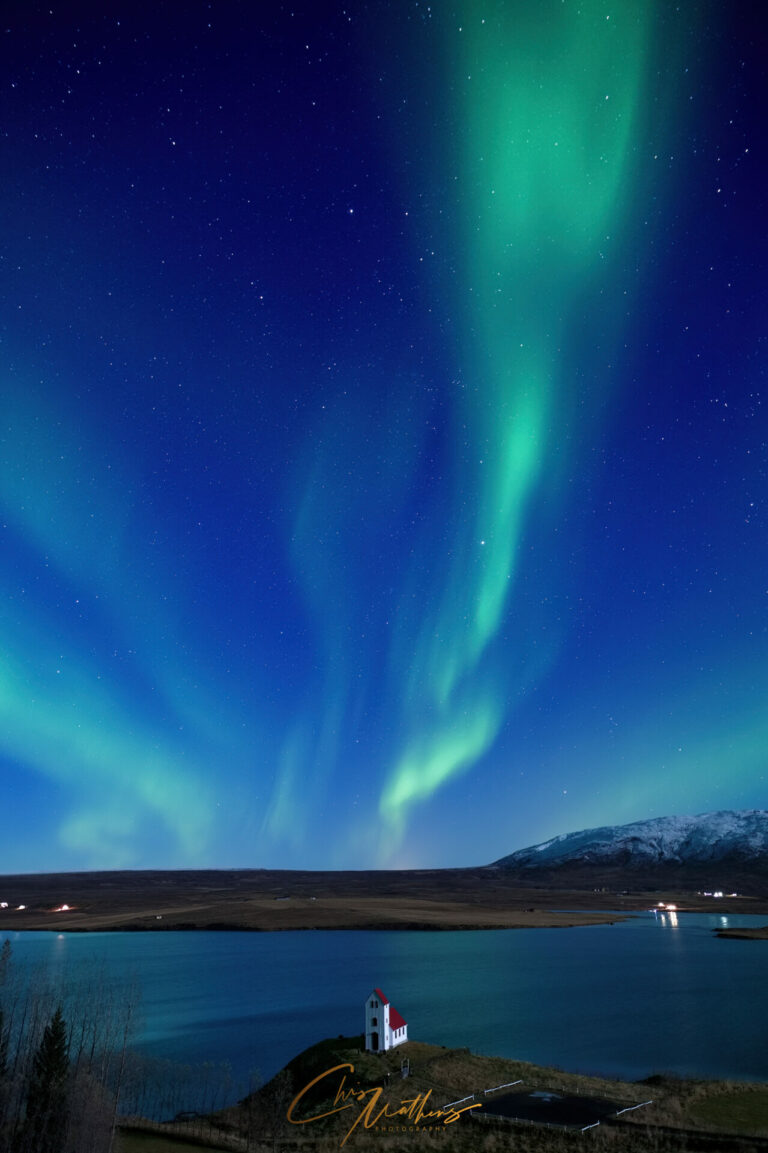 Úlflótsvatnskirkja, southern Iceland
November 3, 2022
Another shot I'd wanted for a while.  There's a mountain overlooking the church and the lake, and if you're willing to risk the traffic coming around the blind curve just there, a nice vista for photographing the lights.
There's not a lot of traffic in rural Iceland in November, so it's not really a big risk.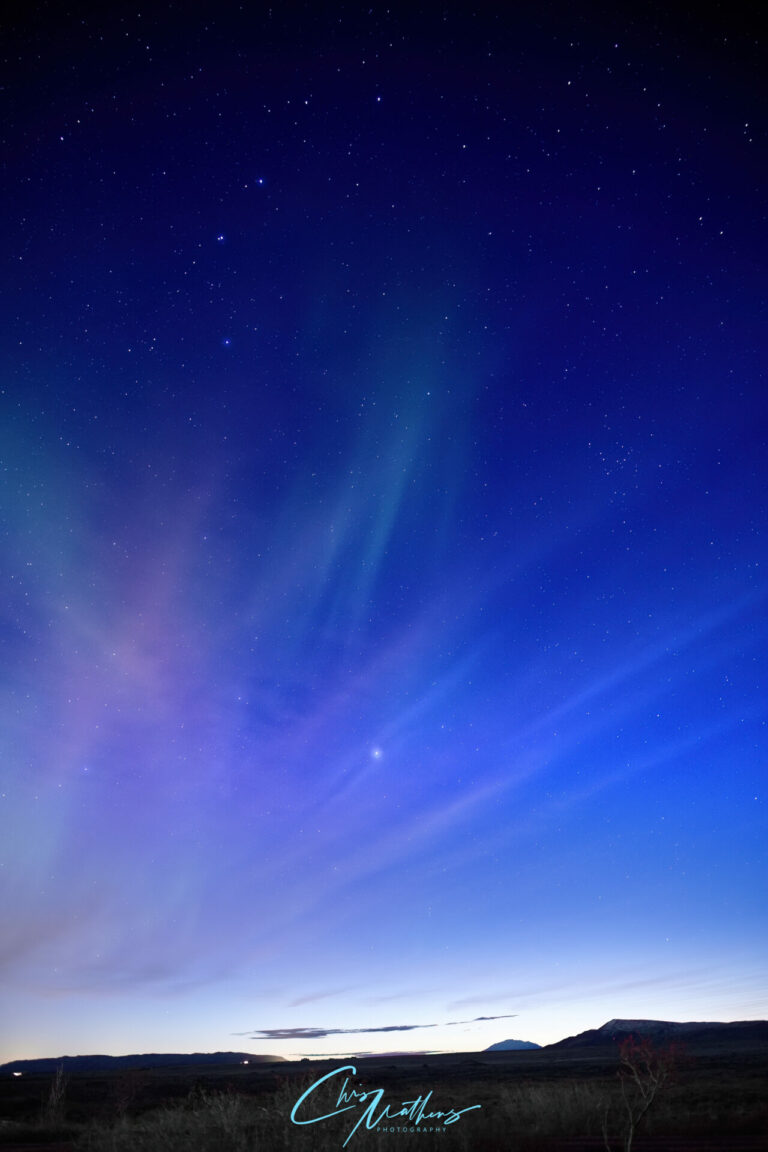 Hraunborgir, southern Iceland
November 4, 2022
The northern lights are triggered by the interplay of the solar wind (in its various forms), the Earth's magnetic field, and our upper atmosphere.  Sometimes, the show lasts all night; here the glow of sunrise chases the last wisps of green away with the twilight.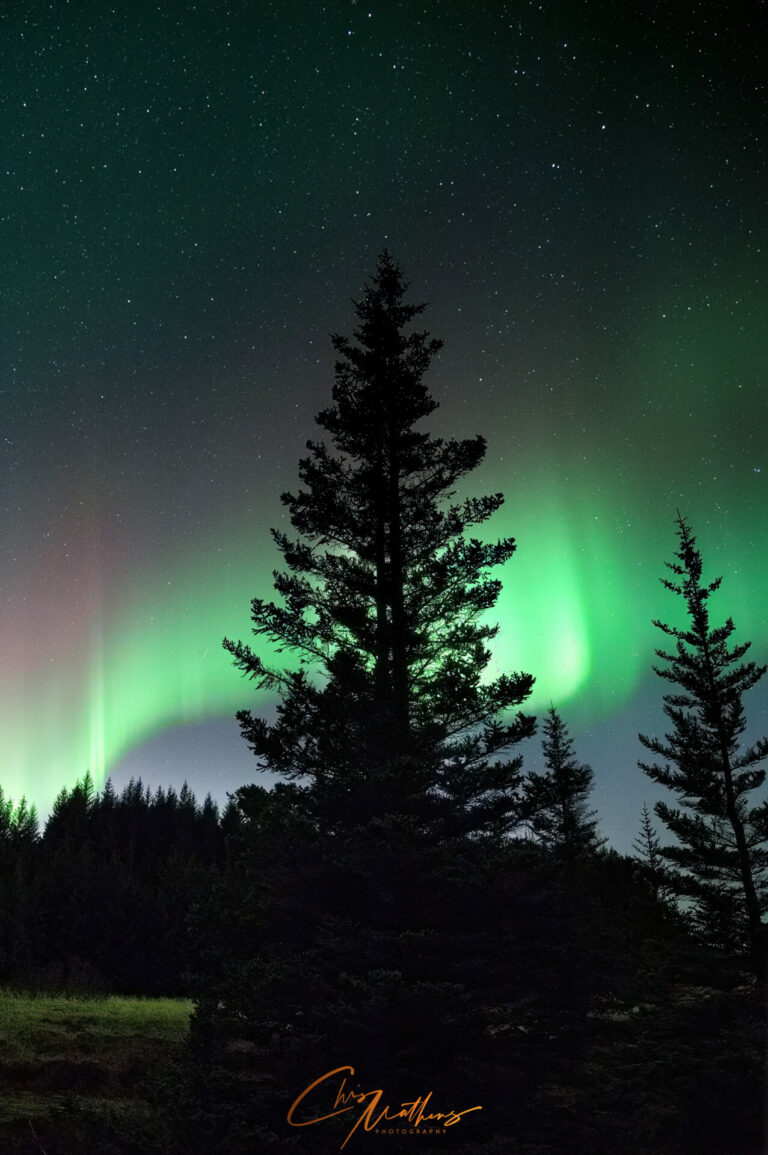 Hagavík, southern Iceland
November 25, 2022
Thanksgiving really isn't a holiday in Iceland, so the November skies dressed up right away for Christmas.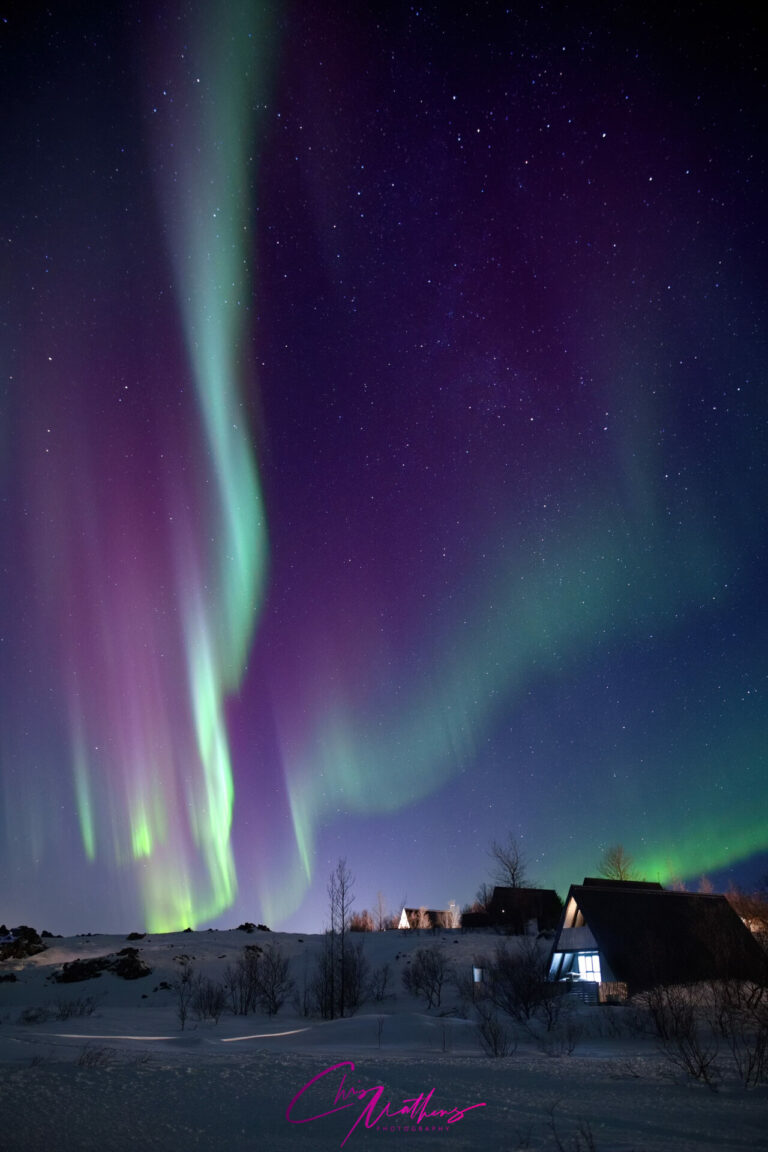 Hraunborgir, southern Iceland
January 15, 2023
Brutally cold weather at least tends to produce clear skies.  On this particular evening in mid-January, it was -24 C, the coldest it'd been in a long, long while.  Fortunately, my place (the one in the front of the row of little houses) remained quite comfortable despite all that.
Of course, I was outside quietly freezing nearly to death.  Worth it, though.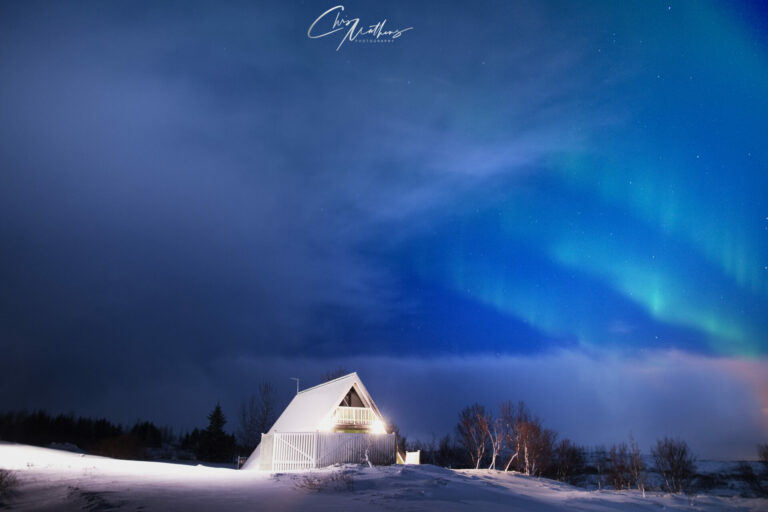 Hraunborgir, southern Iceland
February 8, 2023
Appearances notwithstanding, this February night was actually considerably warmer – well below freezing, yes, but not as brutal as the month before.  However, the snow was quite deep and the plows didn't get out to my area for a few days, leaving this neighbor's house (and mine!) snowbound.  It's important to keep a good stock of supplies on hand in the winter.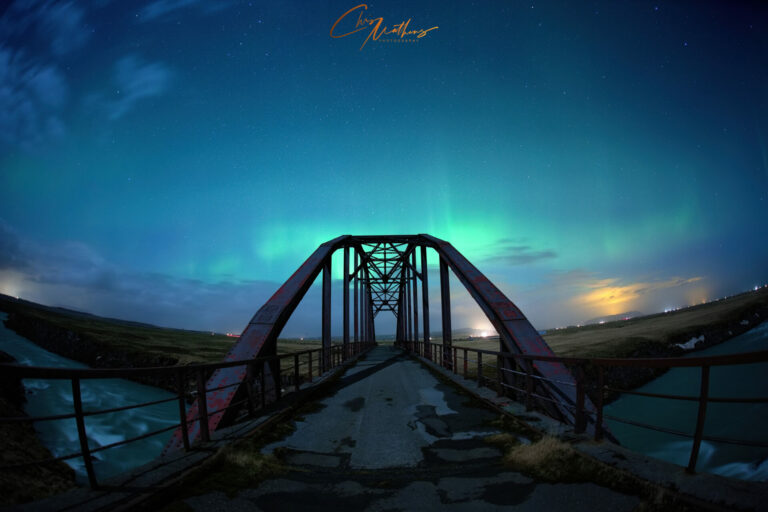 Þjórsárbrú, southern Iceland
February 28, 2023
The abandoned bridge over the mighty Þjórsá, Iceland's most powerful river, is a great place for photos.  Unfortunately, winds sweeping down the valley from the highlands can make long exposures here difficult, as they tend to try to take the camera – and photographer – for a ride up in the air.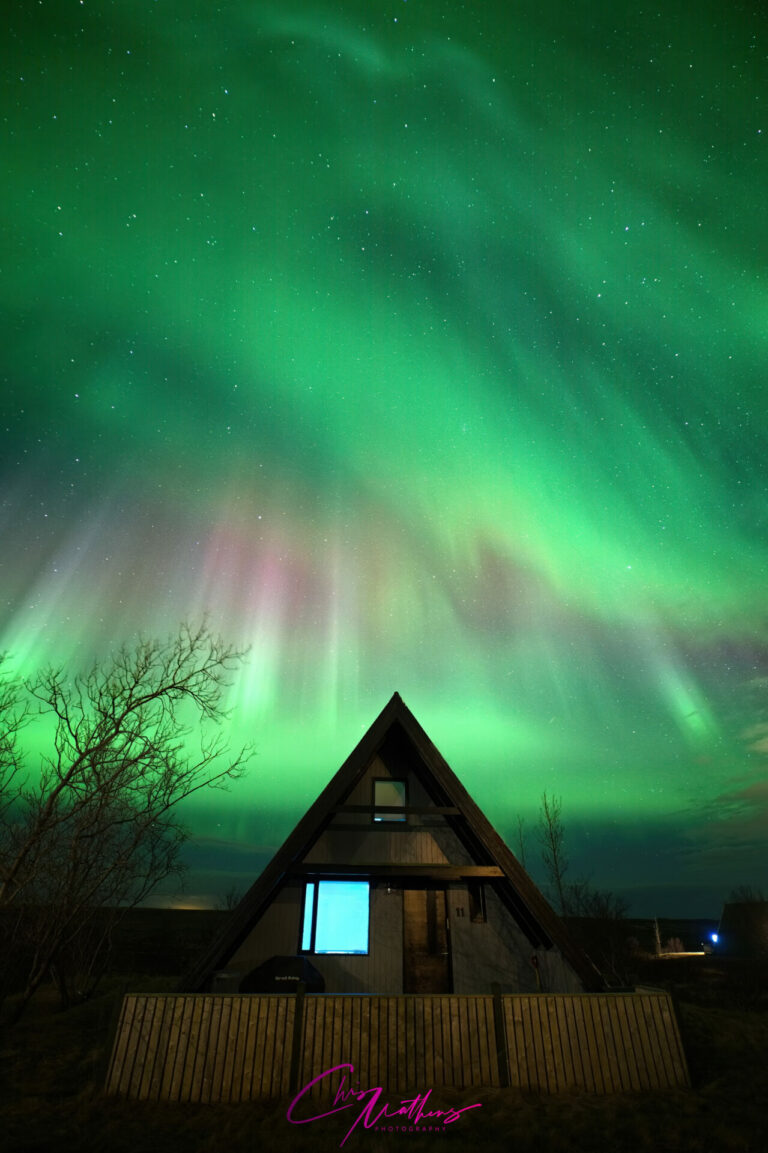 Hraunborgir, southern Iceland
March 15, 2023
Another view of my little house.  From time to time my cat lets me go outside to take some photos.  Thanks for letting me share them with you!