Medium Cool is a weekly series related to popular culture, mostly film, TV, and books, with some music and games thrown in.  We hope it's a welcome break from the anger, hate, and idiocy we see almost daily from the other side in the political sphere.

Arguments welcomed, opinions respected, fools un-suffered.  We're here every Sunday at 7 pm.
This week, let's talk about music as poetry.  And story-telling.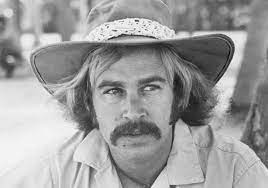 I spent one day of my trip last week working to meet an unexpected deadline for one of my clients.  So I worked for 10 hours straight while everyone else was off to the Meijer Gardens in Michigan in 90-degree heat and thunderstorms.  Not sure, but I may have gotten the better end of the deal!  (Though I did want to see the gardens.)
Anyway… I volunteered to keep my niece's 2 dogs (the ones the stayed with me for 2 weeks when they were only 4 months old) for the day because they kind of panic when it storms.  Shortly before they arrived, I clicked on Jimmy Buffett on the iPad that's hooked up to the stereo and turned up the volume so if it stormed that would help mute the sound of the thunder, took my work spot at the kitchen table, and got to work.  It did indeed storm, and I had a 90-lb dog in my lap multiple times, and I sang to him as I worked.  When he wasn't in my lap, he was lying on one foot with his body wedged between my feet and legs.  So we listened to Jimmy Buffett for about 7 hours until all the storms stopped, because I was mostly pinned in place, and I wasn't gong to do anything to disturb that dogs that I was mostly able to keep calm!
It's been a long time since I have listened to 7 hours of Jimmy Buffett, and I was really struck by the poetry in his songs.  And by his ability to tell interesting stories with his songs.
I was reminded of that again this week when, in one of the morning threads, lowtechcyclist posted a line from a Simon & Garfunkel song: July, she will fly, and give no warning to her flight… Such a lovely song!
For me, the best music is poetry, when the lyrics and the music mesh perfectly.
The music itself is a big part of the equation, of course, but I am willing to bet that for some people, it's all about the sound and a lot less about the lyrics, or the voices, or harmony, or about the telling of a story.  (looks around for Omnes to see if he is nodding in agreement)
Anyway, let's talk about music as poetry, music as story-telling, and music as music.  How do you see it, and what do you like about the music you like best?
Oh, and does older Jimmy Buffett look like Biden, or what?