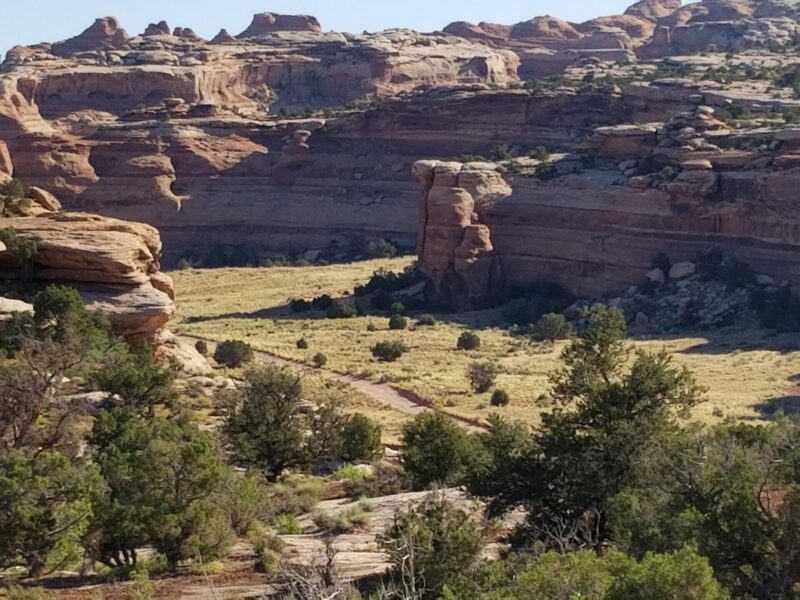 Another fine set from commentor HinTN:
On our way to the Grand Canyon, Mrs H and I stopped for four nights in Moab. We had been there before but chose some new places to explore. First up was a jeep trip up to Hurrah Pass. There weren't a lot of wildflowers that caught my eye, but the landscape itself was amazing.

We did see this interesting bit of color along the way. It's the seed versus the flower but so it goes.

Along the way there was Gooney Bird rock.

The day after the excursion to Hurrah Pass we went rafting on the Colorado River. No photos from that wonderfully wet day. 😎 However, the third day we ventured south of Moab to a section of Canyonlands NP that we had only seen from the rim at Island in the Sky (and Dead Horse Point SP). We saw these red fleurs in the way down.

The Needles is accessed by driving through the Bears Ears National Monument. Immediately upon entering Bears Ears, the road descends into an oasis of green which lines a small creek. Just at the bottom is the Newspaper Rock State Historical Monument. These guys were growing right in front of the "newspaper".
Here are close up shots of the fleurs at the newspaper, which was pretty interesting (I'll reserve the full frontal for an On the Road post, if I can ever pull that together).

Here's one more that we saw in the Bears Ears area before heading out into the expanse beyond the wetland/drainage.

You drive through quite a bit of striking country that is a mix of untended land and irrigated farmland before you arrive at the Needles section of Canyonlands NP. Both sides of the road were meadows of what turned out to be smallish sunflowers.

The ranger staffing the entrance booth said this was the first bloom of such size in his memory. He attributed to the excess of snow the preceding winter.

After we spent time wandering around in the Needles section (possible OTR post), we headed further south to visit the Edge of the Cedars State Park Museum in Blanding. On the way we stopped for a wonderful lunch at the High Desert Cafe in Monticello.

The Cedars is on the site of a partially excavated, archeologically speaking, village. They allowed unescorted access to the kiva, which was a wonderful experience. There is a garden off to the side of the entrance with this bit of whimsy.
***********
What's going on in your garden(s), this week?