Two of my dissertation aims are "Silverloading" aims.  Aim A will look at a state policy on how that state Silverloads and how that changes enrollment at various income levels.  Aim B will look at the same state and check out the policy's impact on market functionality.
One of the challenges I have this week as I am writing my proposal is explaining both Silverloading and how to identify Silverloading through administrative data to my committee.  They are all wicked smart but they don't breathe and dream ACA data and policy like I do.
So I'm writing my initial thoughts here….
Silverloading is an insurer response to the October 2017 policy change that ended direct federal reimbursement to insurers. These direct payments reimbursed insurers for the direct costs of providing mandatory Cost Sharing Reduction (CSR) subsidy benefits. CSR benefits are provided to enrollees with incomes between 100-250% FPL who purchased on-Exchange Silver Plans.  Insurers that Silverload starting in Plan Year 2018 placed the incremental cost of these CSR benefits into the premium of Silver plans and only Silver plans.  
Does this make sense?
Now how do we identify Silverloading in administrative data?  I have to demonstrate that this is a real thing.  I propose to look at the ratio of premium between each insurer in each county in each year between their lowest premium gold plan and their lowest premium silver plan.  I had thought about doing the same for bronze to silver but bronze plans don't have to be offered (that is a good follow-on paper in the future extending on Ko and Fang) while silver and gold have to be offered.  Cheapest plan is the plan I am picking as that is the likely possibility frontier.
Non-Silverload state-years will have Gold be priced substantially more expensive than Silver.  Silverload will have Gold priced near or below Silver.
Let's show a few examples!
The first is a clean example of Silverloading from Virginia.  Virginia had a general Silverload go into effect in 2018.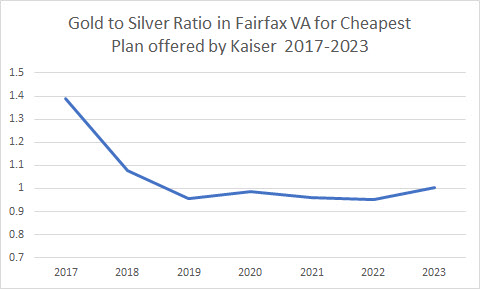 We see a huge drop in the Gold to Silver premium ratio from about 1.4 in 2017 to about 1 in 2018.  This is what we expect.  Gold got comparatively way cheaper.
Now let's look at West Virginia. The state had a different policy regime than Virginia from 2018-2021.  Both states had direct federal reimbursement of CSR benefits in 2017.  But West Virginia adopted a "Broadload" to pay for CSR benefits where the cost of those benefits were placed into the premiums of all metal levels.  If this measure if sensitive to the changing policy regimes, we should see the Gold to Silver ratio to be roughly constant-ish during the Broadload period.  In 2022, West Virginia allowed insurers to Silverload.  We should expect a big drop in the Gold to Silver ratio.  Now do we?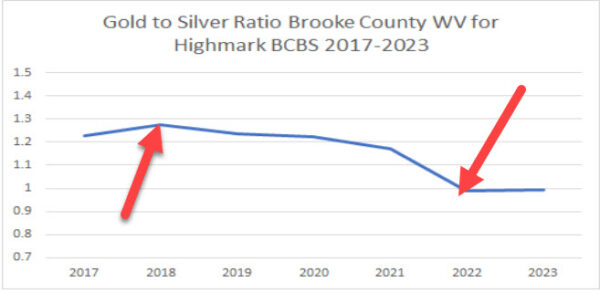 Damn!
It is obvious that there was policy regime change from 2021 to 2022. The Gold to Silver ratio collapses.
I think this is a pretty decent identification of the policy regime for my dissertation.
<b> Update </b> More geeky stuff below the fold
This is the gold-silver ratio for one insurer that operates in multiple states including the state of interest.  It is in the county of each state's largest city.  I don't have raw parallel trends.  Giving my subject matter expertise I can tell you what happened in City B in 2018 but the committee and Reviewer #2 will need more than "Dave knows why this is funky because he wrote about it on Balloon Juice years ago…."
I think as soon as I throw in a reasonable set of control variables (cough cough Medicaid Expansion!) I probably will have the conditional trends that the preferred analysis will need.  I probably have 40,000 to 50,000 more year-county-insurer combinations of data to throw at this problem instead of the 27 observations that I'm graphing here.  If not, I'll learn all about synthetic controls.  JOY!