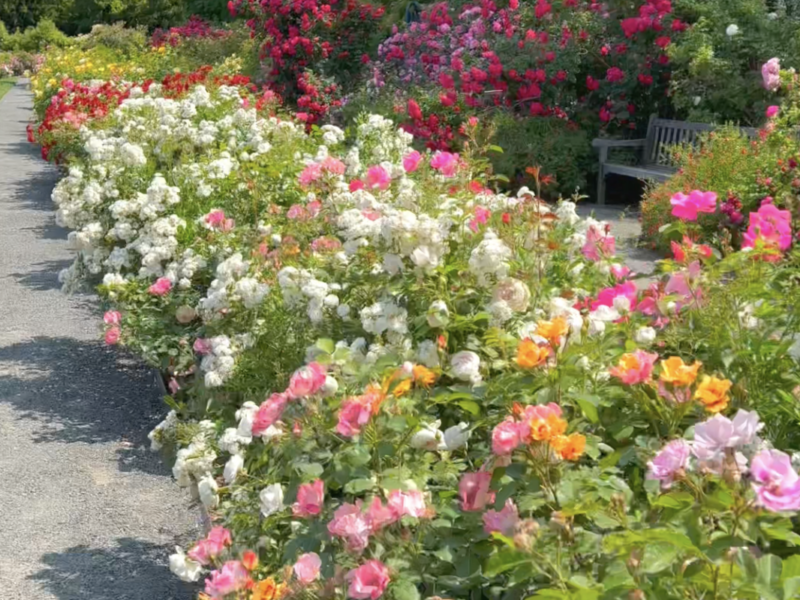 From skilled photographer and gardener-by-proxy, Ema:
The Peggy Rockefeller Rose Garden at the NYBG has ~ 4,000 roses, heirloom varieties loved by French Empress Josephine, roses blooming in early December.

It was designed in 1916 by Beatrix Farrand and completed in 1988 with help from David Rockefeller, in honor of his wife, Peggy, who loved roses.

***********
All I can decently say about the past week around here is that, after a comparatively clement July and August, we got hit with the worst kind of 90 degree temperature, 70 degree humidity high-summer weather blast. Which was particularly misfortunate, because the Spousal Unit had taken the week as vacation to help me with grunt work around the yard, and the heat / humidity combination made it not only unpleasant but unsafe for either of us to be out in it very long. So he got to hang around the (after he got it working again) air-conditioned living room, where my desk setup is, and busily 'improve' the overall clutter situation. The house is now the opposite of improved, the yard looks worse than ever, and predictions are for rain through next Friday.
I dearly love my husband, but sometimes I see why newly retired couples get divorced.
What's going on in your garden(s), this week?