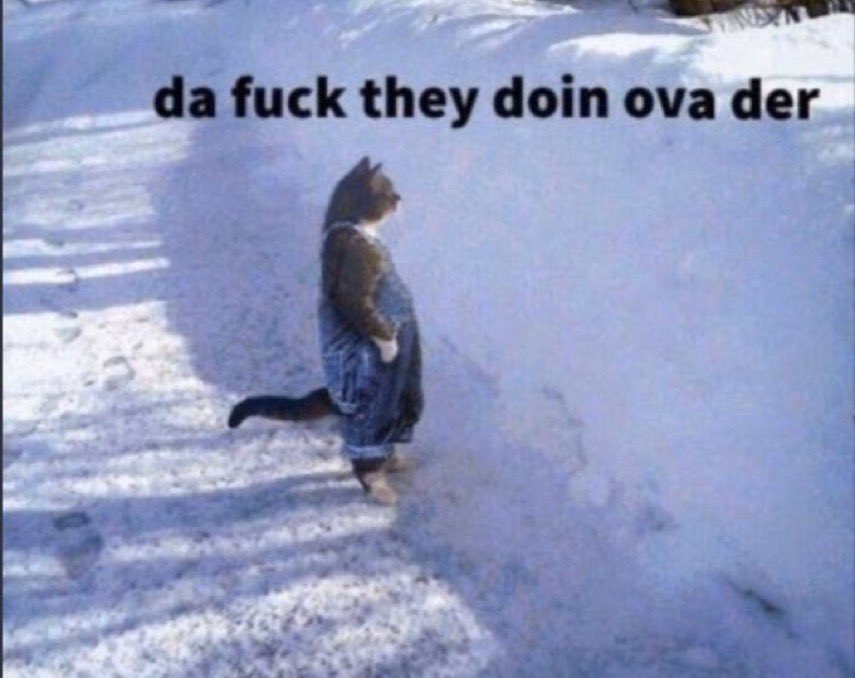 Housekeeping note: tonight's update will be briefer. I'm fried and have just enough energy to get this done. Once I hit publish I'm getting horizontal and watching the final two of today's first round (pool round) Rugby World Cup games. Or fall asleep while trying to do so.
Gin & Tonic forwarded this to me this morning:
Nowadays, the West has a huge problem with admitting that a non-kinetic war (that is a war by non-military means) is being waged on the liberal order and that we are already in a state of Cold War 2.0.
Against this background, Soviet-trained regimes have upper hand in use of…

— Velina Tchakarova (@vtchakarova) September 9, 2023
Who could have every possibly imagined such a thing? Eez a puzzlement!
Here's President Zelenskyy's address from earlier today. Video below, English transcript after the jump.
Partnership of Ukraine and Japan will become a global example of protecting life and creating new opportunities for nations – address of President Volodymyr Zelenskyy

9 September 2023 – 15:33

Dear Ukrainians, I wish you good health!

We do not miss a single day for Ukraine.

Just had a meeting with the Minister of Foreign Affairs of Japan and representatives of Japanese business. Devoted to our resilience. Recovery, and development. Energy, transport, demining, social sphere, the creation of new jobs in Ukraine – I presented specific areas where we can do more together. Telecom, information security, protection of our infrastructure, green energy, engineering, the agricultural sector are crucial. I am confident that our partnership – between Ukraine and Japan – will become a global example. An example of how to protect life and create new opportunities for nations. For free nations.

A very important security result today – we agreed to start preparing a bilateral document with Japan on security guarantees. We are already working with the United States, the United Kingdom, and Canada. Now – with Japan.

In recent days, the Speaker of the Parliament of Ukraine, Ruslan Stefanchuk, visited Japan, for a summit of the G7 parliamentary heads. The summit resulted in a strong declaration. Important meetings took place. A clear support for Ukraine and strong signals that the entire Ukrainian territory must be cleared of Russian troops, and only this opens the way to achieve a just and reliable peace. I also want to mention the audience with His Majesty the Emperor of Japan – attended by speakers of the G7 parliaments, the speaker of the Ukrainian parliament, the President of the European Parliament. Very symbolic. And it speaks volumes about what we have achieved. All together. Everyone who fights for Ukraine, who works for Ukraine.

I also held a meeting of the Supreme Commander-in-Chief's Staff today. Resilience is the key issue. First of all, our energy resilience. What needs to be done before winter, and what has already been done. Detailed reports from government officials, managers of energy companies. Of course, there was a military component. Our intelligence. We are fully aware that the Russian evil is also preparing for winter – preparing to inflict suffering. And now everyone in the public sector and in local authorities must do everything possible, and when necessary, even the impossible, to help Ukraine withstand the winter and maintain full functionality. Air defense, preparation of the energy sector, social system, appropriate support packages from partners – all officials and commanders have clear tasks. T Regional administration heads will report daily on preparedness, every evening – a report for the government, and the Office. The Minister of Internal Affairs has been instructed to maximize the preparation of the State Emergency Service sector – not only for the Emergency Service's immediate work but also for clearly informing people about how protection will be provided.

And I want to thank our partners – we have another agreement, Ukraine will receive more "cheetahs" to protect our energy network. But we are mobilizing all our forces. To increase the supply of various air defense systems and physical protection of objects even further.

One more thing.

For many years, in our country, two professional communities have been celebrating their day simultaneously on the second Saturday of September. This is the Day of Physical Culture and Sports and the Day of Ukrainian Cinema. And there are too many such coincidences in our calendar. The Day of the Lawyer and the Day of the Artist. The Day of the Builder and the Day of Veterinary Medicine Workers. There are coincidences of professional days and days of remembrance. For example, next year, in May, the Day of Remembrance for the Victims of the Genocide of the Crimean Tatar People coincides with the Day of Science. Obviously, there are many unacceptable confusions in meaning. Some professional communities celebrate their day according to Soviet templates. Some incredibly important days of remembrance and days of Ukrainian achievements are not reflected in our official calendar at all. Some professional communities, whose work deserves both respect and attention, do not yet have their professional day – for example, the community of Ukrainian historians. In fact, I have instructed the government of Ukraine, relevant public institutions to review this entire system of state attention and update it fairly and logically.

And today I thank everyone who brings sports victories to Ukraine, who trains our athletes, who teaches children the correct sports strength and now – this is extremely important – adds Ukrainian sports infrastructure, relevant experience of our sports, experience of physical culture to the new system of rehabilitation, to the system recovery of Ukrainian men and women after injuries.

And today, on the Day of Ukrainian Cinema, I thank all the employees of our film industry for every combination of emotions that our people, adults and children, are now feeling while watching Ukrainian movies, Ukrainian TV series, and Ukrainian documentaries. A nation with its own strong and emotional cinema will also have its own confident destiny in this world, its own dreams and its own vision of life.

Glory to all who strengthen Ukraine! Thank you to everyone who fights for our country and who achieves the results Ukraine needs!

Glory to Ukraine!
The cost:
Vladyslav and Anna had planned for their wedding to take place at the end of February 2022. But when russia's full-scale invasion began, Vladyslav went to the front lines. They moved their wedding date to August 7, 2023. However, Vladyslav was severely injured just a few days… pic.twitter.com/xUMytq2Lpa

— Defense of Ukraine (@DefenceU) September 9, 2023
Vladyslav and Anna had planned for their wedding to take place at the end of February 2022. But when russia's full-scale invasion began, Vladyslav went to the front lines. They moved their wedding date to August 7, 2023. However, Vladyslav was severely injured just a few days before that. The doctors weren't sure that he would survive. Miraculously Vladyslav regained consciousness just in time for their wedding – on the day before. Vladyslav and Anna decided not to gamble with fate a second time, and took their vows in a military hospital as soon as Vladyslav's condition permitted.
Don't postpone your happiness until some "perfect" future date. In war or in peace, the perfect moment is always now.

Story, photo @Liberov
Zaporizhzhia:
It's likely that soon, russian command will move more troops to Zaporizhia area due to defense difficulties. This doesn't indicate a russian forces collapse, but hints at command insecurity in their troops and recent reserves' ability to prevent Ukrainian army from progressing.

— Tatarigami_UA (@Tatarigami_UA) September 9, 2023
You're right. Although it's vital to avoid jingoistic emotions, as either side can eventually encounter a problem of dwindling reserves. To help Ukraine, you can check my guide, which I've put together for supporters of Ukraine abroad:https://t.co/4PYpfHiSWw

— Tatarigami_UA (@Tatarigami_UA) September 9, 2023
That would also require significant number of people and resources from Ukraine to allocate from somewhere else. Given that it's more or less mined and fortified from Kherson all way to Belhorod, they can relocate units in response and prevent sudden breach

— Tatarigami_UA (@Tatarigami_UA) September 9, 2023
Commenter Prescott Cactus sent this along to me this morning regarding Zaporizhzhia. From the AP via The Los Angeles Times:
KYIV, Ukraine — The United Nations atomic watchdog warned of a potential threat to nuclear safety from a spike in fighting near Europe's largest nuclear power plant in Ukraine, whose forces continued pressing their counteroffensive Saturday.
The International Atomic Energy Agency said its experts deployed at the Russia-occupied Zaporizhzhia Nuclear Power Plant reported hearing numerous explosions over the last week, in a possible indication of increased military activity in the region. There was no damage to the plant.

"I remain deeply concerned about the possible dangers facing the plant at this time of heightened military tension in the region," IAEA Director General Rafael Mariano Grossi warned in a statement issued late Friday.

He noted that the IAEA team was informed that staff at the nuclear power plant had been reduced temporarily to minimum levels because of concerns of more military activity in the area.

"Whatever happens in a conflict zone, wherever it may be, everybody would stand to lose from a nuclear accident, and I urge that all necessary precautions must be taken to avoid it happening," Grossi said.

As Ukrainian forces pressed to expand their gains after recently capturing the village of Robotyne in the Zaporizhzhia region, the U.K. Defense Ministry noted in its latest report that Russia has brought in reinforcements to stymie the Ukrainian advances.

"It is highly likely that Russia has redeployed forces from other areas of the frontline to replace degraded units around Robotyne," it said. "These redeployments are likely limiting Russia's ability to carry out offensive operations of its own along other areas of the front line."
More at the link!
Touch not the cat, but a glove!
Footage of a tank battle between a Leopard of the Armed Forces of Ukraine and two Russian tanks. Two Russian tanks retreated after one of them was hit. As said, during the start of operations on the Zaporizhzhia front. https://t.co/BMRCvSUKf4

— Special Kherson Cat 🐈🇺🇦 (@bayraktar_1love) September 9, 2023
Robotyne:
ROBOTYNE /2230 UTC 9 SEPT/ UKR forces in contact three kilometers south of Robotyne on T-04-08 HWY axis. Russian fire missions indicate UKR units maneuvering south and west of Novoprokopivka. [Note: plots of RU defensive lines approximate.] pic.twitter.com/WO02goi4nR

— Chuck Pfarrer | Indications & Warnings | (@ChuckPfarrer) September 9, 2023
Bakhmut:
Russian 2S5 Giatsint-S 152 mm self-propelled gun destroyed on Bakhmut direction. https://t.co/KGGLrRsCsv pic.twitter.com/r4IxChfS0S

— Special Kherson Cat 🐈🇺🇦 (@bayraktar_1love) September 9, 2023
Simferopol, Russian Occupied Crimea:
It is reported that warehouses are on fire in the military base territory in Simferopol, Crimea.
Russian sources claim that the fire at the military base isl "an ordinary household fire." pic.twitter.com/q1Lb2lrGO0

— Special Kherson Cat 🐈🇺🇦 (@bayraktar_1love) September 9, 2023
The G20:
Ukraine has some suggestions for improving the G20 statement.

"Ukraine is grateful to the partners who tried to include strong wording in the text… This is how the main elements of the text could look to be closer to reality."
via @OlegNikolenko_ @MFA_Ukraine https://t.co/C29BTIMUbA pic.twitter.com/f9ZM0yPfAw

— Christopher Miller (@ChristopherJM) September 9, 2023
Indian foreign minister says that the declaration language is a fair assessment of the "spectrum of views" inside the G20 on the war.

It is a blow to western countries that have spent much of the past year trying to convince major developing countries to condemn Moscow

— Henry Foy (@HenryJFoy) September 9, 2023
Some industrial-strength PR going on tonight from western G20 delegates:

"The option that we had is text or no text. And I think the right answer is text," said one, referring to the compromise. "You keep the [G20] platform and the organisation alive."https://t.co/AJ78hLK4Di

— Henry Foy (@HenryJFoy) September 9, 2023
So the Starlink Snowflake and his stenographer attempted to get their stories straight today. They didn't exactly make things better.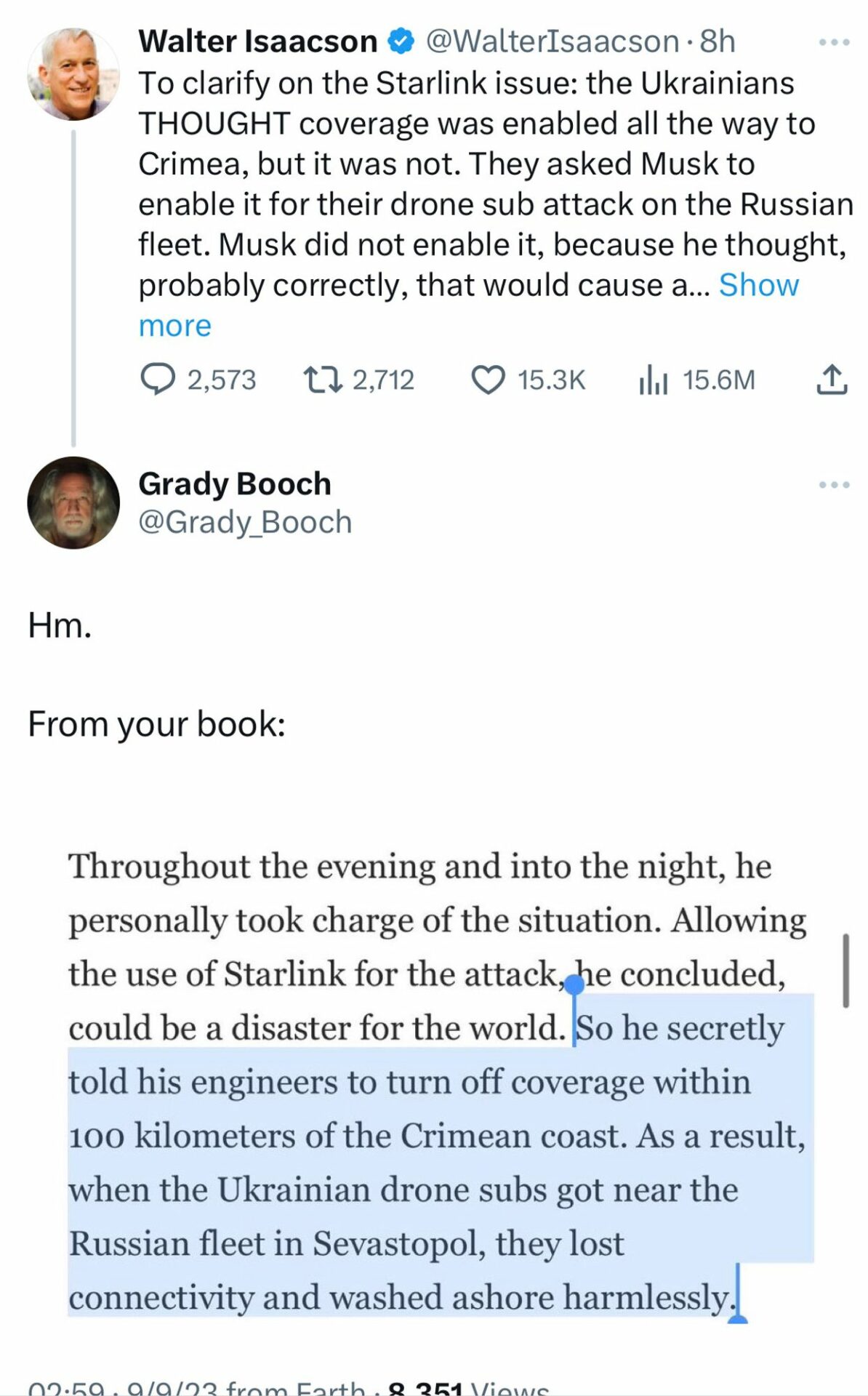 And: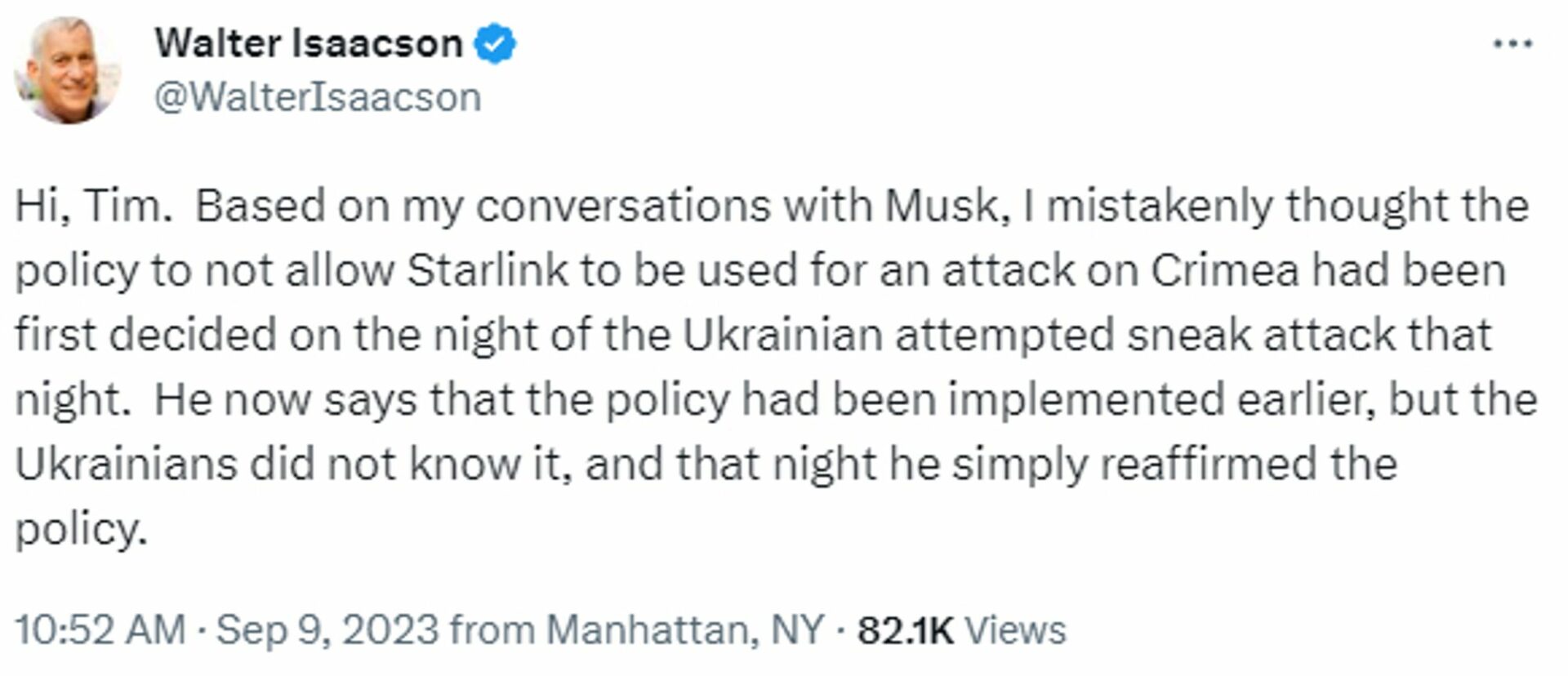 They've had three days and they still can't get their story straight! Make an effort!
Someone in comments last night asked if the Starlink Snowflake might have accessed Ukraine's Starlink traffic and, if he had, did he give it to Putin. From Ronan Farrow's expose:
On the phone, Musk said that he was looking at his laptop and could see "the entire war unfolding" through a map of Starlink activity. "This was, like, three minutes before he said, 'Well, I had this great conversation with Putin,' " the senior defense official told me. "And we were, like, 'Oh, dear, this is not good.' "
We can definitely answer the first part of the question: Musk has admitted that he accessed Ukraine's Starlink traffic, was watching it in real time, and knew where all of the Ukrainian elements were based on it. What we can't answer is whether he gave Putin this information. I wouldn't put it past the Starlink Snowflake. I also wouldn't put it past the Russian GRU to have managed to hack into Starlink and accessed this data and/or managed to get a not for cover hired at the firm.
One last Musk item before we move on. This long, detailed thread with screengrabs from the Capitol Hunters has all the details from discovery filings in various court cases Musk has been involved in that make it clear he's a complete fraud. About everything.
Someone has to say it: Elon Musk has lied for 27 years about his credentials. He does not have a BS in Physics, or any technical field. Did not get into a PhD program. Dropped out in 1995 & was illegal. Later, investors quietly arranged a diploma – but not in science. 🧵1/ pic.twitter.com/ziuOMblwLJ

— capitolhunters (@capitolhunters) November 17, 2022
For those who prefer, here's the link to the thread at the Thread Reader App.
That's enough for tonight.
Your daily Patron!
There's a new slideshow at Patron's official TikTok. Those don't embed here, so click through to give it a watch.
Open thread!