Well, let's see.  Slow news day.
Judge Jones DENIES Mark Meadows' Emergency Motion to STAY his case pending appeal.  So now it's up to all the legal arguments from both sides, which are due tomorrow, I believe.  But I believe they would only grant a STAY in this case if his appeal had a good chance of prevailing.  Bad day for Mark Meadows.
Did everyone see that Boebert had to be "escorted" out of a theater because of all the complaints about her?  Vaping in the theater (not allowed), taking photos (not allowed), being loud and rowdy (not allowed).  They gave her a warning, and she basically told them to fuck off.   They said they would have to call security, she told them to fuck off.  They said they would have to call the police, and she told them to fuck off.  So after the intermission, when they got yet one more complaint, she was "escorted" out of the theater.
Judge In-the-bag-for-Trump Cannon has finally entered a protective order governing disclosure of classified information during the discovery process.  I'm too lazy to look it up, but I believe she delayed that for something like a month.  The fucking protective order for classified information.
This doesn't seem quite right – could this be true?
JUST IN: White House Issues Memo to U.S. Media Leaders

"It's time for the media to ramp up its scrutiny of House Republicans for opening an impeachment inquiry based on lies."

Impeachment is grave, rare, and historic. The Constitution requires "treason, bribery, or other high

— Heidi Przybyla 🌺 (@HeidiReports) September 13, 2023
Remember all those logic "word problems" in school, that you either loved or hated?  (I loved them.)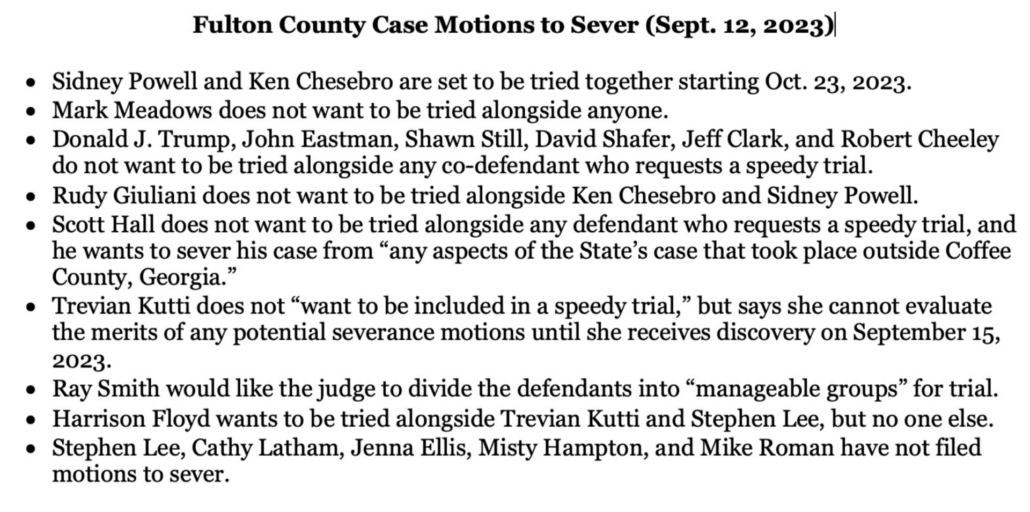 Anna Bower came up with this one.  Are there any sets of 2 or more people who could be tried together?
One more random thing in the news.  In 2020, Trump's Department of "Justice" issued a bullshit OLC opinion that impeachment inquiries are not valid unless they are based on an official vote of the House.  Yesterday, the Squeaker didn't put it up for a vote, surely because he didn't have enough votes to pass it.  Well, now they are stuck with Trump's stupid OLC memo.
Speaking of OLC (Office of Legal Counsel) memos, I do not understand why Biden's legal eagles haven't issued a bunch of OLC memos that contradict some of the bullshit ones we are stuck with.
Open thread.