CNN is projecting Obama is the next President.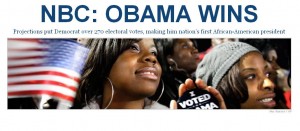 President-Elect Barack Obama.
*** Update **
I am still in shock. This was a damned landslide. It seems so long ago that I was the skeptical one, mocking Obama as the Magical Unity Pony- I think people forget that I was one of the folks who was simply going to support Hillary as the alternative to the GOP disaster.
This is just stunning. This changes everything. He treated us like adults, he converted the skeptics, and now he has a chance to make his mark. I was an Obama skeptic, and mocked him as the Magical Unity Pony, and mocked him "transcending" things. People forget that, I guess.
But now, no more fake nicknames- this is President-Elect Barack Obama. And I am so very, very proud.
The fierce urgency of now. Your next President, Barack Obama: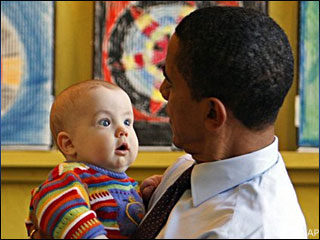 You ain't the only one, kid.
We did it.