For reasons that are right now a complete mystery, when I try to view links to .pdf documents, the following happens: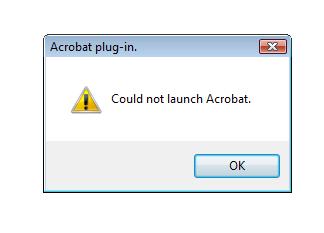 I then have to click the "OK" twice, then go back and right click the link to the document, save it to my desktop, and then view it that way. It would be nice if the thing would just open the way it is supposed to and did as recently as a few days ago.
Any suggestions? How do I fix this? And no, I have not installed anything new, and this is the Vista machine.
I will ban anyone who even thinks about turning this thread into an Apple v. PC debate.