Long day today and I feel drained, and obviously another day filled with exciting economic news.
Also, this is how you are greeted if you sit down to check your email before feeding your cat: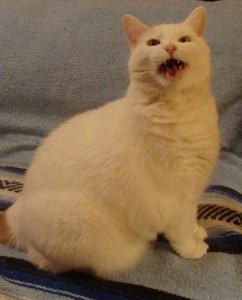 Cat owners will understand what I mean when I say he was in the middle of a five minute, uninterrupted, bitchy meow-purr whine when I took that picture. Normally I feed him at around five and avoid this, but it was so loud I decided to get an action shot. I better feed him before he goes for my throat.