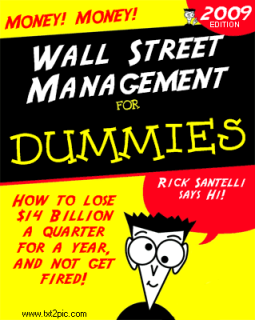 I know the right wing is all worked up about the lucky duckies and their cell phones, but this seems like a better place to focus some anger:
One Merrill Lynch trader apparently gambled away more than $120 million in the currency markets. Others seemingly lost hundreds of millions on tricky credit derivatives.

But somehow all this red ink did not spill into plain view until after Merrill earmarked billions for bonuses and staggered into the arms of Bank of America.

Inside Bank of America headquarters here, executives are asking why. The bank is investigating how Merrill accounted for wayward trades in the final, frantic months of 2008 — and why at least one big loss was slow to appear on Merrill's books.

Of particular concern are the activities of a Merrill currency trader in London, Alexis Stenfors, whose trading has come under scrutiny by British regulators, according to people briefed on the investigation. The loss Mr. Stenfors is believed to have incurred so alarmed Bank of America that this week the bank examined the books of other traders who were on vacation.
The simple fact of the matter is that when we finally hit the bottom and start to work our way out of this mess, there need to be long prison sentences handed out to a lot of our John Galts out there. If we do not react appropriately and harshly to this kind of recklessness, we are greenlighting it again in the future.
See also.