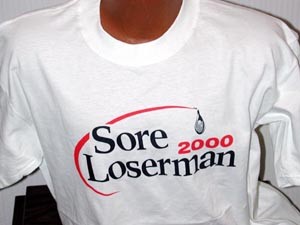 I joked about this yesterday, but these people are clinical:
Gov. Sarah Palin and the head of the Alaska Republican Party said Thursday that Sen. Mark Begich should give his Senate seat up to a special election now that prosecutors have abandoned their case against Ted Stevens. "Alaskans deserve to have a fair election not tainted by some announcement that one of the candidates was convicted fairly of seven felonies, when in fact it wasn't a fair conviction," Palin said in a Thursday interview with the Daily News.

The governor said she does not want to "split hairs" on whether Begich should resign or not but agrees with the Republican Party's call for a special election.
This isn't about a new election, because they all know that will not happen. There is no law that can be invoked, there was no wrongdoing, the election was clean and fair. The only thing they are trying to do is to marginalize and de-legitimize Mark Begich. I sometimes wish these guys would man up and look at their Sore/Loserman t-shirts from 2000 and think for a minute.
BTW- someone could have a lot of fun looking at the multiple stances of Sarah Palin regarding Ted Stevens. I vaguely remember her maverick creds being polished for going against him while she took all the money he sent back then she ran away from him during the trial and now, of course, she will probably be erecting statues in his name. If I am wrong on that, fill me in, but I would love to see a timeline with her positions and public statements regarding Stevens.
*** Update ***
From the comments:
The guy she said should resign before the election ended up losing. Now she wants the guy who won to resign so that the guy she originally said should resign can get a fair election. What a maverick!
You betcha!