The latest gallup information that everyone is talking about should be quite alarming for Republicans:
The decline in Republican Party affiliation among Americans in recent years is well documented, but a Gallup analysis now shows that this movement away from the GOP has occurred among nearly every major demographic subgroup. Since the first year of George W. Bush's presidency in 2001, the Republican Party has maintained its support only among frequent churchgoers, with conservatives and senior citizens showing minimal decline.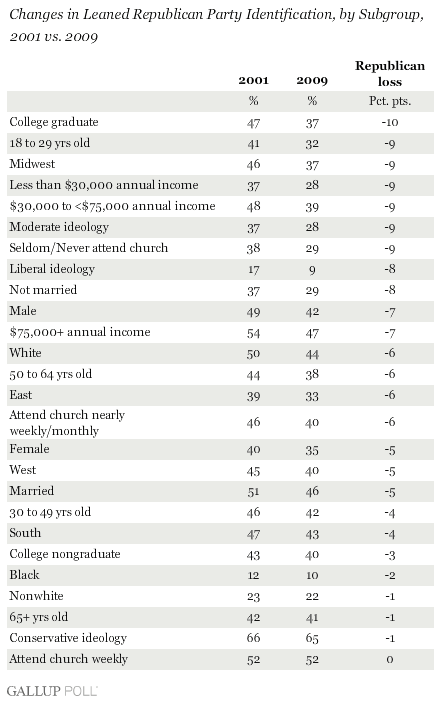 This actually is how realignments happen.
Two quick thoughts. First, if the Obama administration is a disaster, the Republicans will quickly rebound. Hell, if in eight years, Obama's team turns out to have been useless and worthless as the Bush administration, I will have no problem sticking a shiv in them and the Democratic party. If you thought otherwise, you haven't been paying attention. I'll never be a Republican again, though.
Second, what will be the most fun about the next couple of days is watching Republicans try to deny or ignore these findings. Everything is fine! We just need to get back to our core principles! This is nothing a little poem or interpretive dance can't fix! You betcha!