I really respect the fact that Henke and now Ruffini are trying to do some push back against the whole birther movement and WND, but at the same time, all I can think is "Way to get out in front of things!" The birther thing has been going on for what? A year? A year and a half? Two years? We've had repeated posts here about the WingNut Daily billboard project from as far back as May. This isn't a new phenomenon, and even Chris Matthews and the media have been mocking the birthers for months.
If Ruffini and Henke are serious about cleaning up the GOP, how about they take a real stand- say something about this: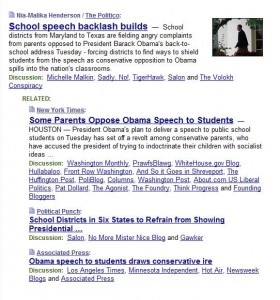 It boggles my mind that the President talking to schoolkids telling them to set goals and study hard could be controversial. As Steve Benen noted, even Joe Scarborough is wondering where the responsible Republicans are. Sadly, the answer is that there don't seem to be any.